Many teacher planners available on the market are quite expensive and not customizable. If you want a lesson planner that is tailored specifically to your needs, then you may want to consider creating your own. This guide is filled with tips and tricks and will show you how to customize and set up your own DIY teacher planner!
My Teacher Planner Story
In 2010, I was so excited to start student teaching and pull out my brand new (and very overpriced) teacher planner that I had received as a gift. It was so beautiful and colorful. (You know exactly what planner I'm talking about.)
I was disappointed that I had to handwrite all of the dates. Some included pages weren't relevant to me, so they were left unused. All the checklists, emergency plans, student transportation lists, student info, etc., ended up in a different folder… which grew into a binder halfway through the year.
The fancy planner fell flat in my eyes.
The following year I decided to make a planner myself, and I was pleased with the results! I soon had orders from others in my school who wanted a customized planner, too. That's when I knew I had something special.
My Teacher Planner has gone through many changes, updates, and overhauls over the years, but it's still my favorite teacher tool I have created.
Deciding What You Want to Include
For this blog post, I'll be using photos of the Teacher Planner Bundle that I sell. It includes various planner essentials – covers, curriculum map templates, monthly calendars, weekly planning pages, tons of teacher planner forms and pages, and digital stickers.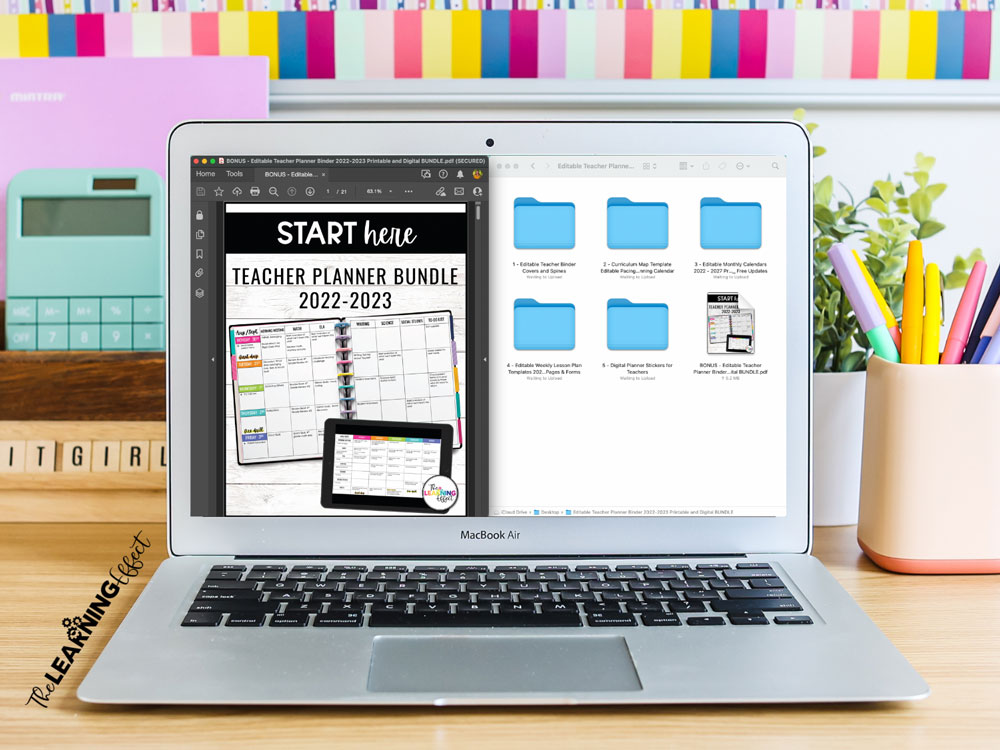 First, consider what type of layout you would like. Do you want both a weekly and monthly layout? Horizontal or vertical days for your weekly plans? What subjects do you need to plan for each day? Once you have decided on a layout, start adding any additional features that you need.
Things you may want to include in your DIY teacher planner:
Curriculum map
Overview of grade level standards
Monthly calendars
Weekly planning layout
Communication logs and parent contact info
Meeting and notes pages
School events calendar
Grade and attendance logs
Class list, student medical needs, IEP/504 overviews, student ID numbers
I merge all pages I want in my planner into one PowerPoint file and arrange them in the order I'd like them.
When thinking about what will be a two-page spread, you want to look at an even page next to an odd page – that will be your left and right side when your planner is open.
To avoid pages printing incorrectly, add a new blank slide where you want something to print without a backside, such as the cover. You'll also want to do this if your PowerPoint or Google Slides file ends in an even number in case your printer starts from the end and prints backward.
Customizing Your Planner
Now comes the fun part! When you choose to go the DIY planner route, you get to make all of the customizations you want and need without shelling out additional money. Pick your cover, divider sections, add digital stickers, type in info that is recurring, so you don't have to handwrite it. Really, the options are endless!
You get to decide what titles your weekly planning templates have, how many planning rows or columns you need, what fonts or colors you want to use, and so much more.
One of my favorite ways to personalize my teacher planner is with digital stickers. Yes – even if I'm printing my planner and not going paperless! Using digital stickers is an easy way to bring attention to certain areas of your plans. School events, lunchtime, days off, early dismissals, and monthly staff meetings are a few things that I've marked with digital stickers before printing my planner.
Printing Everything and Prepping For Assembly
Always always ALWAYS test print some pages BEFORE printing the entire planner. Make sure you're printing two-sided. The odd pages will be the front side of a page and even are the backside.
I have a printer that is HP Instant Ink compatible, so printing my planner was never expensive. I always use 32 lb. paper for my planners. There are a few reasons why I choose to use 32 lb. paper over regular printer paper: it holds up better with the discs and doesn't rip easily (the same goes for a 3-ring binder), no bleed-through with printer ink or Flair or Ink Joy pens, and pencil erases easier.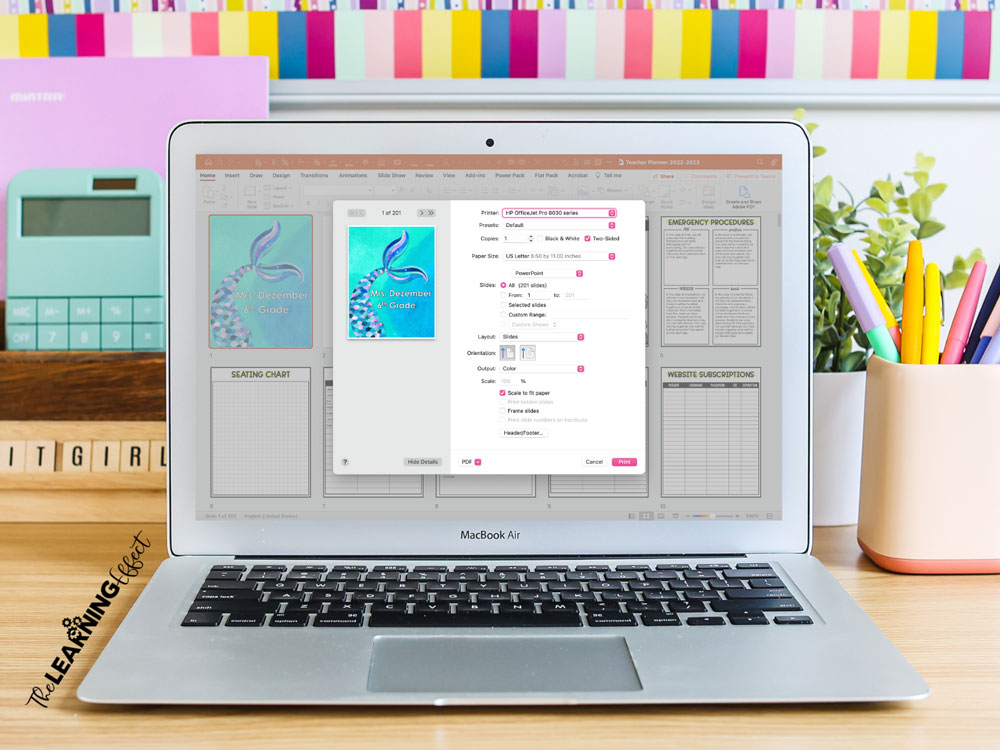 How will you assemble your planner? Discbound, 3-ring binder, bound at a print shop, with a comb binding?
There really are a number of ways you can put it all together. My personal favorite is discbound. (This is how Happy Planners are put together.) The benefits to discbound include the ability to add new/remove pages anywhere you'd like, easily customizable with different color and size discs, and the freedom to switch out your cover throughout the year.
If going the discbound route, you can laminate your cover for durability. I have always used a leather cover that I purchased from Staples or Office Max. I was able to use the same cover for several years. (The teal cover below I've had since 2012!)
Setting Up Your DIY Teacher Planner
Now that you've got your pages printed and ready to go, it's time to put it all together! The pictures below will show you how using a discbound planner works. Punch the pages, add discs to the pages little by little, and you're done! The discbound punch in the photo below is the Staples Arc punch.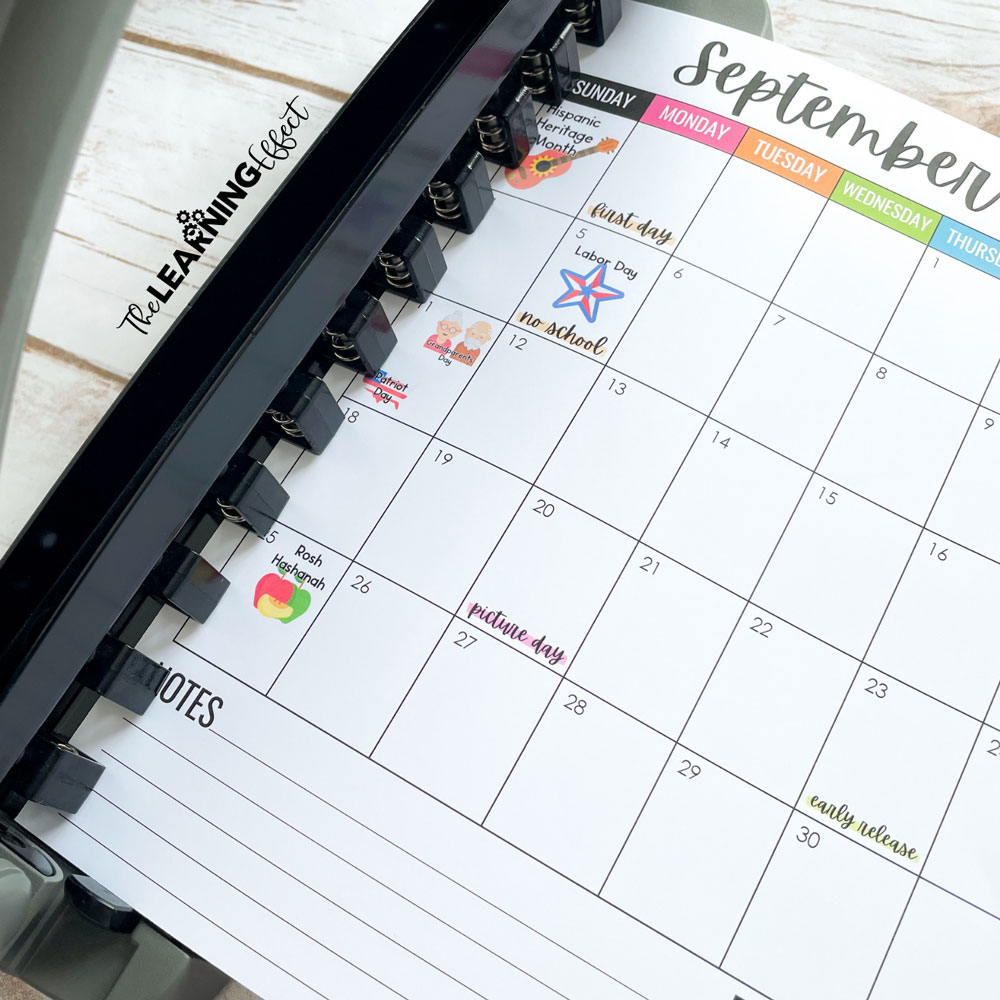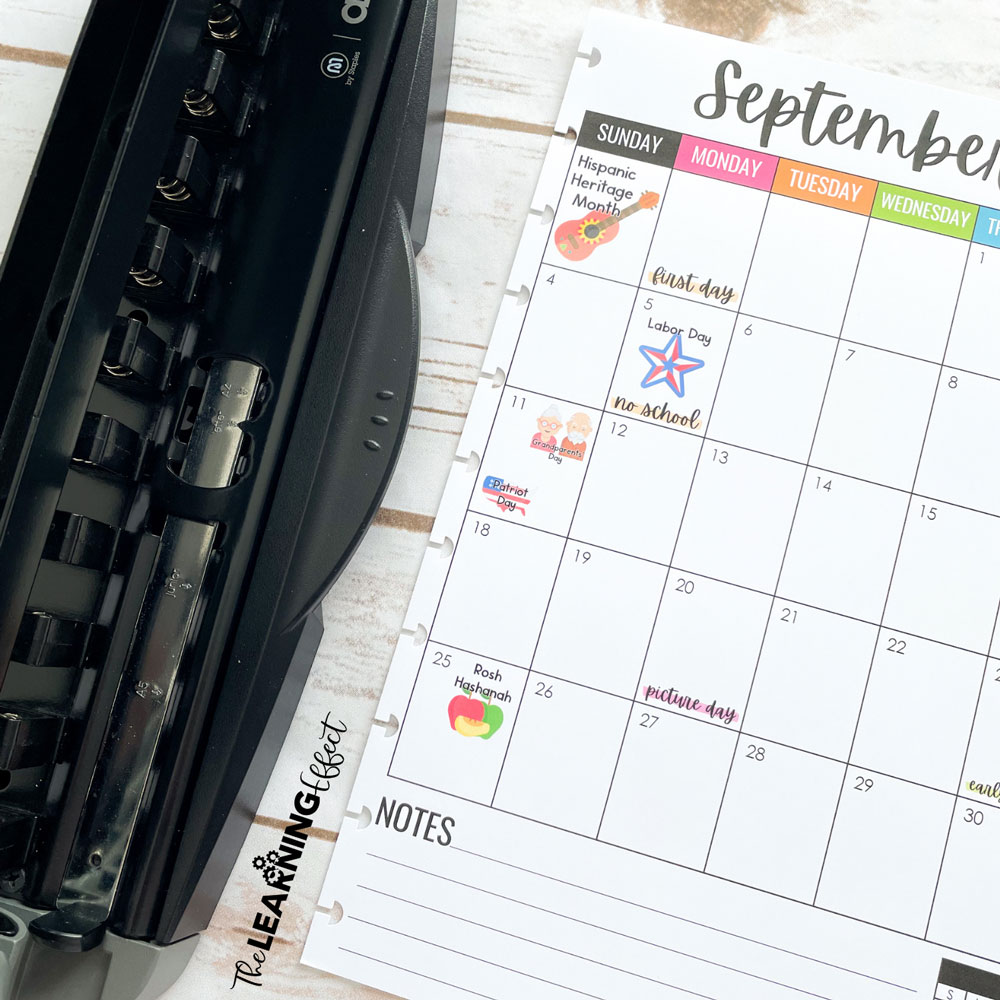 It takes 5-10 minutes to get all of your pages set in a discbound planner, but taking your time doing so allows the pages to stay in good shape so they don't easily tear out later.
A Peek Inside My Planner
I am currently out of the classroom to be home with my toddler daughter, but here's a peek of what I included in my planner when I was teaching upper elementary.
The cover I am using for this planner was purchased in 2012 from Staples and is from their Martha Stewart discbound product line. I have not seen this color again since then. The discs are Happy Planner 1.25″ (medium) discs. Click here to see all the discbound planner tools I recommend on Amazon.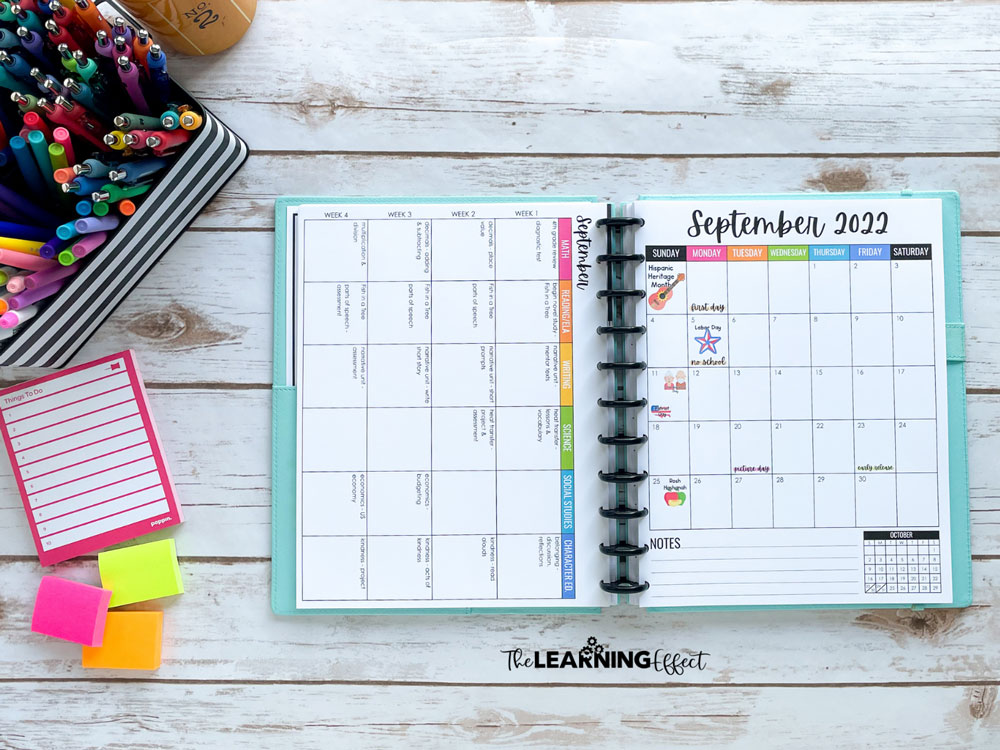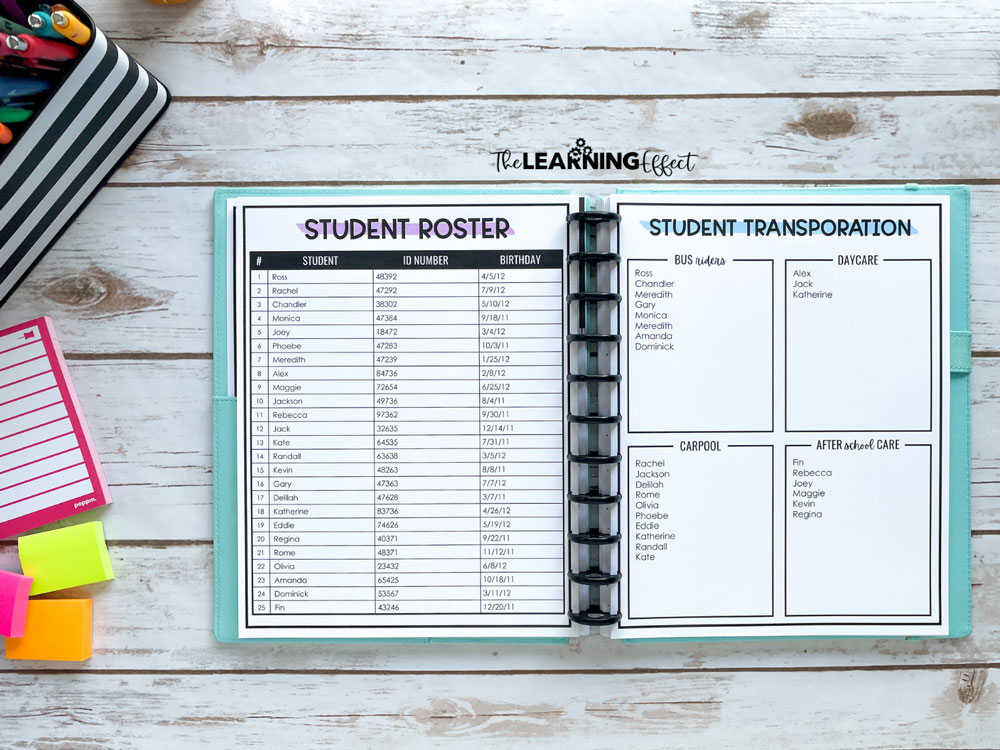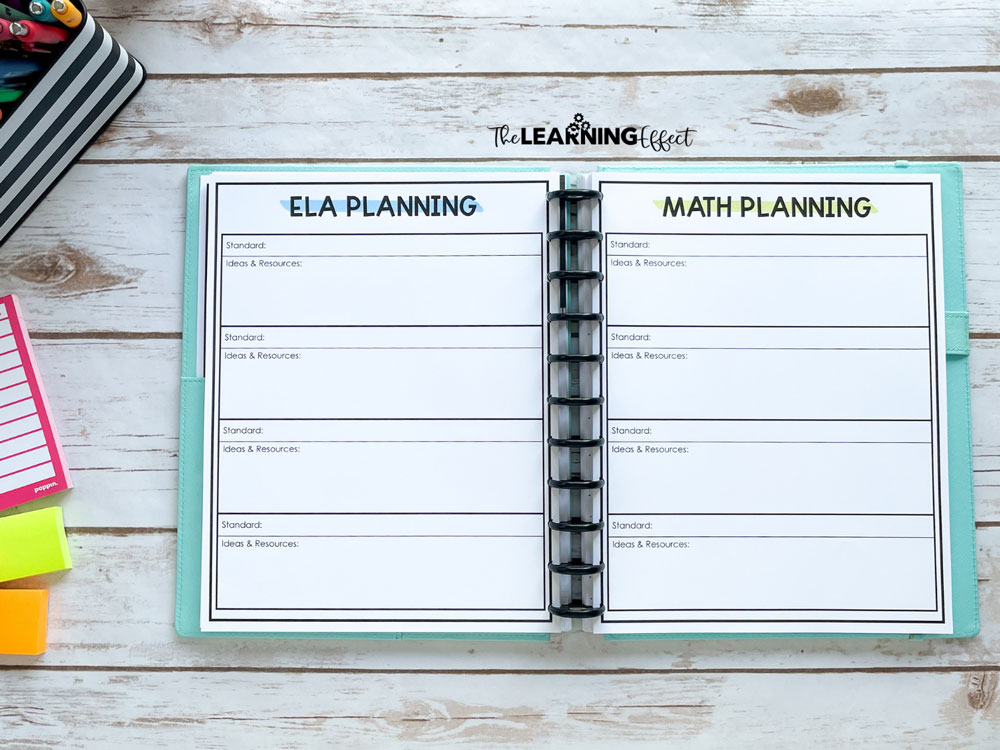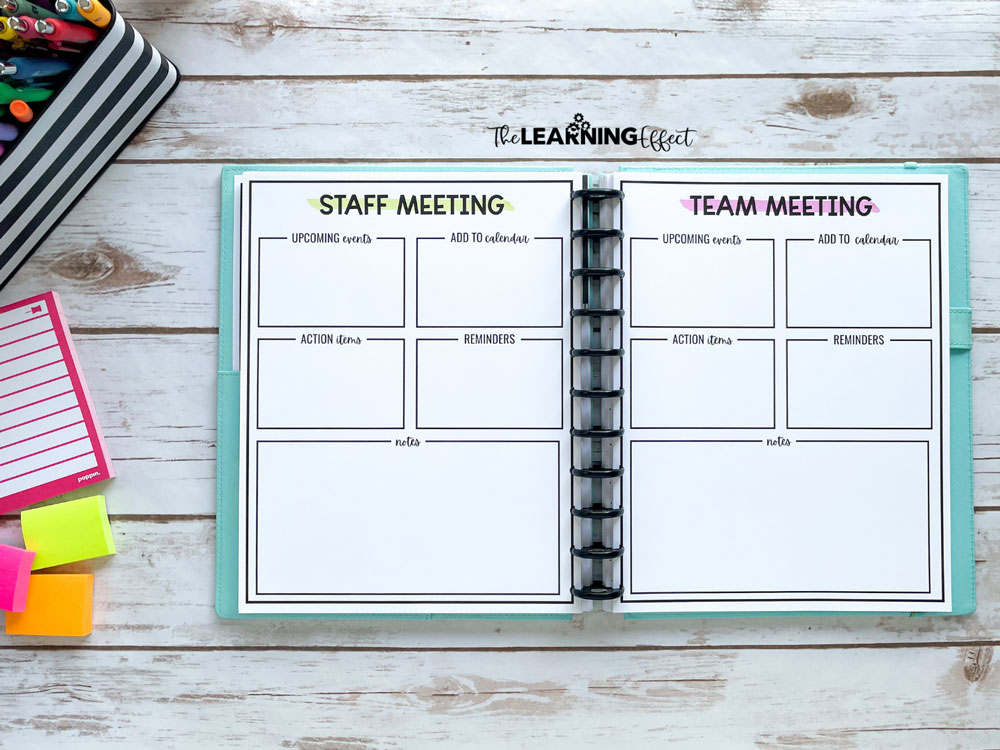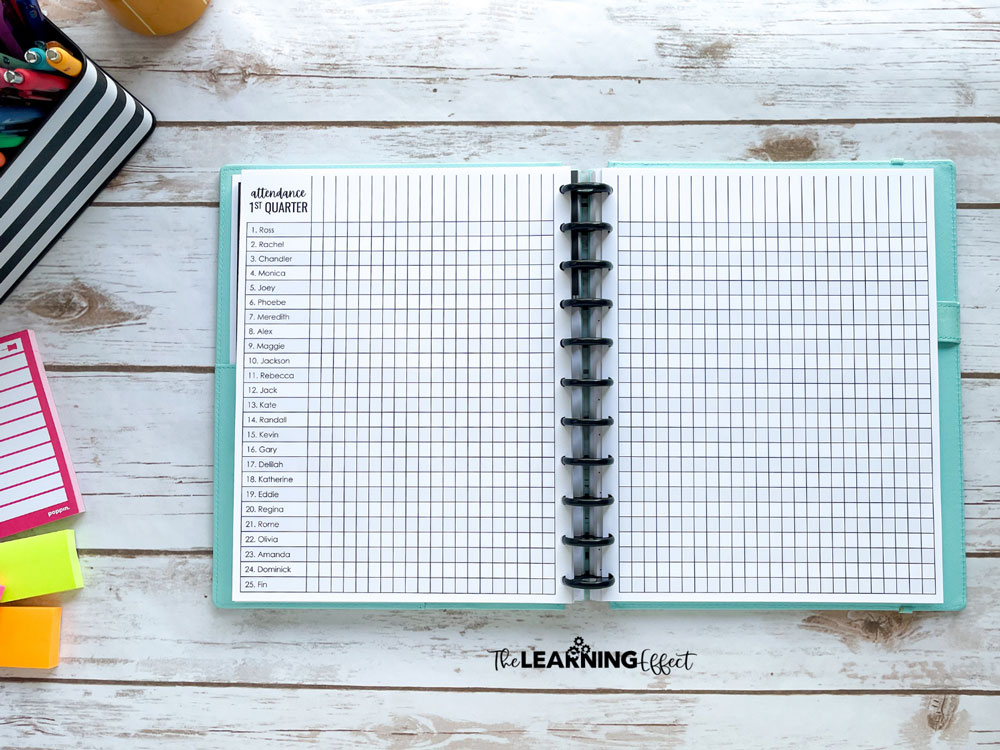 Ready to Customize Your Own Teacher Planner?
Stop wasting money on those pricey teacher planners you buy each year! (You know you don't use every page, and it's painful that you can't even customize it.)
Creating your own planner puts the power of planning back into your hands! My Teacher Planner comes with hundreds of colorful cover designs, the option to handwrite or type your plans, pre-dated planning pages and calendars, and editable pages. You can put together a planner that makes the teacher next door jealous.
The best part of all? You get FREE updates every year. It's true — this is just a one-time purchase, and you get access to ALL future updates. (How amazing is that?!)
Editable Teacher Planner Binder Bundle
This Teacher Planner Bundle has everything you need to organize the school year – weekly planning pages, helpful forms, monthly calendars, curriculum map templates, digital stickers, and much more. You can easily customize and create a planner that fits your needs with everything included. Print or digital planning? The choice is yours!
What Some Teachers Have Said About My Teacher Planner Bundle
I LOVE this planner and all of the items it comes with. I love being able to customize my planner each year to exactly the way I want and like it. This resource has everything and anything you could possibly want as well as things that you didn't know you needed, but end up using often. I love that this gets updated with the dates each year. Thank you so much for all of your hard work & sharing your creativity with us. It is greatly appreciated!

⭐️⭐️⭐️⭐️⭐️ Mindi G.
Absolutely love this set! I teach Middle School, so I spent a few hours editing the "Weekly Planning Template" into pages for my needs (Monday – Friday, Periods 1 – 5). I am SO thankful to have such an adorable EDITABLE template AND matching covers, calendars, notes sheets… everything I need in one place. I will be printing all pages then binding together in a spiral. My co-workers will be SO jealous! I've already sent your link to several of them! Thanks again for a great product.

⭐️⭐️⭐️⭐️⭐️ Kelli S.
BEST. PLANNER. EVER. I have used this for the past four years and will not use another planner. I love that I have the option to edit things, but honestly, I have not had to. Thanks for a great product!!

⭐️⭐️⭐️⭐️⭐️ Crystal D.
As an Amazon Associate, I earn from qualifying purchases through affiliate links.
Links last updated 07.08.2022