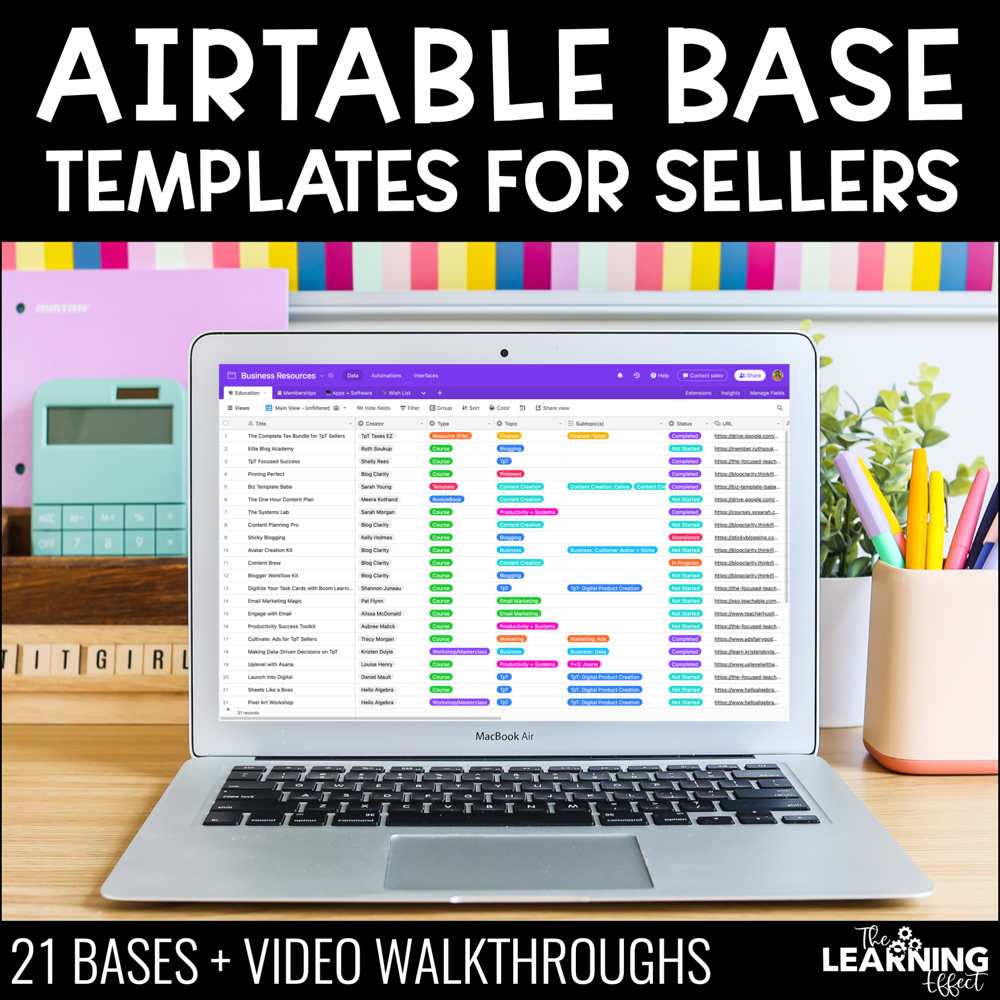 Airtable Base Templates for TpT Sellers + Video Walkthroughs | BUNDLE
5789257
Product Details
Get your TpT business organized and streamlined with these Airtable templates. This bundle includes 21 base templates, video walkthroughs, a written guide, and examples so you can see how they work in action. TpT sellers love the variety and guidance that this resource provides. Once you turn Airtable into a system, your business will stay organized, and you'll be more productive while you work.
I have been using Airtable daily since 2017. I received permission from Airtable to create this resource and sell my templates. I started using Airtable to organize my ridiculous clipart addiction and quickly became obsessed with organizing everything. I've been creating bases for business and personal use and building and managing bases for others in the past.
WHAT YOU NEED
You MUST HAVE a FREE Airtable account to use this resource.
All of the bases can be used with a FREE account - a paid account is not required.
THIS RESOURCE INCLUDES
Airtable basics guide – Learn everything you need to know to get the most out of using Airtable.
Base template descriptions and example images – The included guide will walk you through what you need to know about using each base, explaining the different parts of each table. Screenshot examples of my bases are shown when appropriate.
21 Airtable base templates - revamped using Airtable's best free features

Main Base – The Source
Content Revision
Content Calendar (Annual)
Business Budget (Annual)
TpT Sales Data (Annual)
Year-to-Year Comparisons
Marketing (2 options included)
Content Ideas + Creation
Business Brain Dump
Email Marketing
Facebook Ads
Pinterest
Promotions + Giveaways
Business Resources
UTM Generator + Tracker
Podcast Planning
Hiring Out
Clipart Catalog
Knowledge Base
Mastermind
Boom Learning Sales
Videos via Teachable (you get FREE access)
Template Walkthroughs
Airtable Basics
⭐ BONUSES ⭐
Facebook group
18 Airtable base templates - the originals that I sold

Business Budget
[YEAR] Data
TpT Products
TpT Best Sellers by Month
Quarterly Sale Data
Business Brain Dump
Business Finances
Email List
Business Resources
Blog/Website
Instagram
Facebook
Pinterest
Clipart Catalog
Content Calendar
Year-to-Year Comparisons
Knowledge Base
Promotions & Giveaways
⭐ Please Note: I am not affiliated with Airtable in any way. They have not endorsed my resource but have given me permission to sell my templates.
---
WHAT OTHER TPT SELLERS ARE SAYING

⭐⭐⭐⭐⭐ This is absolutely amazing. I usually procrastinate on leaving product reviews, but I had to come right back here and leave this review because this product is SO amazing. For anyone just starting out with Airtable, or even if you've already used Airtable but would like some guidance or organization, this product is for you!! It is so worth the cost and she shows you how to use it all and gives her own examples as well. Thank you so very much for offering this helpful product. I needed this so much!
⭐⭐⭐⭐⭐ I recently started using Airtable. This resource was so thorough and just what I needed! The definitions, field types, and the explanations were especially thorough. Including screenshots and descriptions of each base was the most useful part of the resource for me. I appreciate all the work you put into creating the product. One of the best resources I've purchased!
⭐⭐⭐⭐⭐ This is an incredible resource!! I just copied all of the templates, and I am so excited to get all of my info put in. I know it will be so worth it! I love Airtable but it was a little overwhelming for me, I LOVE that these templates are setup and ready for me to use and customize. Thank you SO much for sharing this with other sellers, this is a must-have for anyone serious about their business!!!
---
Please ask ALL questions before purchasing.

© The Learning Effect, LLC | Tiffany Schmidt
All rights reserved by author.
Permission to copy for single classroom use only.
Please purchase additional licenses at a discounted rate for additional users.
Intended for classroom and personal use only.
Save this product for later