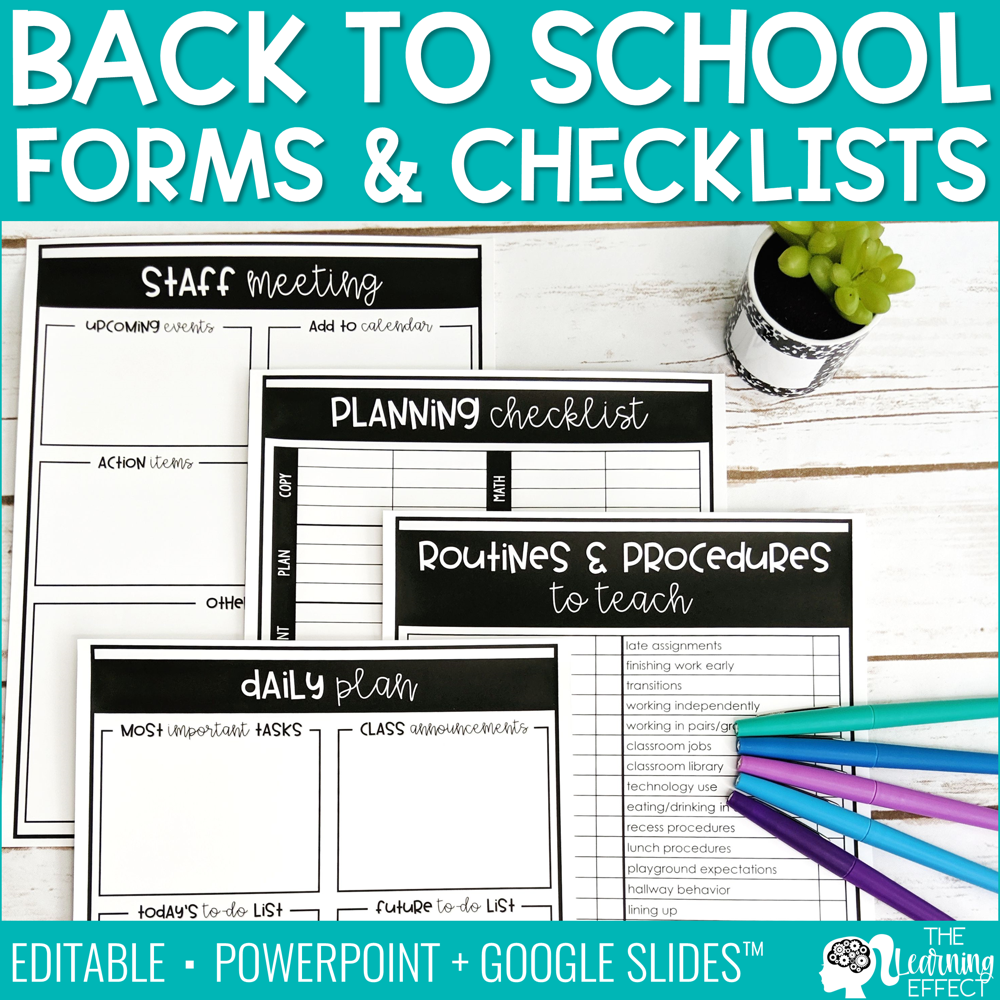 Back to School Forms and Checklists [Editable]
SKU 00041
Product Details
Looking for some quick print back to school forms to use this year? This set of forms and checklists offers over 90 ways to make your whole school year a breeze! Easily provide students and parents with information they need for the new school year with a meet the teacher letter, forms for parents to fill out to give you more information about their child, and forms for you to get to know your students!
My favorite resources in this file are the Student Interest Survey and Student Reading Survey - they give a huge insight into who your students are and what they value most!
Most of the text is editable in this resource. In order to protect my work, some parts are not editable. All pages are black and white, which will save you ink and allow you to print on colored paper if you wish.
WHAT'S INCLUDED
109 pages in a PowerPoint file
109 pages in a Google Slides™ file
Meet the Teacher Letter Template - 3 options
Return to the Teacher Card
Volunteer in Our Classroom Form
Getting to Know Your Student Form - 2 options
Parent Email Information Form
Ways to Communicate & Know What's Up Sheet
Supply List - 3 options
Wish List
Homework Contract
Student Information Sheet (for the teacher) - 3 options
While You Were Out Note for Absent Students
Student Online Account Login Info Sheet - 2 options
Student Birthdays - 2 options
Student Transportation - 3 options
IEP at a Glance Form
504 at a Glance Form
Behavior Think Sheet
Parent Contact Log - 2 options
Parent Email Quick Reference
Parent Phone Number Quick Reference
Parent Volunteer Quick Reference
School Directory Quick Reference
Substitute Teacher Quick Reference - 2 options
Website Login Info (for the teacher)
Student Interest Survey
Student Reading Survey
Routines & Procedures to Teach List
Class List - 3 options
Student IDs - 2 options
Class Login Info - 2 options
Checklist - 2 options
Grading Grid - 2 options
Assignment Turn-In Checklists - 2 options for each of 4 main subjects
Form Turn-In Checklist - 2 options
Daily Plan
To-Do List
Planning Checklist
Year at a Glance - 2 options
Staff and Committee Meeting Notes
Lined & Blank Notes
Line & Blank Ideas for Next Year
Copy Slips
Absence Slips
Nurse Passes
Shopping Lists
Bathroom Sign Out Log
Library Sign Out Log
Book Sign Out Log
Student Media Release Quick Reference
Photo Release Permission Slip
Video Release Permission Slip
Social Media Release Permission Slip
Twitter Release Permission Slip
Instagram Release Permission Slip
Facebook Release Permission Slip
Class Blog Release Permission Slip
ClassDojo Release Permission Slip
Yearbook Release Permission Slip
Newsletter Release Permission Slip
Technology Acceptable Use Form
BYOD Acceptable Use Form
Movie Permission Slip
Field Trip Permission Slip
Full Page Blank Template (edit the title)
Half Page Blank Template (edit the title)
FILE FORMAT
PowerPoint: This resource requires PowerPoint software installed on a PC or Mac to access. It has not been tested with other presentation software.
Mac Users: Fonts may not appear correctly in the file and may require you to download a font if you wish to use the one in the preview. Font information is provided in the file.
Google Slides™: To access the Google Slides™ version, you need to have a (free) Google™ account. Once you purchase this resource, you will receive a PDF with a link for access to the digital resource. The link will prompt you to make a copy of the resource, which will add it to your Google Drive™.
---
Please ask ANY and ALL questions before purchasing. You can use the form below to send us a question.
Thank you so much!
Tiffany Schmidt
The Learning Effect
Copyright © 2015 Tiffany Schmidt
All rights reserved by author.
Permission to copy for single classroom use only. If using with multiple classrooms, please purchase additional licenses at the discounted rate.
Save this product for later