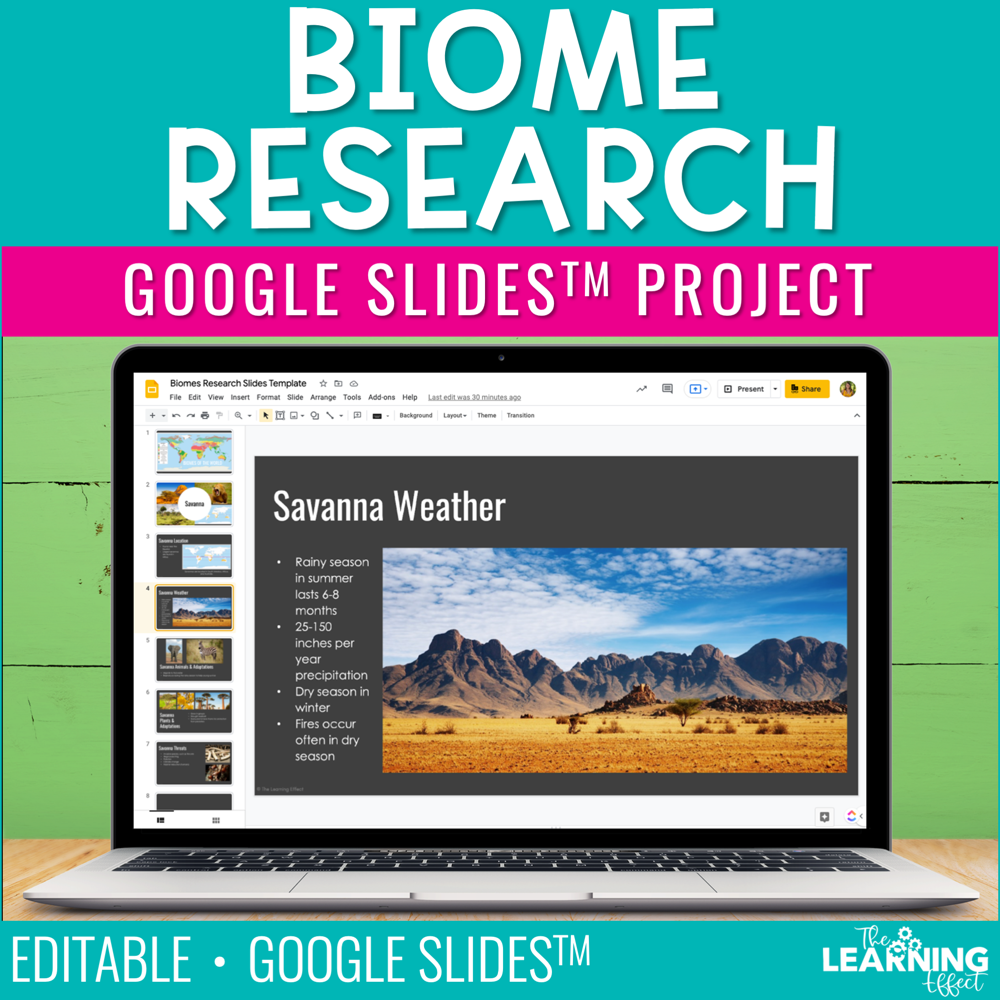 Biome Ecosystem Research for Google Slides Project and Presentation
4232974
Product Details
Students will love this biome research project using Google Slides™! Get your students collaborating to research an assigned biome or ecosystem. They will teach their classmates what they've learned through a presentation at the project's end.
A favorite project of my own 5th grade students each year, this project is engaging and allows students to creatively collaborate. The presentation template and research worksheets are editable so you can change the content to fit your needs.
THIS RESOURCE INCLUDES
Information for the teacher
Websites for research
Biome research project instructions for students
Sources notes page for students
Note-taking graphic organizer for research and presentations
Grading rubric
Editable student note-taking pages and grading rubric to customize
Google Slides™ files:

Student Research Slides Template (editable)
Student Research Worksheets (editable)
Example of 5th grade class' project
BIOMES INCLUDED
Savanna (already completed to use as a student example)
Desert
Deciduous Forest
Grassland
Taiga
Tundra
Tropical Rainforest
Freshwater
Estuary
Saltwater
WHAT STUDENTS WILL RESEARCH ABOUT THEIR BIOME
Characteristics and Location
Clime
Animals and Adaptations
Plants and Adaptations
Threats and Human Impact
FILE FORMATS
PDF: This resource requires Adobe Reader (free software) to access and is NOT editable in any way. You will not be able to manipulate the content inside.
Google Slides™: To access the Google Slides™ version, you need to have a (free) Google™ account. Once you purchase this resource, you will receive a PDF with a link to access the digital resource. The link will prompt you to make a copy of the resource, which will add it to your Google Drive™.
---
Please ask ALL questions before purchasing.
Copyright © Tiffany Schmidt (The Learning Effect)
All rights reserved by author.
Permission to copy for single classroom use only.
Please purchase additional licenses at a discounted rate for additional users.
Intended for classroom and personal use only.
Save this product for later