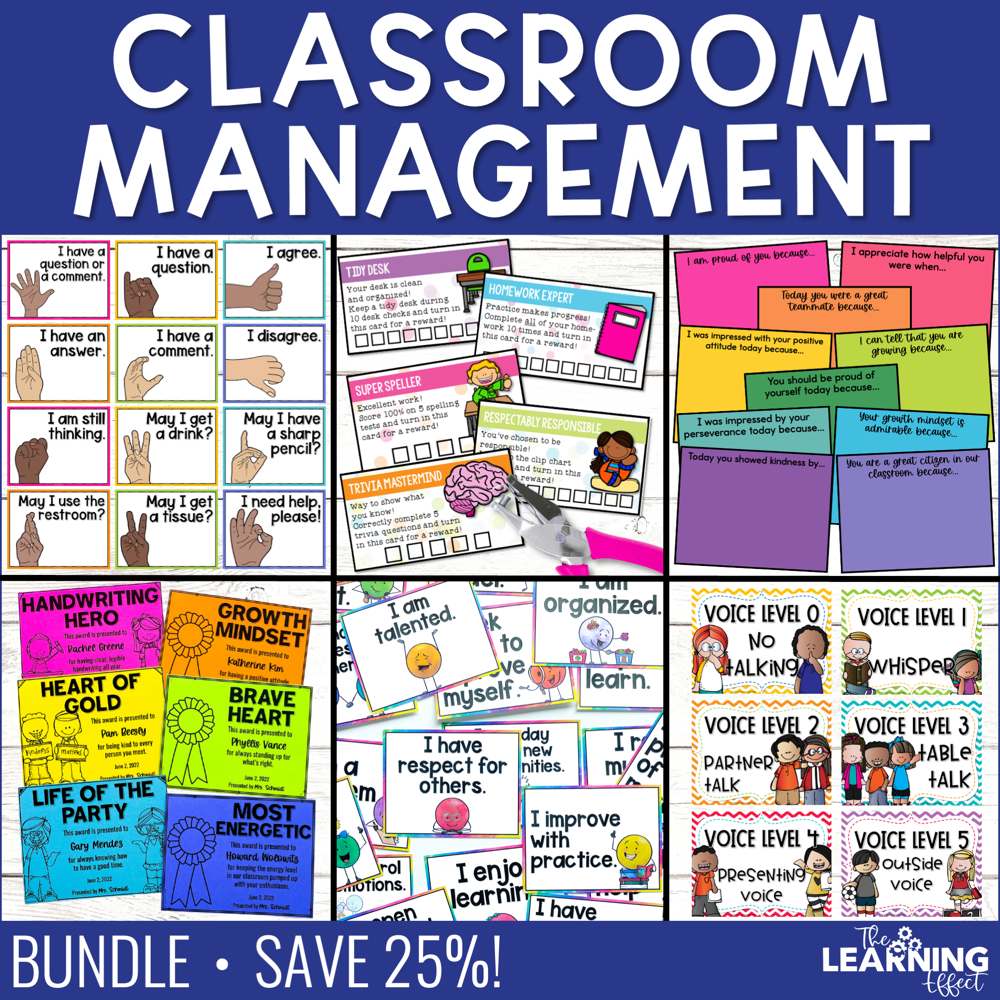 Classroom and Behavior Management BUNDLE
SKU 3960717
Product Details
Save 25% by purchasing six classroom management resources in this money-saving bundle!
Perfect for back to school and all year long. Includes Hand Signal Posters, Voice Level Chart, Positive Notes for Students, Student Award Templates, Positive Affirmations for Kids Posters, and Punch Cards.
➊ HAND SIGNALS FOR CLASSROOM MANAGEMENT | EDITABLE
Classroom Hand Signals are the perfect way to manage student needs during a lesson. With hand signals, students can silently let you know what they need. Teachers can easily distinguish between a question, answer, and comment - that way, you can save the comments for later!
THIS RESOURCE INCLUDES
18 pre-made, ready to print posters (PDF) in two sizes:
2 display signs:

Class Hand Signals
Hand Signals

16 posters, showing the hand signal with text to tell what it stands for:

I have a question or comment.
I have an answer.
I have a question.
I have a comment.
I agree. (2 options)
I disagree. (2 options)
I am still thinking. (2 options)
May I use the restroom? (2 options)
May I get a drink?
May I get a tissue?
May I have a sharp pencil?
I need help, please!

106 editable hand signal posters that you can add text to (PowerPoint) in two sizes:

8.5" x 11" - 17 different hand signals to choose from, each in 4 diverse skin tones (snapping hand only has 3 skin tones)
5.4" x 5.4" - 16 different diverse hand signals

Both PDF and PowerPoint files also include black/white version of all pages
---
➋ POSITIVE NOTES HOME
No matter what their age, students appreciate some encouragement from their teacher. The easiest way I've found to do this is with positive notes! I've caught students pulling out a past note from their desk to re-read when they're having a rough day. It's totally worth the time to do this!
THIS RESOURCE INCLUDES
20 different positive notes (prints four of the same note to a page)
2 versions of each note - cursive or print
Tracking log PDF – fill in your students' names before printing
HOW I USED THIS RESOURCE IN MY CLASSROOM
I printed the notes on colored paper and had them on hand to write out for students when I saw something worth celebrating.
I stuck the note a student's desk along with a piece of candy, raffle ticket, or school buck for them to find later.
I also took a picture of the note and sent it to the student's parents on ClassDojo's messenger, along with a note thanking them for sharing their child with me.
---
➌ PUNCH CARDS | EDITABLE
Looking for a fun incentive for students, while promoting responsibility? These punch cards are a great way to motivate students for a number of things! Rewards can be earned when all 10 or 5 spaces have been punched on the card. Students learn responsibility through tracking their progress on their cards.
THIS RESOURCE INCLUDES
Each punch card has two options: 10 punch spaces or 5 punch spaces
5 pre-made templates, including:

Homework expert
Super speller
Respectably responsible
Trivia mastermind
Tidy desk

6 editable create your own templates
Black and white ink-saving version of all pages
---
➍ END OF YEAR AWARDS | EDITABLE TEMPLATES
Celebrate your students with achievement, academic, and fun student awards! Having customized awards at your fingertips has never been easier. Remote learning ready with instructions for how to give digital awards to your students and hold a virtual awards ceremony!
Editable text boxes on every award allow you to choose your wording and fonts. With 96 award templates to choose from, this editable resource allows you to create student awards for end of the year superlatives, birthdays, award rallies, graduation, and much more!
This is NOT a ready-to-go resource. The file includes templates for you to customize. Some awards are pre-filled with additional ideas along the side of the page.
THIS RESOURCE INCLUDES
96 award templates with completely editable text, including:

77 templates featuring Melonheadz kid clipart
19 templates with a simple award ribbon clipart

Color and black/white versions of each award
314 award ideas (3 pages)
Instructions for using the awards digitally for remote learning and holding a virtual awards ceremony (+ slides that you can use as a part of your ceremony)
Google Slides™ awards templates (same content as the PowerPoint files)
Student award checklist/voting ballot - a PDF that you can type right into and use as a checklist or student voting ballot
Please note: These are templates, meaning they are not a ready-to-print resource. This is so you can customize them to fit your classroom needs.
---
➎ VOICE LEVEL CHART | EDITABLE
Add a voice level chart to your classroom to allow students to self-check what the voice level expectations are throughout the day. This resource has the option to quickly print off a pre-made chart or customize the wording with an editable PowerPoint.
THIS RESOURCE INCLUDES
Voice level chart headers - 3 options

Voice Level Check
Voice Level
Sound Check

Voice levels

Voice Level 0 - no talking
Voice Level 1 - whisper
Voice Level 2 - partner talk
Voice Level 3 - table talk
Voice Level 4 - presenting voice
Voice Level 5 - outside voice

Indicator arrow
Print AND cursive options included for charts
Black and white ink-saving version of each poster
Editable PowerPoint file to create your own Voice Level Chart - only the text is editable on these pages; the clipart cannot be changed
---
➏ GROWTH MINDSET POSTERS | POSITIVE AFFIRMATIONS
Need a way to motivate students on a daily basis in your classroom? These growth mindset and positive affirmation posters may be just what you need! Use these 42 brightly colored posters to encourage a positive classroom environment.
THIS RESOURCE INCLUDES
42 page-size posters (can also be printed at half-size)
All posters available in color and black/white
All phrases on one page – perfect for cutting into strips and taping to students' desks
---
INCLUDED FILE FORMATS

Zipped Files: This resource includes more than one file and is zipped. You will need to unzip the file to access the resources.
PDF: All resources require Adobe Reader (free software). The contents may not show correctly if using other PDF software.
PowerPoint: One resource requires PowerPoint software installed on a PC or Mac to access. It has not been tested with other presentation software.
Google Slides™: To access the Google Slides™ version of one of the included resources, you need to have a (free) Google™ account. Once you purchase this resource, you will receive a PDF with a link to access the digital resource. The link will prompt you to make a copy of the resource, which will add it to your Google Drive™.
---
Please ask ALL questions before purchasing.
© The Learning Effect, LLC | Tiffany Schmidt
All rights reserved by author.
Permission to copy for single classroom use only.
Please purchase additional licenses at a discounted rate for additional users.
Intended for classroom and personal use only.
Save this product for later