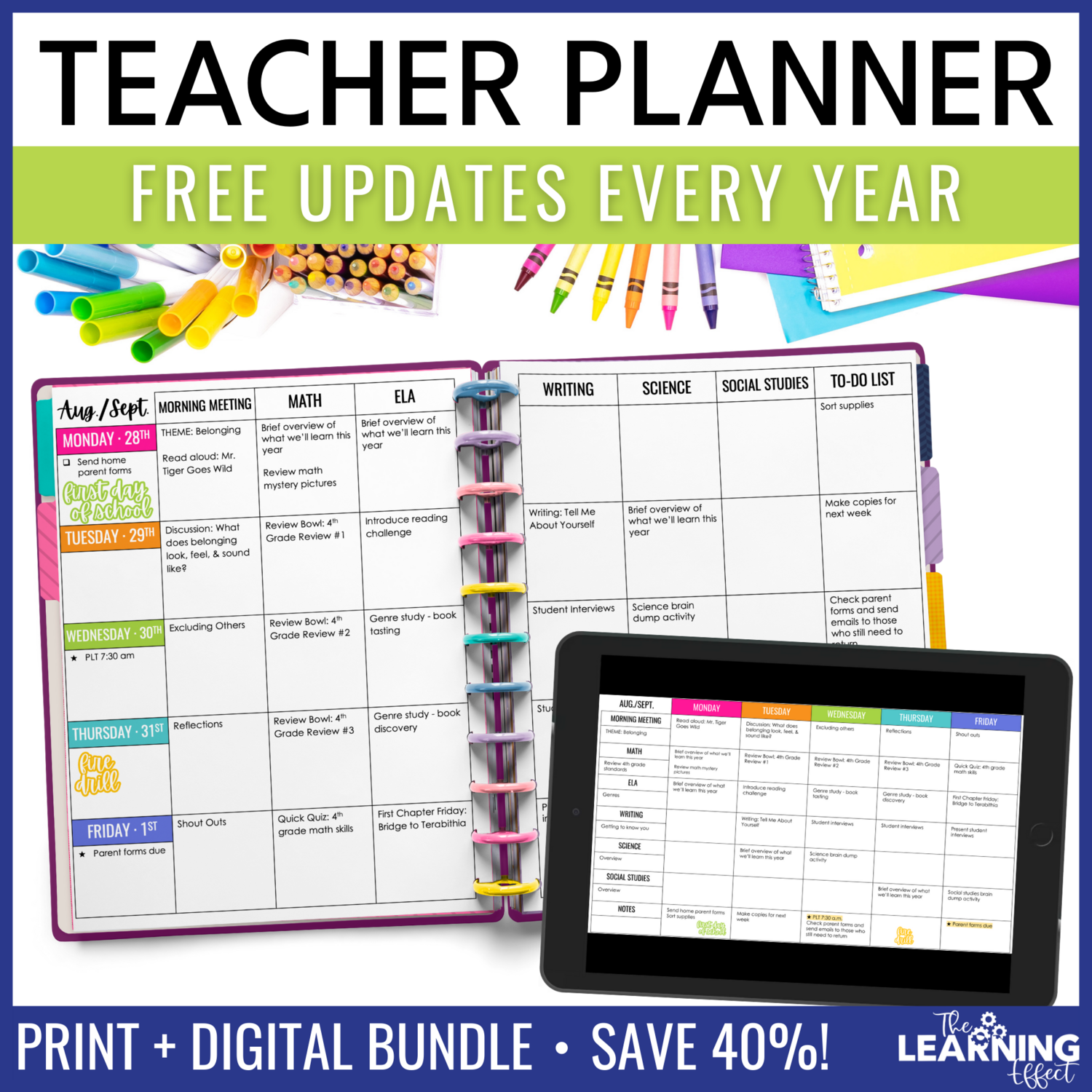 Editable Teacher Binder | Printable and Digital Teacher Planner | BUNDLE
712300
Product Details
Resource Line:
Teacher Planner
This Teacher Planner Bundle has everything you need to organize the school year - weekly planning pages, helpful forms, monthly calendars, curriculum map templates, digital stickers, and much more. You can easily customize and create a planner that fits your needs with everything included. Print or digital planning? The choice is yours!
Stop wasting money on those pricey teacher planners you buy each year! (You know you don't use every page, and it's painful that you can't even customize it.)
Creating your own planner puts the power of planning back into your hands! With hundreds of colorful cover designs, the option to handwrite or type your plans, pre-dated planning pages and calendars, and editable pages, you can put together a planner that makes the teacher next door jealous.
The best part of all? You get FREE updates every year. It's true -- this is just a one-time purchase, and you get access to ALL future updates. (How amazing is that?!)
The latest update (February 2023) includes January 2023 - December 2025. The next updates will be published by April 2025.
⭐ Prefer a black/white version of this planner? Click here! ⭐
THIS BUNDLE INCLUDES
350+ colorful and trendy cover designs -- Whether you bind your planner or stick it in a 3-ring binder, these cover designs will give you a fun flair added to your planner! Change out your cover as often as you'd like. Create binder covers for students, your curriculum master copies, or anything else you want to add a playful look to.

Curriculum map templates -- Pre-dated + editable = ready to fill in! These templates make creating an essential pacing guide a breeze to ensure you get all your curriculum standards taught pre-testing season.

Monthly calendars -- Personal or classroom planning, monthly info calendars you send home to parents or add to your teacher planner or binder - these calendars can help you organize all the things in multiple areas of your life.

Pre-dated weekly planning templates -- Whether you prefer subjects across the top of the page or down the side, both options are included and are completely editable.

Digital planning templates -- Prefer to plan 100% paperless? Widescreen templates are included for planning on a computer or tablet. (Not pre-dated.)

200+ planner pages and forms -- From checklists to grade book sheets to teacher and student information pages, you will have everything you need this school year in one place.

2,500+ functional digital stickers -- Add digital stickers to your planning pages before printing or for emphasis when you plan digitally. Simply copy and paste to utilize these fun accents.

All editable files included are for PowerPoint and Google Slides.

Basic editing and formatting instructions are included.
NOTE TO INTERNATIONAL TEACHERS
I think of you when I plan my updates and add new content. You will always have access to an entire school year, so you're not missing any parts of your planner. Pages set up for an American school year (July-June) also have an option for a typical year (January-December). Let me know if there's anything else I can do to improve my planner for international teachers!
HOW TO ACCESS YOUR UPDATES EACH YEAR
Just log in to your account and re-download.
MY PLANNER CREATION STORY
In 2010, I was so excited to start student teaching and pull out my brand new (and very overpriced) teacher planner that I had received as a gift. It was so beautiful and colorful. (You know exactly what planner I'm talking about.)
I was disappointed that I had to handwrite all of the dates. Some included pages weren't relevant to me, so they were left unused. All the checklists, emergency plans, student transportation lists, student info, etc., ended up in a different folder... which grew into a binder halfway through the year. The fancy planner fell flat in my eyes.
The following year I decided I'd make a planner myself, and I was pleased with the results! I soon had orders from others in my school who wanted a customized planner, too. That's when I knew I had something special.
This planner has gone through many changes, updates, and overhauls over the years, but it's still my favorite teacher tool I have created.
WHAT TEACHERS LIKE YOU HAVE SAID
⭐️⭐️⭐️⭐️⭐️ Mindi G. "I LOVE this planner and all of the items it comes with. I love being able to customize my planner each year to exactly the way I want and like it. This resource has everything and anything you could possibly want, as well as things that you didn't know you needed but end up using often. I love that this gets updated with the dates each year. Thank you so much for all of your hard work & sharing your creativity with us. It is greatly appreciated!"
⭐️⭐️⭐️⭐️⭐️ Crystal D. "BEST. PLANNER. EVER. I have used this for the past four years and will not use another planner. I love that I have the option to edit things, but honestly, I have not had to. Thanks for a great product!!"
⭐️⭐️⭐️⭐️⭐️ Tammy H. "This is a great planner! Especially for the price. The past two years, I have purchased a really expensive planner and found it's just not working the way I wanted it to this year. I found this planner, and I can edit it to fit my needs. I have been having a lot of fun personalizing it. I am going to print it and get it bounded so it will look like my expensive planner but so much better."
LOOKING FOR MORE DETAILS ON EACH OF THE RESOURCES INCLUDED IN THIS BUNDLE? CHECK OUT THE INFORMATION BELOW!


Get all of your copies, paperwork, and classroom paper piles organized once and for all. This Binder Covers and Spines resource contains over 350 different designs for you to choose from! You'll never get bored of your binder covers again - just easily switch to a new theme when you're ready! All text is editable in this resource.
THIS RESOURCE INCLUDES

18 binder cover theme sets with 363 total different covers
Each binder cover has matching binder spines for 1" and 2" binders
Text is editable – use your own fonts if you'd like
There are NOT any covers with pre-written text. A list of title ideas is included for your binders/dividers.
Please note: The text is the only editable part of this resource. Images are not editable.
Curriculum Map
is essential to pacing your curriculum throughout the school year to make sure you can fit it all in. This pre-dated curriculum map template will make creating your curriculum pacing guide a breeze. The goal of a curriculum map/pacing guide is for big-picture planning. Prefer to plan digitally? Use the Google Slides™ file!
Bonus Curriculum Standards Template is included with your Curriculum Map Template! Add your standards to the template for a quick reference guide.
CURRICULUM MAP TEMPLATES
Monthly curriculum map/pacing guide templates – they do NOT include pre-filled content for any grade levels
Dated templates for January 2023 – December 2025
Two options for your layout – one-page or two-page spread
Type into the tables and change the number of columns to fit your needs
Please note: The month and year on each page are not editable text and are a part of the page background.
Year at a glance template is not dated - use for a brief overview of what core topics you'll be covering each month throughout the year
CURRICULUM STANDARDS TEMPLATE
Editable template for your district/state standards. You type them into the templates to create a quick reference that matches your curriculum map.
The tables and text are completely editable.
Please note: No curriculum standards are included. It would be impossible for me to include standards that meet all grade levels, states, countries, etc. This is merely a template for you to organize your standards in one place better.
Use these editable Monthly Calendars for personal or classroom planning, monthly calendars you send home to parents, or in your teacher planner or binder. There are two options - a one-page vertical calendar or a two-page spread calendar. If you prefer to use the calendars digitally, you can do that with the included Google Slides™ version.
This resource currently includes January 2023 through December 2027. You will be able to download future updates for FREE!
What's better than having several years of calendars at your fingertips that you can edit, use digitally or print, AND only pay once rather than buy a new calendar every year? These calendars give you FREE updates that keep you productively planning year to year.
THIS RESOURCE INCLUDES
Dated calendars for January 2023 – December 2027
Two options for your layout – one-page or two-page spread
Type into the calendars to add events, student birthdays, and more
Please note: The month, year, and small next month calendar on each page are not editable and are a part of the page background
Easily create your own teacher planner with editable Weekly Lesson Plan Templates and Teacher Pages and Forms. Whether you prefer to plan on paper or digitally, this resource contains options for both!
What's better than being able to create a planner that includes everything you need AND only paying once rather than spending money every year on a new planner that has lots of pages you'll never use? This planner allows you to do that!
THIS RESOURCE INCLUDES
Two pre-dated weekly lesson plan options are included – subjects across the top AND subjects down the side. Includes dated templates for January 2023 – December 2025
Type into the tables and change the number of columns to fit your needs
Please note: The month on each page is not editable text and is a part of the page background to preserve the font
Alternate templates to choose from that are not pre-dated
PLANNER PAGES & FORMS
Over 200 planner pages and forms
All student checklists come with pre-made lists for 25, 30, and 35 students. You can easily add or delete any extra rows.
All tables are completely editable. Some of the pages contain sections that have titles that are NOT editable. (See preview images for a visual explanation.)
Please note: The page titles are not editable text and are a part of the page background.
RAINBOW WATERCOLOR COVERS
13 covers to choose from with matching spines for 1", 1.5", and 2" binders
DIGITAL PLANNING TEMPLATES
Widescreen templates for digital planning on a computer or tablet
These editable templates are undated and have pre-made options for 5, 6, or 7 subjects with subjects across the top AND subjects down the side


If you love using stickers in your teacher planner but want to go digital, this is a resource you need! Digital stickers are an easy way to customize your teacher planner or calendar before printing or when planning digitally. Simply copy and paste from your sticker book file into your planner, and you're ready to go. All stickers are high quality, so printing them on your planner will look great!
If you plan digitally using Google Slides™, there's a Google Slides™ version ready to go for you.
THIS RESOURCE INCLUDES
PowerPoint file for those who are using PowerPoint to create/edit a digital or printable planner
Google Slides file for those who are using PowerPoint to create/edit a digital or printable planner
Airtable base with dates for the holidays and observance stickers that are included. I will update the database each year to help you easily find when holidays and observances fall in the calendar.
2,604 digital stickers for use with a teacher planner or calendar
Sticker images are embedded in a PowerPoint or Google Slides file as a sticker book. They are high quality PNG images and will work with digital planning or printed planners.

teacher tasks, teacher meetings, teacher duties, activities outside the classroom, school events, in-class tasks, curriculum subjects, extracurriculars, fun stuff, emergency drills, celebrations, sports, religion, remote learning, personal, scheduling
holidays & observances: U.S., Canadian, Australian, religious, cultural, school & fun observances, seasons, health awareness
productivity & functional stickers
shapes - solid, outlined, and semi-transparent *these are the only editable stickers - you can change the colors and add your own text
icons
PLEASE NOTE
⚠️ These stickers are meant to be printed on sticker paper. The stickers may be used to create products for you to redistribute or sell.
---
INCLUDED FILE FORMATS
Zipped Files: This resource includes more than one file and is zipped. You will need to unzip the file to access the resources.

PDF: This resource requires Adobe Reader (free software).

PowerPoint: This resource requires PowerPoint software installed on a PC or Mac to access. It has not been tested with other presentation software.

Google Slides: To access the Google Slides version, you need to have a (free) Google account. Once you download this resource, you will receive a PDF with a link to access the digital resource. The link will prompt you to make a copy of the resource, which will add it to your Google Drive.
---
Please ask ALL questions before purchasing.
© The Learning Effect, LLC | Tiffany Schmidt
All rights reserved by author.
Permission to copy for single classroom use only.
Please purchase additional licenses at a discounted rate for additional users.
Intended for classroom and personal use only.
Save this product for later