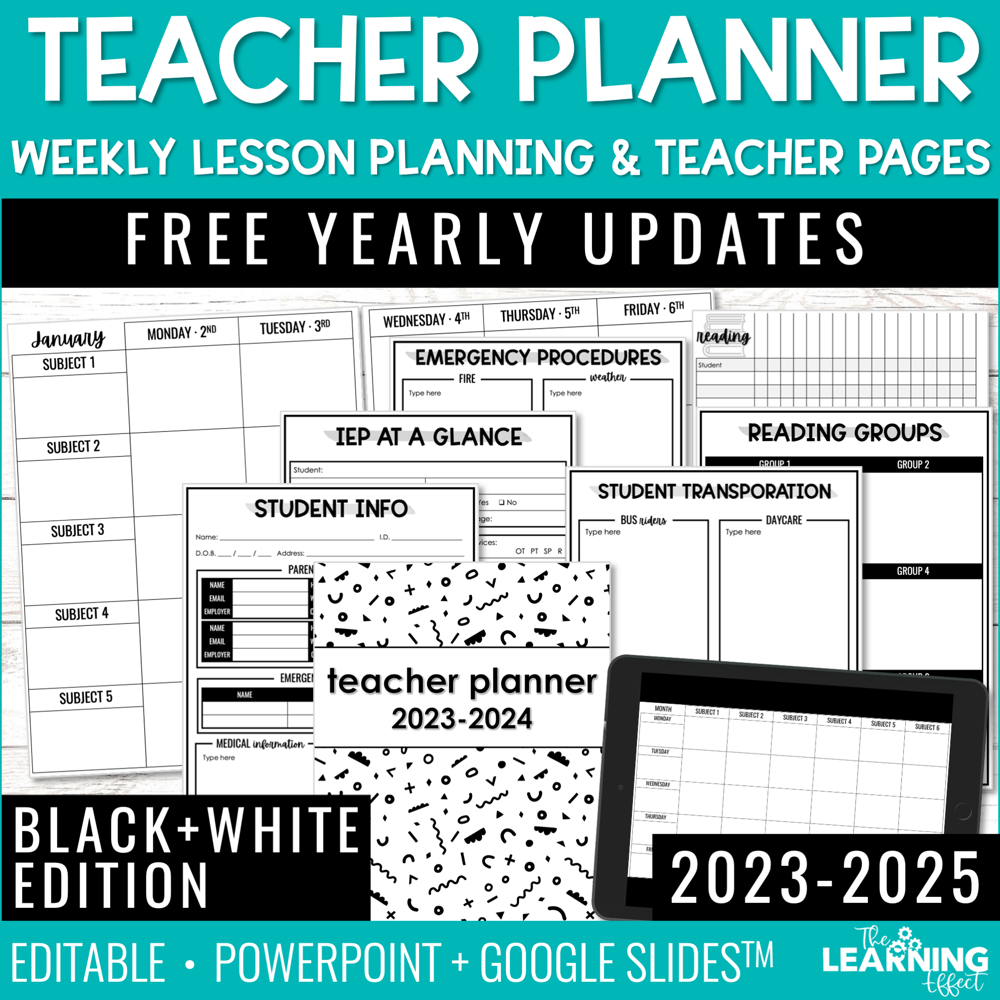 Editable Weekly Teacher Planner Templates 2023-2025 | Black & White
7386877
Product Details
Resource Line:
Teacher Planner
Easily create your own teacher planner with editable Weekly Lesson Plan Templates and Teacher Pages and Forms. Whether you prefer to plan on paper or digitally, this resource contains options for both! (It's ink-friendly, too!)
Each year you can download the updates for FREE!
What's better than being able to create a planner that includes everything you need AND only paying once rather than spending money every year on a new planner that has lots of pages you'll never use? This planner allows you to do that!
Also available in a color version.
⭐ GET THE TEACHER PLANNER BUNDLE & SAVE ⭐
Save 25% by purchasing this resource in a bundle to create a complete Teacher Planner or Binder
THIS RESOURCE INCLUDES
Editable PowerPoint files – PowerPoint is required to use this resource
Editable Google Slides™ files – a Google account is required to access and use the files
Basic editing/formatting instructions
Ink-saving black and white templates
WEEKLY LESSON PLANNING TEMPLATES
Two pre-dated weekly lesson plan options are included – subjects across the top AND subjects down the side
Dated templates for January 2023 - December 2025
Type into the tables and change the number of columns to fit your needs
Please note: The month on each page is not editable text and is a part of the page background
Alternate templates to choose from that are not pre-dated
PLANNER PAGES & FORMS
Over 200 planner pages and forms
All student checklists come with pre-made lists for 25, 30, and 35 students. You can easily add or delete any extra rows.
All tables are completely editable. Some of the pages contain sections that have titles that are NOT editable. (See preview images for a visual explanation.)
Please note: The page titles are not editable text and are a part of the page background.
BLACK & WHITE DOODLE COVERS
36 covers to choose from with spines for 1", 1.5", and 2" binders
DIGITAL PLANNING TEMPLATES
Widescreen templates for digital planning on a computer or tablet
These editable templates are undated and have pre-made options for 5, 6, or 7 subjects with subjects across the top AND subjects down the side
INCLUDES FREE YEARLY UPDATES
These files will be updated by November 1st and April 1st each year. This will ensure that you have the updates in time for your school year – whether you're international or in the U.S.
Last updated on 02.18.2023
INCLUDED FILE FORMAT
Zipped Files: This resource includes more than one file and is zipped. You will need to unzip the file to access the resources.
PDF: This resource requires Adobe Reader (free software).
PowerPoint: This resource requires PowerPoint software installed on a PC or Mac to access. It has not been tested with other presentation software.
Google Slides™: To access the Google Slides™ version, you need to have a (free) Google™ account. Once you download this resource, you will receive a PDF with a link to access the digital resource. The link will prompt you to make a copy of the resource, which will add it to your Google Drive™.
---
Please ask ALL questions before purchasing.
© The Learning Effect, LLC | Tiffany Schmidt
All rights reserved by author.
Permission to copy for single classroom use only.
Please purchase additional licenses at a discounted rate for additional users.
Intended for classroom and personal use only.
Save this product for later