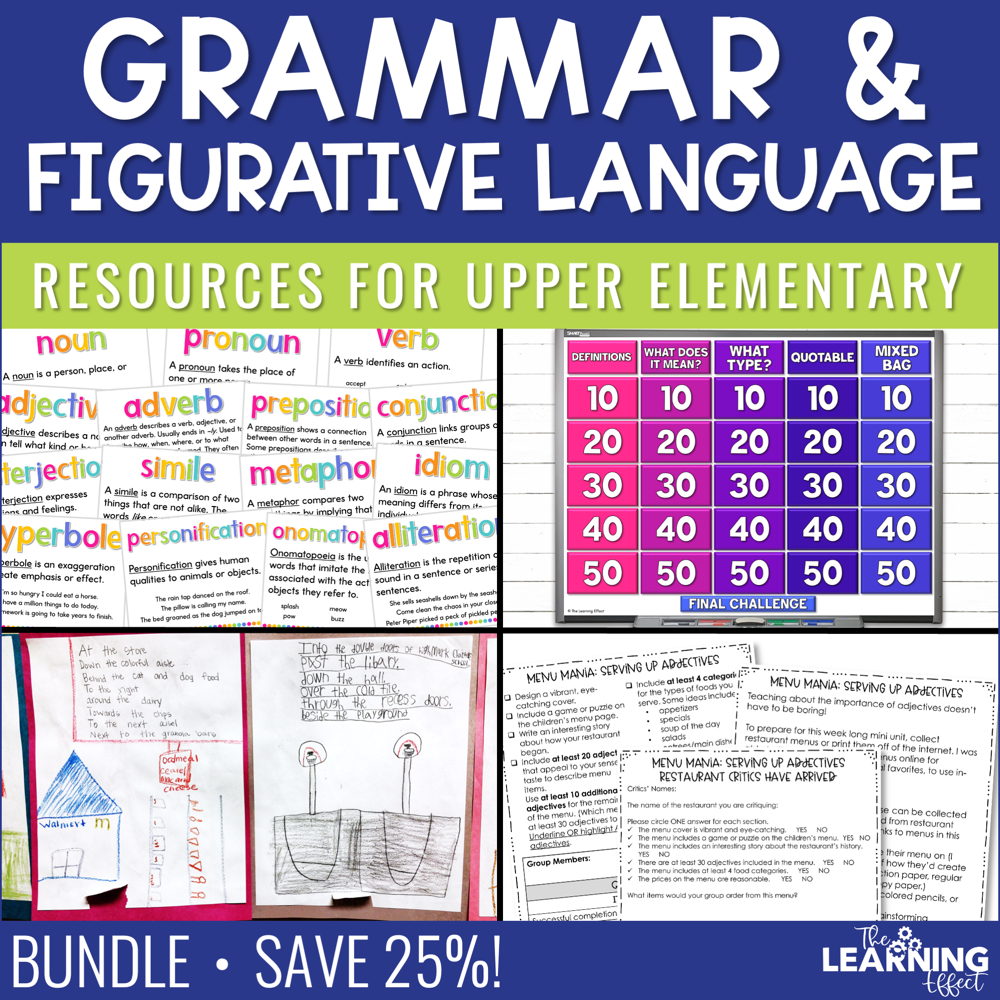 Grammar and Figurative Language Resources BUNDLE | Posters Game Activities
4806146
Product Details
Save 25% by purchasing four grammar and figurative language resources in this discounted bundle!
➊ GRAMMAR POSTERS | FIGURATIVE LANGUAGE POSTERS
Grammar, parts of speech, and figurative language contain many terms and definitions to remember! These colorful posters are the perfect addition to your classroom, giving your students a quick overview when needed. Each term has a definition and examples.
THIS RESOURCE INCLUDES
64 colorful posters for the following terms:

grammar
parts of speech
noun
common noun
proper noun
concrete noun
abstract noun
singular noun
plural noun
collective noun
possessive noun
pronoun
object pronoun
subject pronoun
reflexive pronoun
relative pronoun
verb
action verb
helping verb
linking verb
irregular verb
adjective
comparative adjective
superlative adjective
adverb
preposition
conjunction
coordinating conjunction
subordinating conjunction
interjection
subject & predicate
article
compound word
contraction
abbreviation
acronym
types of sentences
prefix
suffice
homophones
synonym
antonym
figurative language
literal language
figure of speech
simile
metaphor
idiom
hyperbole
personification
onomatopoeia
assonance
alliteration
cliché
symbolism
allusion
oxymoron
irony
adage or proverb
pun
imagery
analogy

Black and white ink-saving option is included
---
➋ ADJECTIVES ACTIVITY
Teaching about adjectives doesn't have to be boring! This student-centered mini-unit has students analyze restaurant menus, learn about adjectives, create their own menu, and critique another group's menu. This hands-on activity will have your students engaged each day of the mini-unit.
THIS RESOURCE INCLUDES
Instructions for the teacher
Links to printable restaurant menus
Example list of adjectives
Student critique rubric
Grading rubric for the teacher
SUGGESTED TEACHING TIMELINE
Day 1: The Importance of Adjectives
Day 2: What's Cooking?
Day 3 and 4: If You Build It, They Will Come
Day 5: Would You Like Fries With That?
SUPPLIES NEEDED
Sample restaurant menus
Paper for each group to create their menu
Coloring tools (crayons, markers, colored pencils, etc.)
*Please note: Sample menus are not included due to copyright laws. I have included links to printable restaurant menus I've found online for your quick reference. You can download and print menus online or collect takeout menus from local restaurants for this project.
---
➌ FIGURATIVE LANGUAGE GAME SHOW
Review Figurative Language in a fun and interactive way that involves your whole class. This engaging game show plays like Jeopardy® and covers similes, metaphors, personification, onomatopoeia, alliteration, hyperbole, and idioms. Perfect for an end of year or end of unit review for 4th grade, 5th grade, and 6th grade.
REVIEW BOWL GAME FEATURES
Clickable, Jeopardy-style game board that fades values that have been chosen (only the PowerPoint version fades values)
5 game categories with 5 questions in each + a final challenge question, giving you 26 questions total
Each question has a separate linked answer slide
Navigation buttons on every slide that will take you to the answer slide or game board
CATEGORIES INCLUDED IN THIS GAME
Definition
What Does It Mean?
What Type?
Quotable
Mixed Bag
THIS RESOURCE INCLUDES
Gameplay instructions
Answer key for quick reference
Printable team labels for keeping score
PowerPoint game show
Google Slides™ game show
WAYS TO PLAY REVIEW BOWL GAMES
WHOLE-CLASS: Split students into teams. During each round, a student from each team goes into the "hot seat" to compete for their team. All students need whiteboards to solve during the game.
VIRTUAL LEARNING: Screen share with your students during a virtual meeting for an interactive whole-class activity.
SMALL GROUPS/CENTERS: Set up the game on a computer for students to play against each other.
PLEASE NOTE
⚠️ This resource is NOT editable. You will NOT be able to change any of the questions in the game.
---
➍ PREPOSITION POETRY
Preposition Poetry is a fun way for students to practice using prepositions appropriately. Students choose an object from any location they're familiar with - a store, their house, the school, etc. They write a poem, beginning each line with a preposition, describing the location of their chosen object. The final product is an interactive guessing game for readers to figure out what is being described.
THIS RESOURCE INCLUDES
Instructions for the teacher
Student examples
What are Prepositions? poster
Common Prepositions Relating to Place poster
Student instructions
Sample poem
---
INCLUDED FILE FORMATS

PDF: This resource requires Adobe Reader (free software) to access and is NOT editable in any way. You will not be able to manipulate the content inside.
PowerPoint: This resource requires PowerPoint software installed on a PC or Mac to access. It has not been tested with other presentation software.
---
Please ask ALL questions before purchasing.
Copyright © Tiffany Schmidt (The Learning Effect)
All rights reserved by author.
Permission to copy for single classroom use only.
Please purchase additional licenses at a discounted rate for additional users.
Intended for classroom and personal use only.
Save this product for later