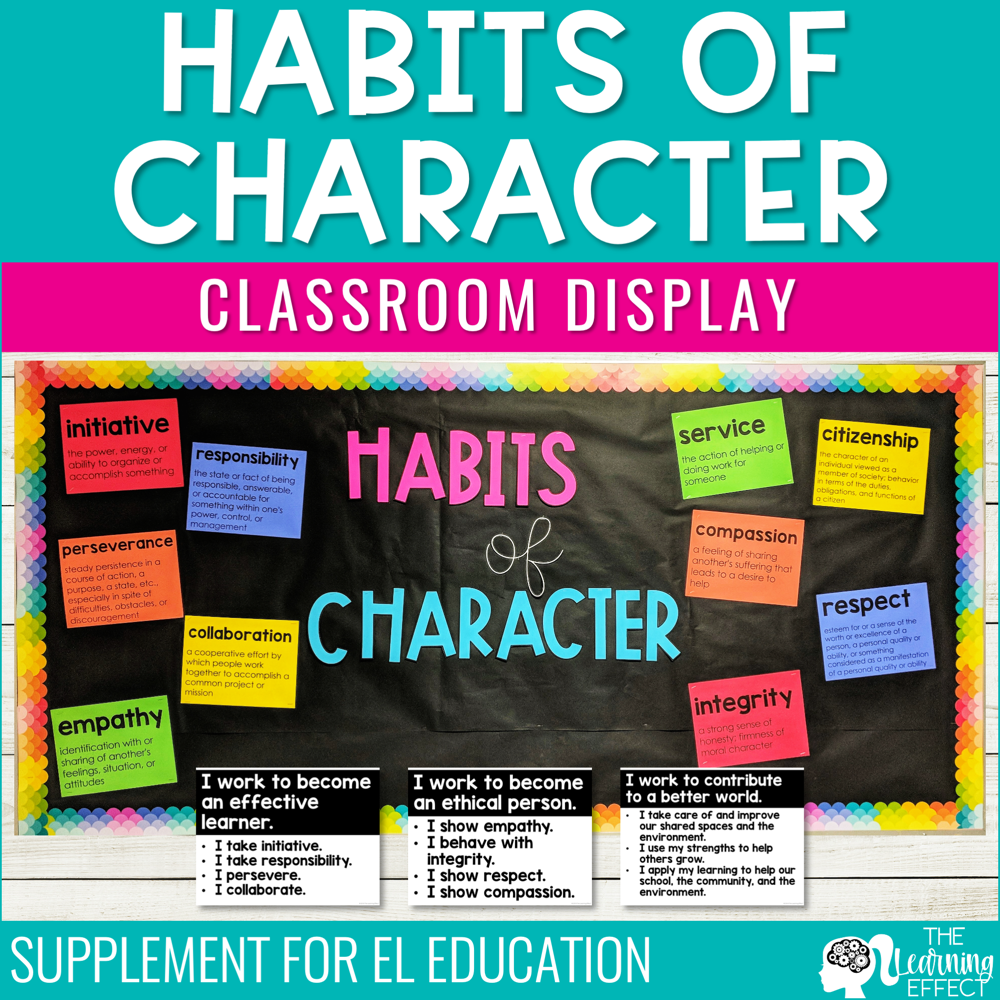 Habits of Character Classroom Display
3888372
Product Details
This resource is a supplement for EL Education Literacy Curriculum. EL Education uses habits of character and social-emotional learning as the heart of the modules and units. Students work to become effective learners, ethical people, and contributors to a better world.
Habits of Character are used across grade levels K-5 in EL Education. The words that were selected as part of this resource encourage students to develop mindsets and skills for future success, work to become ethical people, be kind to others and stand up for what they believe in, and work to create a better world and improve communities.
All pages are simple black and white text to save on ink. They look great printed on bright colored paper!
THIS RESOURCE INCLUDES
Titles for your classroom display: a 1-page "Habits of Character" printable or large letter outlines that you can print on colored paper or cardstock to make a bulletin board size display
Vocabulary words: initiative, responsibility, perseverance, collaboration, empathy, integrity, respect, compassion, citizenship, service, courage, creativity
12 vocabulary words with definitions (4 design options)
12 vocabulary words without definitions (4 design options)
3 page-size printables of the 3 main overarching themes covered in EL Education Literacy Curriculum with "I" statements
Instructions on how to print two words to a page for half-sized posters
FILE FORMAT
PDF: This resource requires Adobe Reader (free software) to access and is NOT editable in any way. You will not be able to manipulate the content inside.
---
Please ask ALL questions before purchasing.
Copyright © Tiffany Schmidt (The Learning Effect)
All rights reserved by author.
Permission to copy for single classroom use only.
Please purchase additional licenses at a discounted rate for additional users.
Intended for classroom and personal use only.
Save this product for later