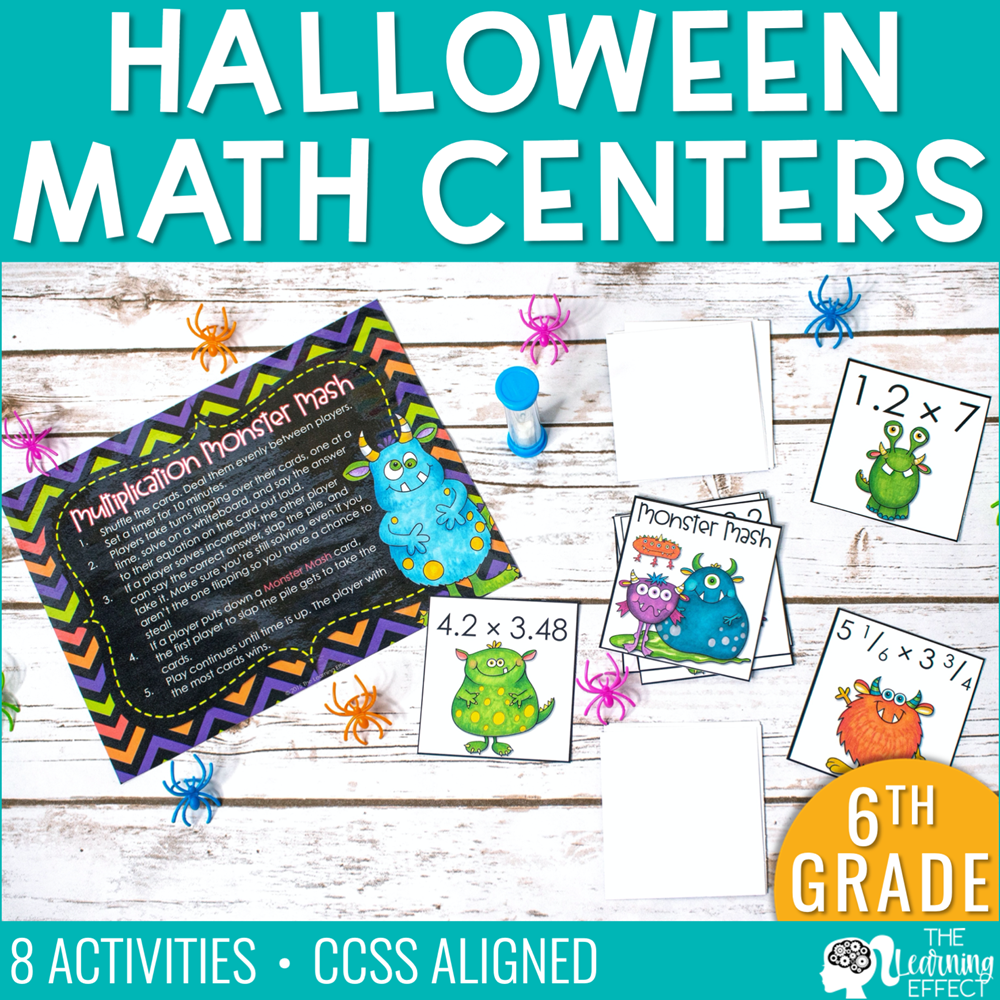 Halloween Math Centers for 6th Grade
4032827
Product Details
Get in the Halloween spirit with these 6th grade math centers! Perfect for practicing math skills all through the month of October. There are 8 Halloween activities included, covering a range of Common Core standards.
These centers do take some prep (printing, cutting, and [optional] laminating), but will be ready to go each year going forward! Only 5 centers require recording sheets, so there's minimal student paper usage with these activities. There's a mix of small group activities and individual activities so students can be moving from one center to the next without the need to partner up.
THIS RESOURCE INCLUDES
Teacher prep guide
8 center/station activities

Eye Popping Coordinates (Coordinate Plane Graphing) - task cards and recording sheet
Absolute Value Arachnids - timed card game for small group
Corny Comparisons (Positive/Negative Number Inequalities) - task cards and recording sheet
Multiplication Monster Mash (Multiplication of Whole Numbers, Fractions, and Decimals) - timed card game for small group
Franken Factors (Greatest Common Factors) - task cards and recording sheet
Delectable Division Dash (Division of Whole Numbers and Decimals) - timed worksheet race for small group
Jumpin' Jack-o-Lanterns (Decimal Operations) - students build a jack-o-lantern and solve decimal operations task cards in a small group
Bewitched Decimals (Fraction to Decimal Conversion and Terminating or Repeating Decimals) - task cards and recording sheet

Answer keys for games with recording sheets
SUPPLIES NEEDED
3 timers (digital works best)
Dry erase markers
Cardstock (for printing cards so they're not see-through)
Laminator or plastic page protectors (for students to draw on with dry erase)
Candy (optional - for Delectable Division Dash, winning student gets a piece of candy)
FILE FORMAT
PDF: This resource requires Adobe Reader (free software) to access and is NOT editable in any way. You will not be able to manipulate the content inside.
---
Please ask ALL questions before purchasing.
Copyright © Tiffany Schmidt (The Learning Effect)
All rights reserved by author.
Permission to copy for single classroom use only.
Please purchase additional licenses at a discounted rate for additional users.
Intended for classroom and personal use only.
Save this product for later