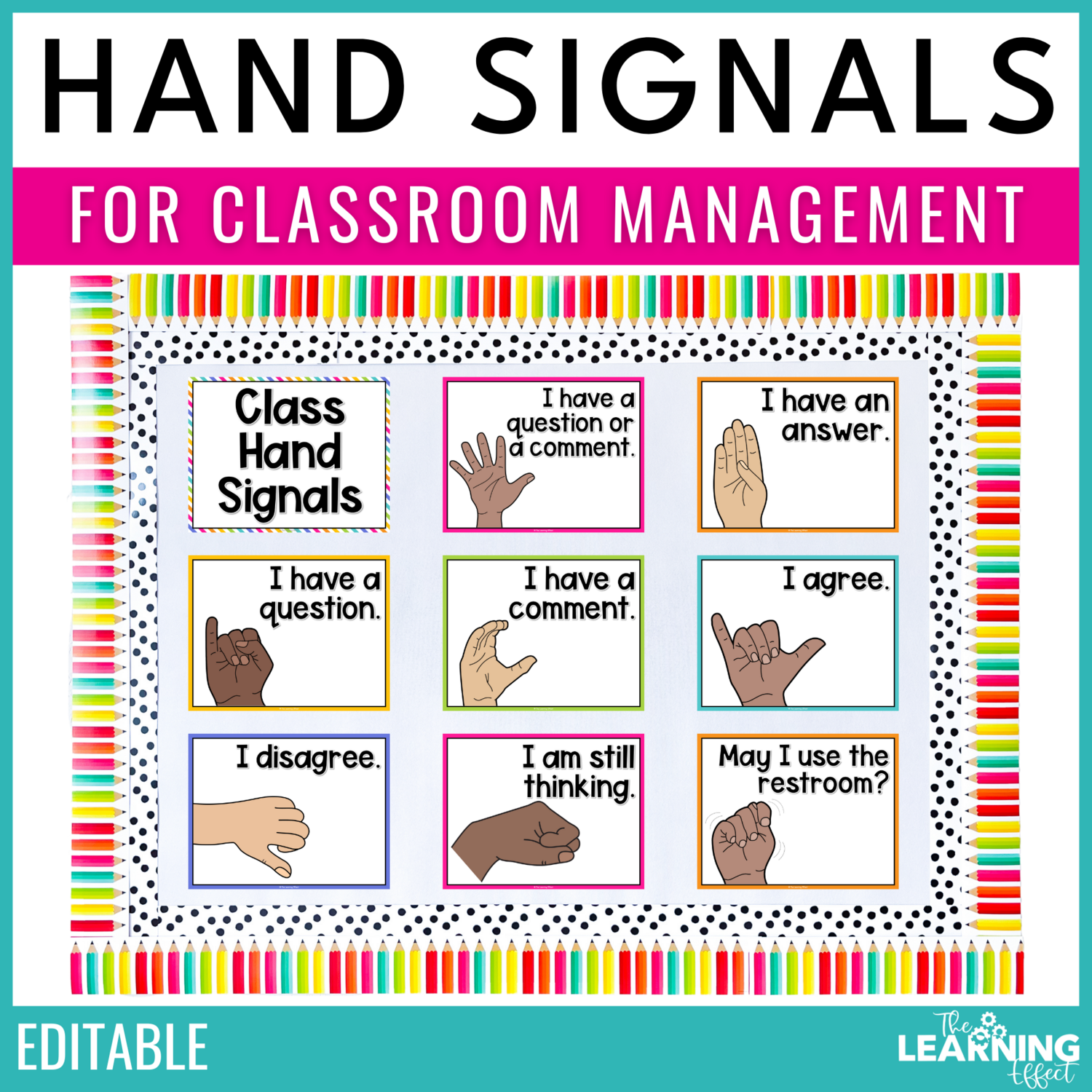 Hand Signals Editable | Classroom Behavior Management Posters
2026233
Product Details
Classroom Hand Signals are the perfect way to manage student needs during a lesson. With hand signals, students can silently let you know what they need. Teachers can easily distinguish between a question, answer, and comment - that way, you can save the comments for later!
PowerPoint is required to use the editable file.

⭐ GET THE CLASSROOM MANAGEMENT BUNDLE & SAVE ⭐
Save 25% by purchasing this resource in a bundle with my best selling Classroom Management resources
THIS RESOURCE INCLUDES
18 pre-made, ready to print posters (PDF) in two sizes:
2 display signs:

Class Hand Signals
Hand Signals

16 posters, showing the hand signal with text to tell what it stands for:

I have a question or comment.
I have an answer.
I have a question.
I have a comment.
I agree. (2 options)
I disagree. (2 options)
I am still thinking. (2 options)
May I use the restroom? (2 options)
May I get a drink?
May I get a tissue?
May I have a sharp pencil?
I need help, please!

106 editable hand signal posters that you can add text to (PowerPoint) in two sizes:

8.5" x 11" - 17 different hand signals to choose from, each in 4 diverse skin tones (snapping hand only has 3 skin tones)
5.4" x 5.4" - 16 different diverse hand signals

Both PDF and PowerPoint files also include black/white version of all pages
INCLUDED FILE FORMATS
PDF: This resource requires Adobe Reader (free software).
PowerPoint: This resource requires PowerPoint software installed on a PC or Mac to access. It has not been tested with other presentation software.
Mac Users: Older PowerPoint versions may be unable to read the embedded fonts. Fonts may not appear correctly in the file and may require you to download a font if you wish to use the ones in the preview. Font information is provided in the file.
---
Please ask ALL questions before purchasing.
© The Learning Effect, LLC | Tiffany Schmidt
All rights reserved by author.
Permission to copy for single classroom use only.
Please purchase additional licenses at a discounted rate for additional users.
Intended for classroom and personal use only.
Save this product for later