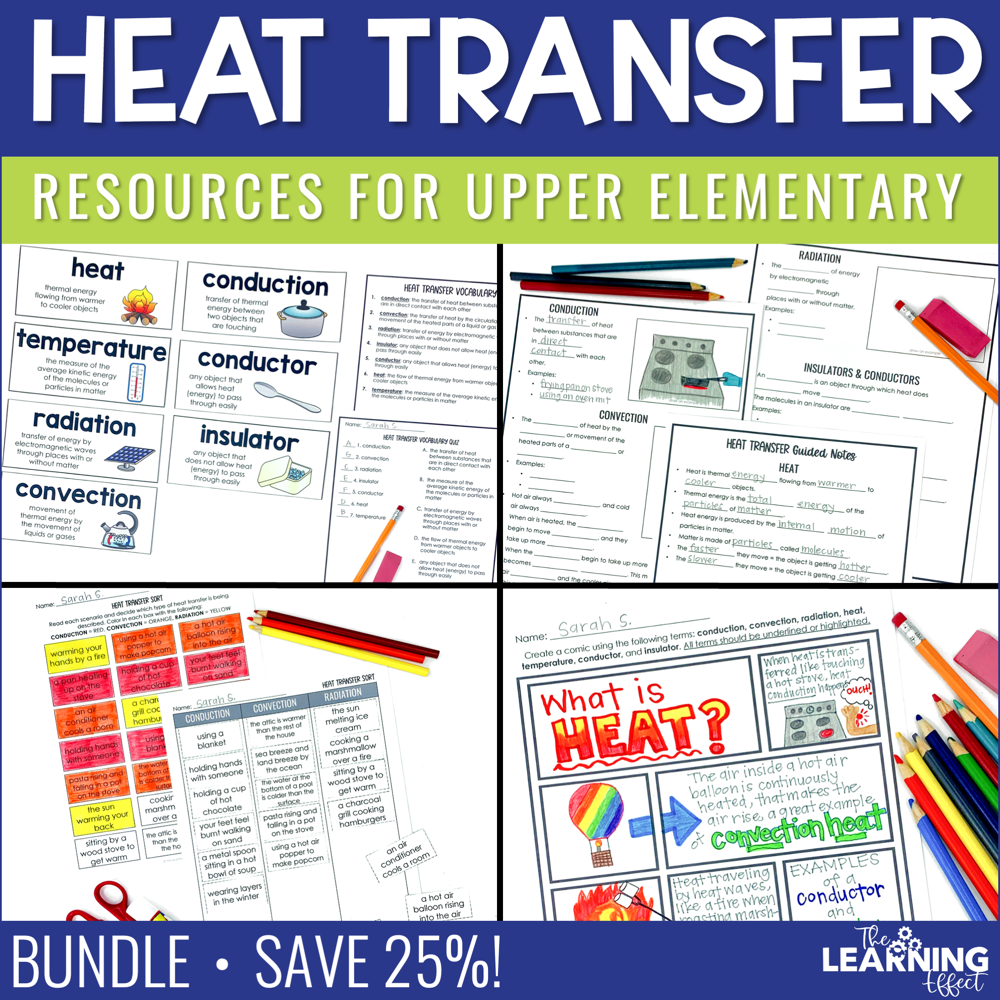 Heat Transfer Science BUNDLE | Lesson Vocabulary Activities Worksheets
4291361
Product Details
Resource Line:
Heat Transfer
Get the resources you need to teach your upper elementary students about heat transfer. This bundle includes a lesson with guided notes, vocabulary word wall cards and quiz, a sort activity, and comic activity. Save 25% by purchasing four Heat Transfer resources in this discounted bundle!

Teach Heat Transfer with this PowerPoint or Google Slides™ lesson and corresponding guided notes. The topics covered include heat, temperature, conduction, convection, radiation, insulators, and conductors.
THIS RESOURCE INCLUDES
14 slide PowerPoint lesson
14 slide Google Slides™ lesson
Guided notes that go along with the presentation
Guided notes answer key
Filled in notes
---
Teach your students the domain-specific vocabulary needed to learn Heat Transfer. The 7 words included are conduction, convection, radiation, insulator, conductor, heat, and temperature.
THIS RESOURCE INCLUDES
7 vocabulary cards with term, definition, and image (print 3-per-page)
Vocabulary page for student reference
Vocabulary multiple choice quiz
Vocabulary quiz answer key
Google Forms™ vocabulary quiz
---
This hands-on sorting activity requires your students to use their knowledge of the three types of Heat Transfer. Three activity options are included: a cut and paste sort, color by type (no cutting/pasting required), and a Google Slides™ interactive option that you can assign to students through Google Classroom™.
THIS RESOURCE INCLUDES
Sort organizer and pieces to cut out
Sort coloring sheet
Answer key
Google Slides™ interactive sort option
---
Have your students create a comic strip using Heat Transfer vocabulary. This engaging activity allows students to be creative and show what they've learned. A grading rubric is included.
THIS RESOURCE INCLUDES
Comic templates - 4 options
Grading rubric - 3 different scale options
Examples of 5th grade comics
---
INCLUDED FILE FORMATS
PDF: This resource requires Adobe Reader (free software).
PowerPoint: This resource requires PowerPoint software installed on a PC or Mac to access. It has not been tested with other presentation software.
Google Slides™ and Google Forms™: To access the Google Slides™ and Google Forms™ versions, you need to have a (free) Google™ account. Once you purchase this resource, you will receive a PDF with a link to access the digital resource. The link will prompt you to make a copy of the resource, which will add it to your Google Drive™.
PLEASE NOTE
⚠️ These resources are NOT editable. You will NOT be able to change any of the content.
---
Please ask ALL questions before purchasing.
© The Learning Effect, LLC | Tiffany Schmidt
All rights reserved by author.
Permission to copy for single classroom use only.
Please purchase additional licenses at a discounted rate for additional users.
Intended for classroom and personal use only.
Save this product for later