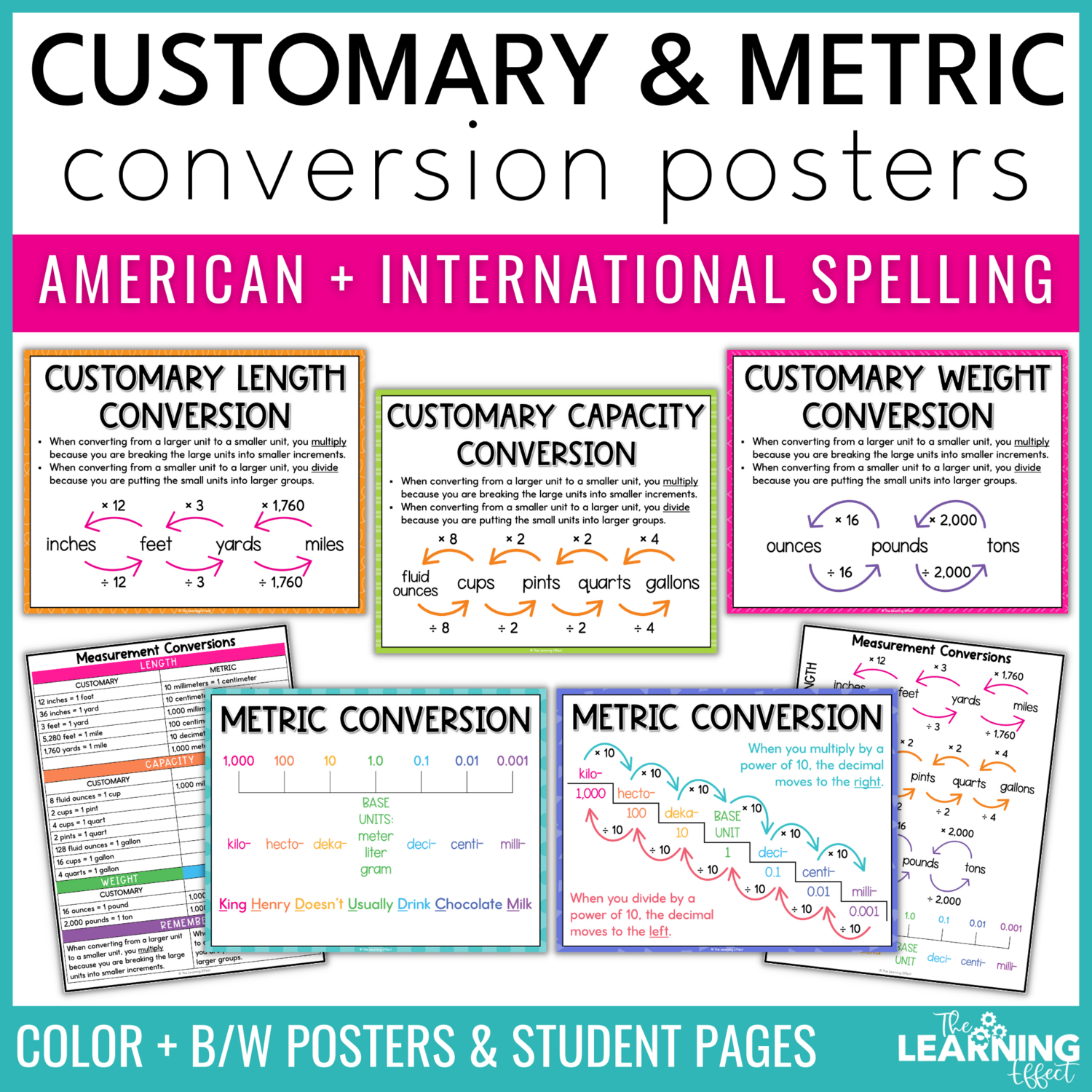 Measurement Conversion Posters | Customary and Metric Anchor Charts
1215011
Product Details
Measurement conversion can sure be tricky! These customary and metric measurement posters will help your students simplify the process and visualize the order in which they need to compute their conversion. These anchor charts and visuals give you several options to choose from.
THIS RESOURCE INCLUDES
Customary length, capacity, and weight conversion posters
Metric conversion posters - two options with different mnemonics
One-page posters with both customary and metric conversions included
36 vocabulary cards:

convert, dimensions, length, width, height, distance, weight, mass, capacity, customary system, inch, foot, yard, mile, ounce, pound, ton, fluid ounce, cup, pint, quart, gallon, metric system, kilometer/kilometre, meter/metre, decimeter/decimetre, centimeter/centimetre, millimeter/millimetre, kilogram, gram, liter/litre, millimeter/millimetre, scale, meter/metre stick, yard stick, ruler

Metric conversion steps display
Two student reference sheets for notebooks (print two per page)
Two files – one with American spelling and one with international spelling [different spelling for deka-/deca-, meter/metre (+ prefixes), liter/litre (+ prefixes)]
Black/white ink-saving copies (vocabulary cards are only available in color)
INCLUDED FILE FORMAT
PDF: This resource requires Adobe Reader (free software). The contents may not show correctly if using other PDF software.
PLEASE NOTE
⚠️ The PDF is NOT editable in any way, and you will not be able to manipulate the content inside.
---
Please ask ALL questions before purchasing.
© The Learning Effect, LLC | Tiffany Schmidt
All rights reserved by author.
Permission to copy for single classroom use only.
Please purchase additional licenses at a discounted rate for additional users.
Intended for classroom and personal use only.
Save this product for later