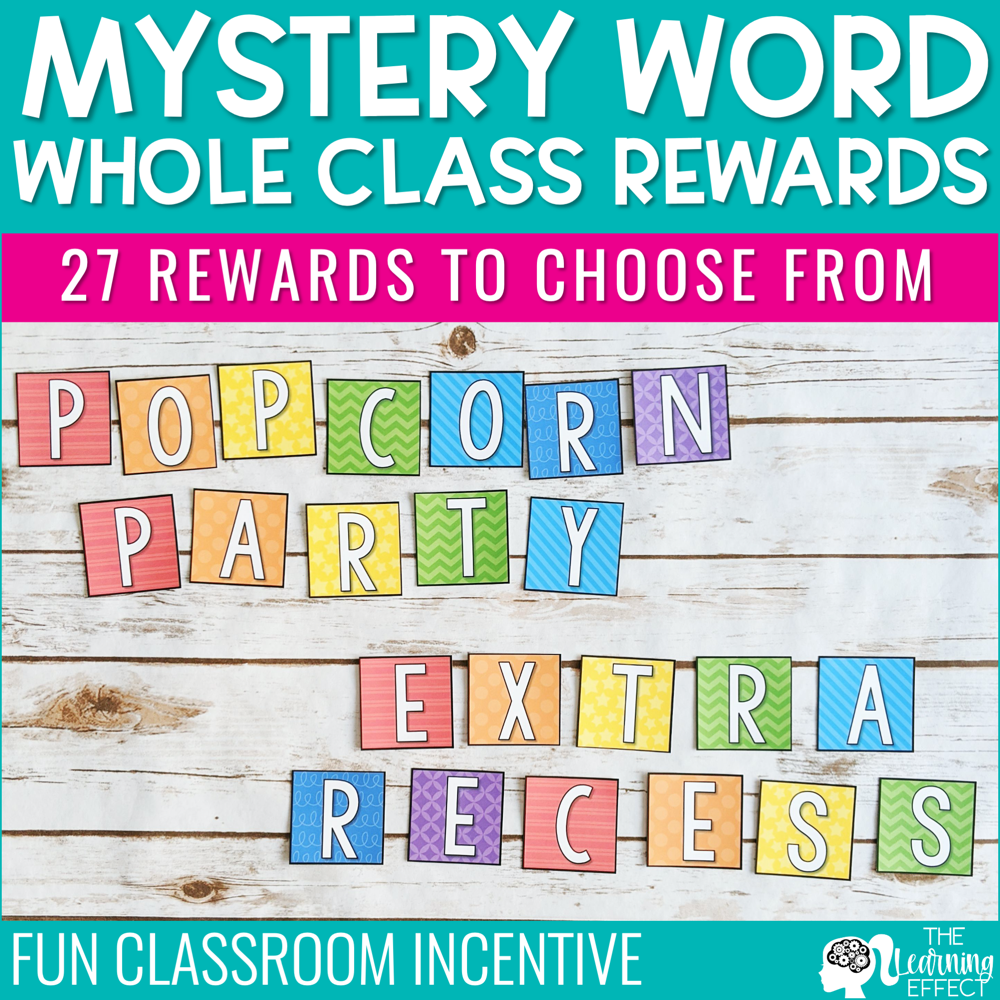 Mystery Word Whole Class Rewards
SKU 00000
Product Details
Using Mystery Word Whole Class Rewards is a fun classroom management tool. This is an easy way to motivate your class to work towards a goal together! You choose the prize that you want your students to work towards and they earn the letters to reveal their prize. Students at any elementary grade level will love this new spin on whole class rewards!
WHAT'S INCLUDED
27 different whole class rewards, including:

Popcorn Party
Movie
Ice Cream
Pizza Party
Stuffed Animals
Extra Recess
Board Games
Read-a-Thon
Dance Party
GoNoodle
Bring a Toy
Lunch in Class
Free Time
Treasure Box
Homework Pass
Treat
Pajama Party
Class Choice
Hot Chocolate
Music Pass
Root Beer Floats
Doughnuts
Show & Tell
Class Money
Class Store
Auction
Art Activity

Black and white ink-saving version of each page
* If there is a reward that is not included that you'd like added, please let me know and I'd be happy to add it to the resource.
WAYS TO USE THIS RESOURCE
Print on cardstock (so students can't see through the cards) and display all of the cards, flipped backwards so students don't know what the prize is. For every earned letter, flip one over to gradually reveal the prize.
Print and put up each letter as they are earned.
Have students guess a letter - somewhat like Hangman or Wheel of Fortune. Correct guesses get flipped and revealed.
FILE FORMAT
PDF: This resource requires Adobe Reader (free software) to access and is editable in any way. You will not be able to manipulate the content inside.
---
Please ask ANY and ALL questions before purchasing. You can use the form below to send us a question.
Thank you so much!
Tiffany Schmidt
The Learning Effect
Copyright © 2016 Tiffany Schmidt
All rights reserved by author.
Permission to copy for single classroom use only. If using with multiple classrooms, please purchase additional licenses at the discounted rate.
Save this product for later
Ask a Question