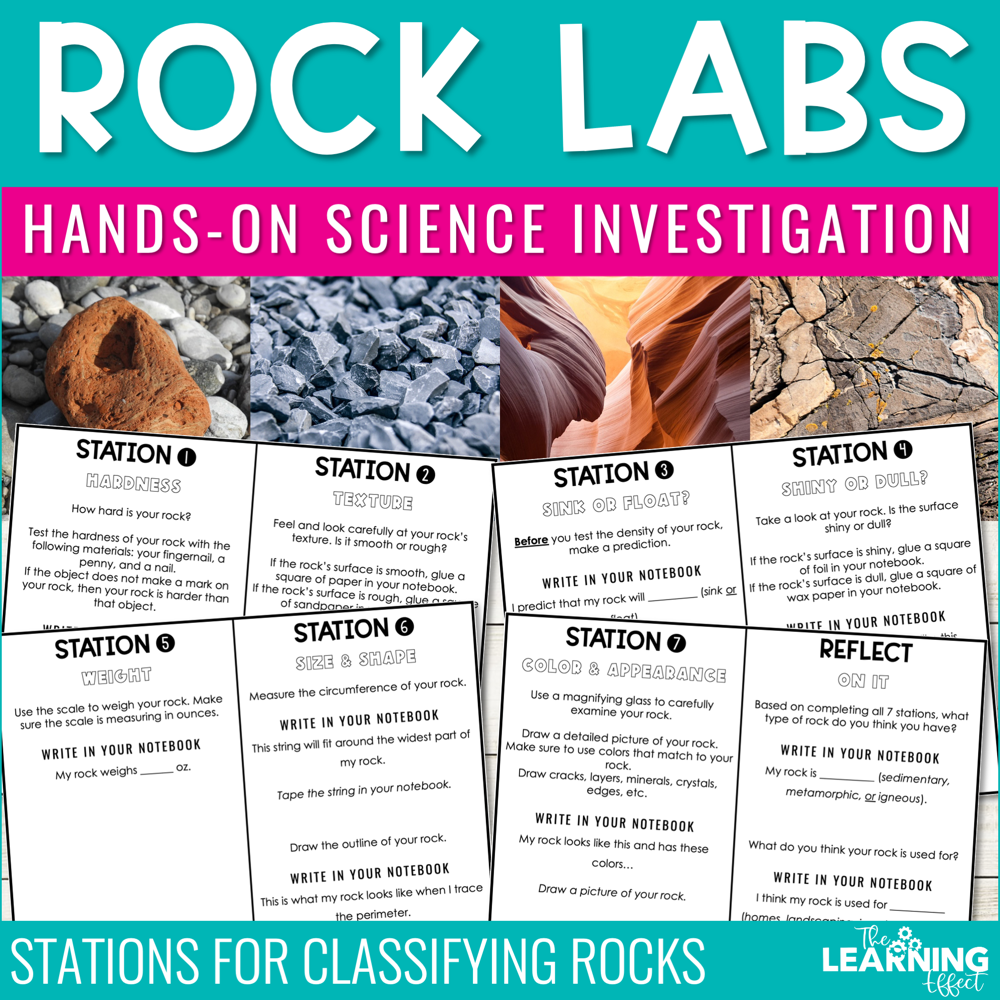 Rocks and Minerals Activities | Hands-On Science Investigation Lab
1966532
Product Details
Wrap up your rocks and minerals science unit with this hands-on investigation lab! Students complete 7 stations to test the properties of a rock and classify what type of rock they have. Perfect for grades 2-5 as a performance task or science centers.
THIS RESOURCE INCLUDES
Classifying Rocks poster
Supplies needed list
Teacher instructions
2 differentiated sets of stations

For primary use as booklets
For upper elementary use as centers with science notebooks

7 hands-on stations for students to investigate properties of a rock

The weight station includes 3 options - measuring in oz, kg, or nonstandard form of measurement

A reflection station to determine what type of rock students think they have based on their findings
Station signs
Most pages are black and white, but those that come in color also have an ink-saving version included
ALIGNS WITH THE FOLLOWING STANDARDS/OBJECTIVES
Describe the characteristics of different rocks.
Identify basic properties of minerals and rocks.
Observe rocks using a magnifying glass and draw shapes and colors of the minerals.
SUPPLIES NEEDED
Rocks (one for each student)
A postal, food, or balance scale
String
Colored pencils or crayons
Tape
Glue
Nails (4)
Pennies (4)
Large bowl with water
Sandpaper cut into small squares
Copy paper cut into small squares
Wax paper cut into small squares
Aluminum foil cut into small squares
Magnifying glasses
FILE FORMAT
PDF: This resource requires Adobe Reader (free software) to access and is NOT editable in any way. You will not be able to manipulate the content inside.
---
Please ask ALL questions before purchasing.
Copyright © Tiffany Schmidt (The Learning Effect)
All rights reserved by author.
Permission to copy for single classroom use only.
Please purchase additional licenses at a discounted rate for additional users.
Intended for classroom and personal use only.
Save this product for later