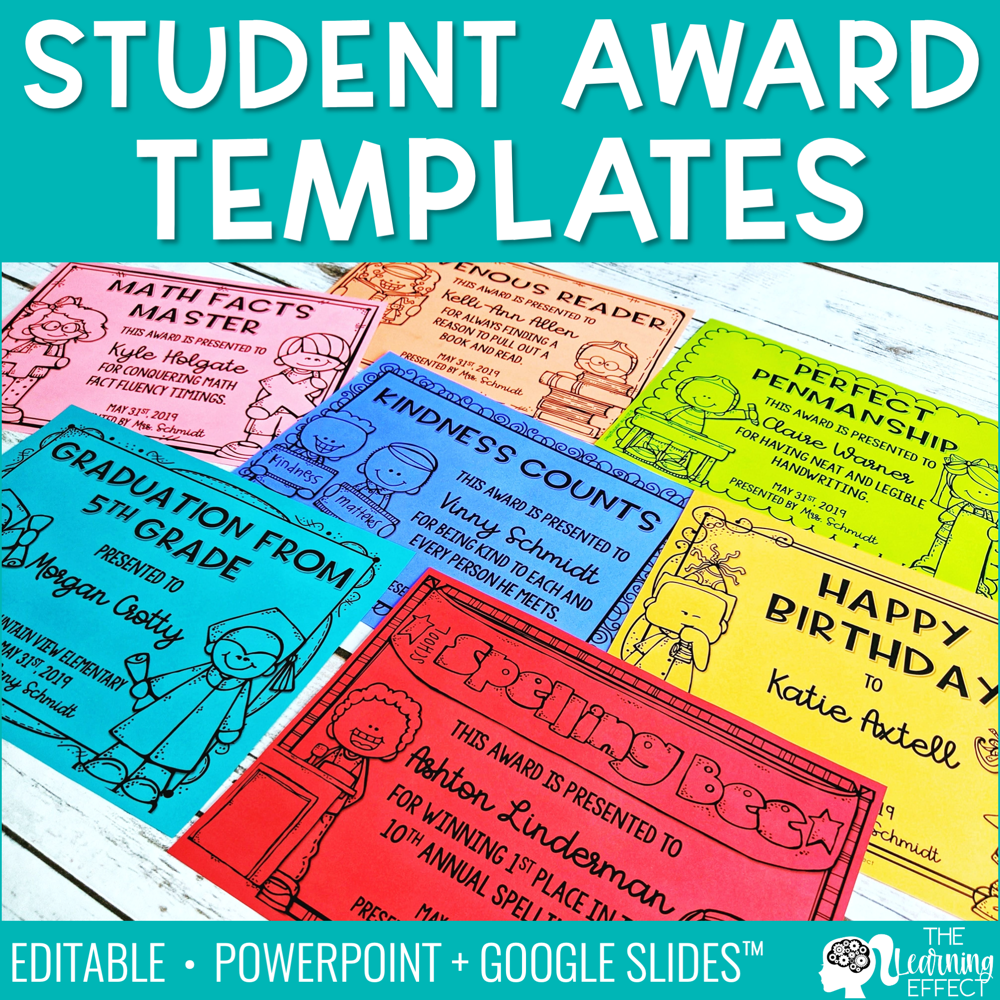 Student Award Templates [Editable]
SKU 00001
Product Details
Celebrate your students with achievement, academic, and fun student awards! Distance learning ready with instructions for how to get digital awards to your students and how to hold a virtual awards ceremony!
Having customized awards at your fingertips has never been easier. Editable text boxes on every award allow you to choose your wording and fonts. With 82 award templates to choose from, this editable resource allows you to create student awards for end of year superlatives, birthdays, award rallies, graduation, and much more!
This is NOT a ready-to-go resource. The file includes templates for you to customize. Ideas have been for awards you can give. All pages are black and white, which will save your ink and are perfect for printing on bright colored paper.
WHAT'S INCLUDED
82 award templates with completely editable text, including:

41 templates featuring Melonheadz clip art
41 templates with award ribbon clip art

200 award ideas (2 pages)
Award examples with font information
Instructions for using the awards digitally for distance learning and holding a virtual awards ceremony (and slides that you can use as a part of your ceremony)
82 Google Slides™ awards templates (same content as the PowerPoint)
Student award checklist/voting ballot - a PDF that you can type right into and use as a checklist or student voting ballot
* Please note: These are templates, meaning they are a ready to print resource. This is so you can customize them to fit classroom needs.
WHY THESE AWARDS AREN'T READY TO GO
When I was in the classroom, I had a hard time finding awards for every student that I liked the wording on. That's what led me to create my own.
Yes, I can understand that it creates more work for the teacher upfront to have to customize the awards, but not many awards that are available have 100% editable text. I saved my awards so each year I could just change out the names, tweak the reasons (if necessary), and change the date. Much less work after the first year of editing. 😉
If you don't want to include a reason, delete that part. Want to move around the text? Go for it. Change the font, size, and color. Your choices are endless!
FILE FORMAT
PowerPoint: This resource requires PowerPoint software installed on a PC or Mac to access. It has been tested with other presentation software.
Mac Users: Fonts may not appear correctly in the file and may require you to download a font if you wish to use the one in the preview. Font information is provided in the file.
PDF: The student checklist file requires Adobe Reader (free software) to access and is editable in any way. It does contain fillable form fields for you to type into, but you will not be able to edit the template I've created on the pages.
Google Slides™: To access the Google Slides™ version, you need to have a (free) Google™ account. Once you purchase this resource, you will receive a PDF with a link for access to the digital resource. The link will prompt you to make a copy of the resource, which will add it to your Google Drive™.
---
Please ask ANY and ALL questions before purchasing. You can use the form below to send us a question.
Thank you so much!
Tiffany Schmidt
The Learning Effect
Copyright © 2014 Tiffany Schmidt
All rights reserved by author.
Permission to copy for single classroom use only. If using with multiple classrooms, please purchase additional licenses at the discounted rate.
Save this product for later