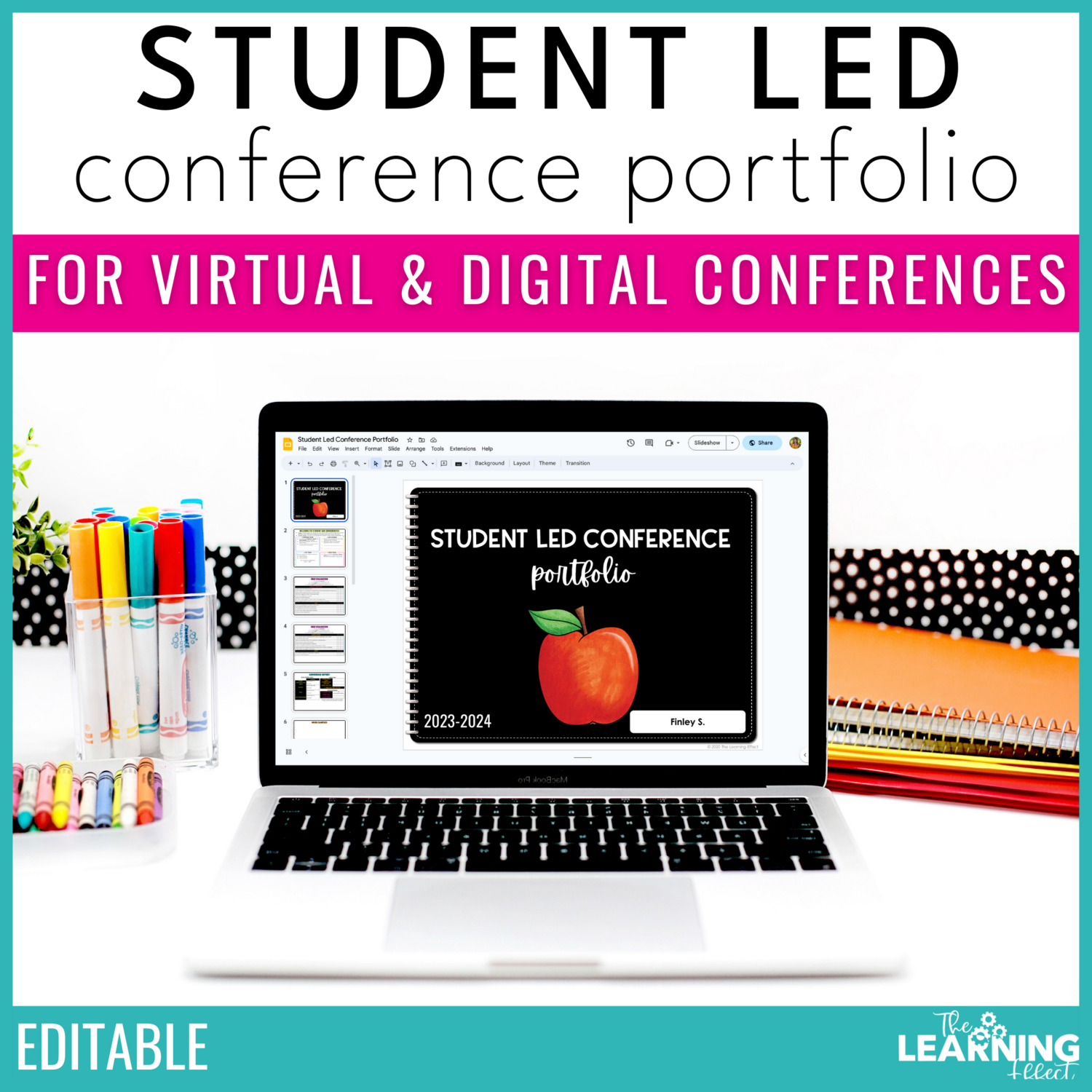 Student Led Conference Google Slides | Editable Digital Portfolio Virtual Forms
6062764
Product Details
Resource Line:
Student Led Conferences
Hold your Student Led Conferences digitally this year! This student portfolio for Google Slides has everything you need to make your parent-teacher conferences work for students at home or digitally in the classroom. Plus, the included guide will help you plan and execute your conference like a pro.
⭐ GET THE STUDENT LED CONFERENCES BUNDLE & SAVE ⭐
Save 25% by purchasing this resource in a bundle with my Student Led Conference Printable Forms
THIS RESOURCE INCLUDES
Editable a Google Slides Portfolio file, with pages/templates for:

Covers – 10 options
Student led conference script/checklist for students – 3 options with moveable checkmarks
Self-evaluation – 3 options + additional ideas with moveable Xs
Conference report – 4 options + additional ideas
Work samples – blank page with title for adding student work
What we're learning – 2 options
Student reflection – 5 options with moveable emojis
Student goals – 3 options
Goal setting ideas – 2 options
Ways your teacher & parents can support you
Ways my parents can help me at home
Discussion points for parents
Questions I have/my parents have – 2 options
Blank page – create your own pages
*IMPORTANT - Please read Editing in Google Slides on page 13 of the PDF for how to access and edit ALL template pages. A video tutorial is also included.*

Editable Google Forms for the following:

Pre-conference parent questionnaire
Student self-evaluation
Post-conference parent questionnaire
Post-conference student questionnaire

Editing & formatting instructions + video tutorial for editing the portfolio
Printable student led conferences overview, planning checklist & worksheets, & teacher discussion points
Parent email example (editable Google Docs)
PLEASE NOTE
⚠️ This resource is best used with Google Classroom or other LMS that allows you to distribute a file to students so they each get their own copy.
⚠️ This is NOT a ready-to-go resource. It includes Google Slides templates for you to customize. You do need to take the time to edit the templates and make them work for your classroom. (It's impossible for me to create something that works for every teacher and that you can "out of the box" immediately, which is why this resource is created as templates.)
⚠️ What you see in the images and preview is what is included in the templates, and ideas have been given on some template pages so that you can see how I ran mine in 5th grade. All content (except the page titles and clipart) on the templates is editable.
⚠️ The portfolio is in color since it is meant to be used digitally and not printed.
---
WHY STUDENT LED CONFERENCES?

Student led conferences are something that I am very passionate about in upper elementary! They increase parent involvement in a child's education, empower students, give students high accountability, and are useful for all involved parties – even those students who are doing so well that you feel like there's nothing to have a conference for.
Students run their conferences and are actively involved in the entire process. They create goals, review their grades with their guest, show off work they are proud of, and take accountability for incomplete assignments or other areas they may need to improve.
The teacher is a support in the conference and answers questions, clarifies data, gives positive and constructive feedback, and encourages parental involvement in the student led conference process.
Student led conferences are easy to prepare for and will change how you hold conferences in your classroom.
---
USING THIS RESOURCE WITHOUT GOOGLE CLASSROOM
I am not familiar with other learning management systems. If you can use Google Drive files with your LMS, you should be able to use this without issue. Though I'm not entirely sure how you would edit the personalized student data after distributing the portfolio, and you may have to share the data portion separately.
I also have editable Student Led Conference Forms that are meant to be printed but can be used digitally. They come with both a PowerPoint and Google Slides format for editing with your software of choice.
---
INCLUDED FILE FORMATS
PDF: This resource requires Adobe Reader (free software).
Google Slides + Google Forms: To access the Google files, you need to have a (free) Google account. The included PDF contains a link to access the digital resource.
---
Please ask ALL questions before purchasing.

© The Learning Effect, LLC | Tiffany Schmidt
All rights reserved by author.
Permission to copy for single classroom use only.
Please purchase additional licenses at a discounted rate for additional users.
Intended for classroom and personal use only.
Save this product for later