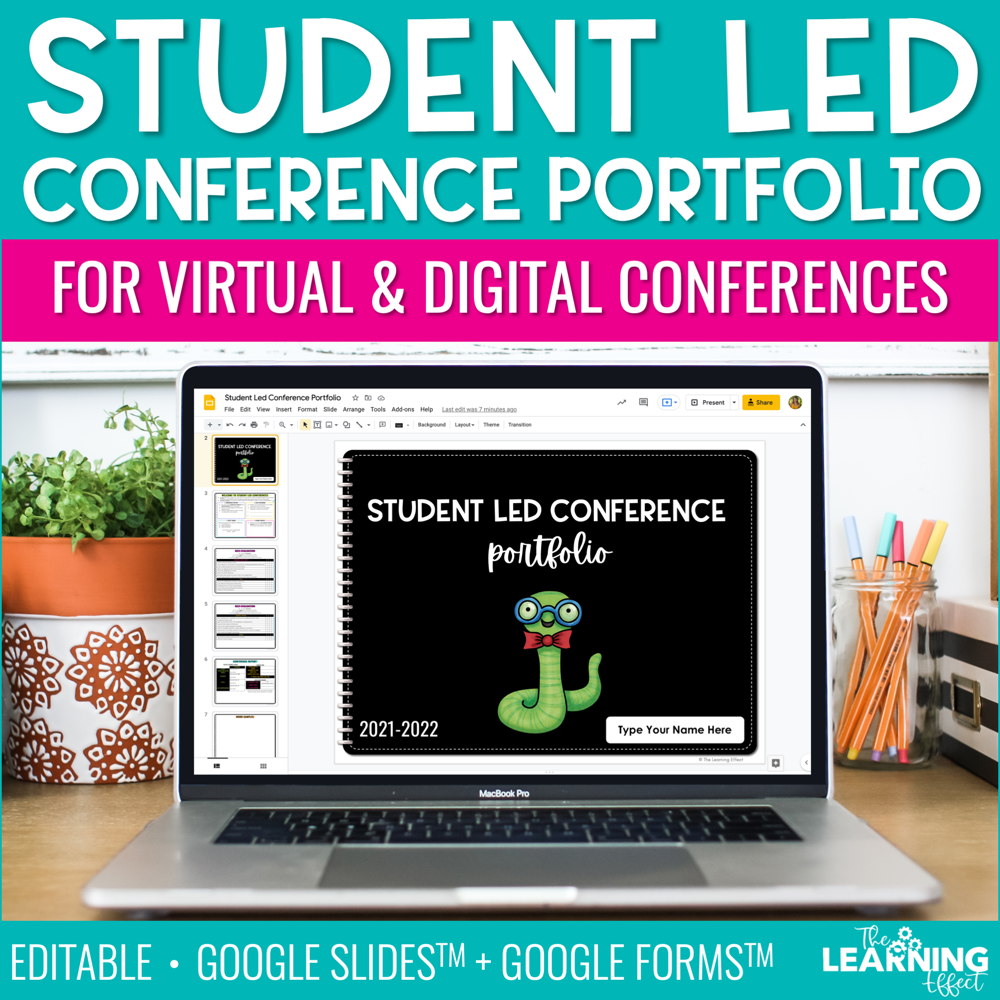 Student Led Conference Google Slides | Editable Digital Portfolio
SKU 6062764
Product Details
Hold your Student Led Conferences virtually this year! This student portfolio for Google Slides™ has everything you need to make your student led conferences work for students at home or digitally in the classroom.
PLEASE NOTE: This resource is best used with Google Classroom or other LMS that allows you to distribute a file to students, so they each get their own copy.
Student led parent-teacher conferences are a great way to involve students in their education! Parents enjoy the process because they get to see things from their child's perspective. Students enjoy presenting because they get to be involved in the conference and not just sit on the sidelines and hear what their teacher thinks. This digital portfolio can help you organize your own student led conferences this school year.
This resource includes Google Slides™ templates for you to customize. Ideas have been given on each template page so that you can see how I ran mine in 5th grade. All content (other than the page titles and clipart) on the templates is editable. The portfolio is in color.
⭐ BUNDLE & SAVE ⭐
Save 25% by purchasing this resource in a bundle with Student Led Conference Printable Forms!


THIS RESOURCE INCLUDES
Editable Google Slides™ Portfolio file, with the following pages/templates:

*IMPORTANT - Please read Editing in Google Slides™ on page 13 of the PDF for how to access and edit ALL template pages. A video tutorial is also included.*
Covers – 10 options
Student led conference script/checklist for students – 3 options with moveable checkmarks
Self-evaluation – 3 options + additional ideas with moveable Xs
Conference report – 4 options + additional ideas
Work samples – blank page with title for adding student work
What we're learning – 2 options
Student reflection – 5 options with moveable emojis
Student goals – 3 options
Goal setting ideas – 2 options
Ways your teacher & parents can support you
Ways my parents can help me at home
Discussion points for parents
Questions I have/my parents have – 2 options
Blank page – create your own pages
» Editable Google Forms™ for the following:
Pre-conference parent questionnaire
Student self-evaluation
Post-conference parent questionnaire
Post-conference student questionnaire

Editing and formatting instructions for Google Slides™ and Google Forms™
Video tutorial for editing the portfolio
Student led conferences overview, checklist, and planning worksheet
Parent email example (editable Google Docs™)
Teacher discussion points
HOW TO USE WITH DISTANCE LEARNING
This resource was created for use with distance learning to easily use student led conferences while you teach online. The teacher overview walks you through how to hold virtual student led conferences and edit the files.
USING THIS RESOURCE WITHOUT GOOGLE CLASSROOM
I am not familiar with other learning management systems. If you can use Google Drive™ files with your LMS, you should be able to use this without issue. I'm not entirely sure how you would edit the personalized student data after distributing the portfolio, though. You may have to share the data portion separately.
I also have editable Student Led Conference Forms that are meant to be printed but can be used digitally. They come with both a PowerPoint and Google Slides™ format for editing with your software of choice.
---
FILE FORMAT
Google Slides™: To access the Google Slides™ version, you need to have a (free) Google™ account. Once you purchase this resource, you will receive a PDF with a link to access the digital resource. The link will prompt you to make a copy of the resource, which will add it to your Google Drive™.
Google Forms™: To access the Google Forms™ files, you need to have a (free) Google™ account. Once you purchase this resource, you will receive a PDF with links to access the digital resources. The links will prompt you to make a copy of the forms, which will add it to your Google Drive™.
---
Please ask ALL questions before purchasing.
Copyright © Tiffany Schmidt (The Learning Effect)
All rights reserved by author.
Permission to copy for single classroom use only.
Please purchase additional licenses at a discounted rate for additional users.
Intended for classroom and personal use only.
Save this product for later