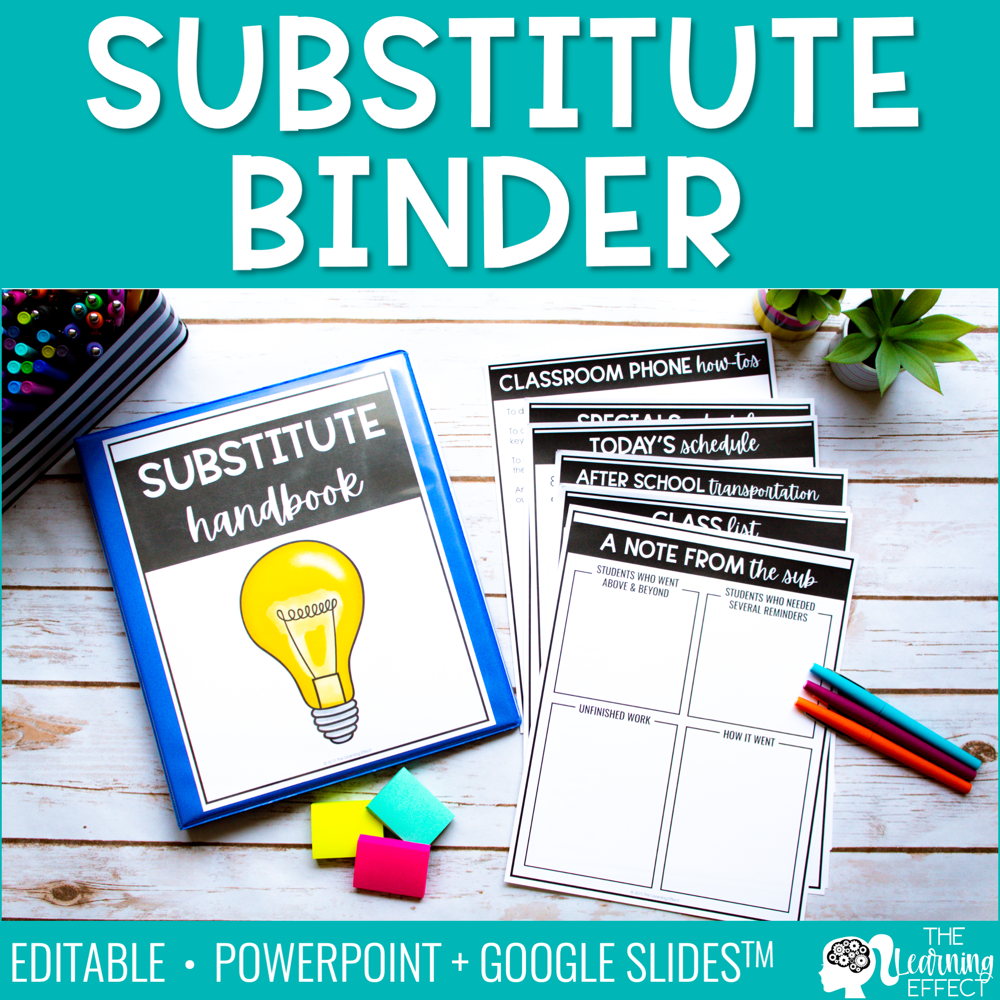 Substitute Binder Templates | Editable
SKU 00037
Product Details
Planning for a sub has never been easier! Customize your substitute handbook to fit your needs and it will be ready to go year round when it's time to call for a sub. Having a binder in place in my classroom was a lifesaver year after year!
This is NOT a ready-to-go resource. The file includes templates for you to customize. Ideas have been given on each template page for what things you could include. In order to protect my work, the titles on each page are not editable. An editable page title template is included at the end of the file. All pages are black and white, which will save you ink.
WHAT'S INCLUDED
79 pages in a PowerPoint file
79 pages in a Google Slides™ file
Editing and formatting instructions for PowerPoint & Google Slides
7 Substitute Handbook cover choices with color and black/white options for each
Binder spines (for 1", 1.5", & 2")
Divider pages (with clipart) in color and black/white options for

Student Information
Classroom Information
Class Schedules
Classroom Procedures
Lesson Plans
Technology Information

40 page templates:

A Note from the Teacher
A Note from the Sub
Class List
Seating Chart
Student Medical
After School Transportation
Student Jobs
Taking Attendance
Need Help?
Location of Materials
Time Fillers
Today's Schedule
Specials Schedule
Intervention Schedule
Pull-Out Schedule
Emergency Procedures
Behavior Expectations
Classroom Management
Classroom Procedures
Arrival Procedures
Dismissal Procedures
Bathroom Procedures
Lunch & Recess Procedures
Lunch Procedures
Recess Procedures
Food Policies
Weather Procedures
Rewards & Incentives
Lesson Plans (2 pages)
Website & Device Logins
Classroom Phone How-Tos
Computer How-Tos
Chromebook How-Tos
iPad How-Tos
Tablet How-Tos
Projector How-Tos
SmartBoard How-Tos
TV How-Tos
Document Camera How-Tos
BYOD Rules & Procedures

Editable Page Divider to create your own page
Editable Information Page to create your own page
FILE FORMAT
PowerPoint: This resource requires PowerPoint software installed on a PC or Mac to access. It has not been tested with other presentation software.
Mac Users: Fonts may not appear correctly in the file and may require you to download a font if you wish to use the one in the preview. Font information is provided in the file.
Google Slides™: To access the Google Slides™ version, you need to have a (free) Google™ account. Once you purchase this resource, you will receive a PDF with a link for access to the digital resource. The link will prompt you to make a copy of the resource, which will add it to your Google Drive™.
---
Please ask ANY and ALL questions before purchasing. You can use the form below to send us a question.
Thank you so much!
Tiffany Schmidt
The Learning Effect
Copyright © 2015 Tiffany Schmidt
All rights reserved by author.
Permission to copy for single classroom use only. If using with multiple classrooms, please purchase additional licenses at the discounted rate.
Save this product for later
Ask a Question