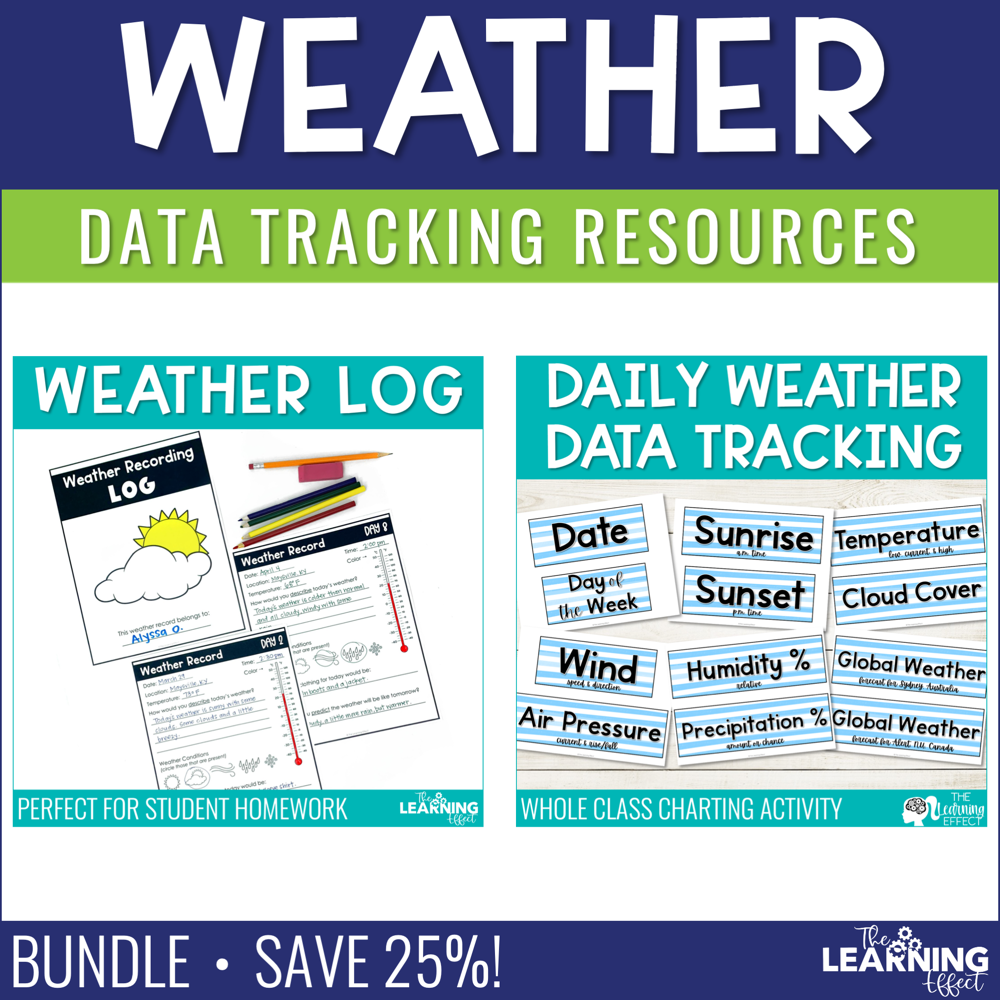 Weather Recording Resources BUNDLE
SKU 3960581
Product Details
Save 25% by purchasing two Weather Recording resources in this discounted bundle!
Tracking daily weather patterns is a great way to show students how the different components of weather affect what will happen tomorrow. This resource is perfect for tracking weather with your whole class throughout your weather unit. Labels for components to track and a student tracking chart are included.
THIS RESOURCE INCLUDES
Daily Weather Data Tracking header
Labels of the components of weather (prints two to a page):

Date
Day of the week
Sunrise
Sunset
Temperature
Cloud cover
Wind
Air pressure
Humidity
Precipitation
Global weather forecast for Sydney, Australia
Global weather forecast for Alert, NU, Canada

Student tracking chart worksheet
Black and white ink-saving version of each page
---
Do your science standards require students to observe, record, and make predictions about the weather? This weather recording log was created to assess these standards and be used as a culminating activity at the end of a weather unit. Use it as a homework assignment or have students complete a page in class each day.
THIS RESOURCE INCLUDES
Weather Recording Log cover page
Weather recording pages for days 1-10 include the following:

Date
Time
Location
Temperature
Thermometer clip art - students label & color on the image to show temperature
How would you describe today's weather?
Weather conditions (circle those that are present)
Suggested clothing for today would be...
What do you predict the weather will be like tomorrow?

Unlabeled page for recording weather conditions
All pages are ink-saving black and white
---
INCLUDED FILE FORMATS
PDF: This resource requires Adobe Reader (free software) to access and is NOT editable in any way. You will not be able to manipulate the content inside.
---
Please ask ALL questions before purchasing.
Copyright © Tiffany Schmidt (The Learning Effect)
All rights reserved by author.
Permission to copy for single classroom use only.
Please purchase additional licenses at a discounted rate for additional users.
Intended for classroom and personal use only.
Save this product for later