Do you have tons of digital curriculum resources that you never use in a school year because you forget you bought them? Or maybe your district purchased subscriptions to curriculum websites, but you forget to look for content to use with lessons. Planning with Airtable – a FREE productivity app – can help you get organized once and for all and save you time each time you plan!
What is Airtable?
Airtable is a free web-based database app. But before you let the word database scare you off, stick with me. I am someone who has no idea how to use Microsoft Excel or Google Sheets. Formulas are too complicated for me. But Airtable is very easy to use, customize, and is an organizer's dream! 😍
Why I Love Airtable
The free account level is all that you need. (Yep, seriously.)
It's super easy to use! At first glance, you might wonder what in the world you're going to do with the app, but once you see some bases in action, you'll understand the benefits!
There is a website, computer software download, and apps for all of your devices. Everything syncs to the cloud, so you'll never be without your bases.
Customization is on point with Airtable – even with a free account. You can add dropdown selections, checkboxes, clickable URLs, forms that auto-fill into a base, filter your views, and much more.
I use it to organize everything in my business and personal life. I've been using Airtable since 2017 and use it every single day. (Seriously!) I've been keeping notes of ways Airtable would be amazing for classroom use for a few years. (What was I waiting for?!)
Planning with Airtable is time-saving!
Ways You Can Use Airtable
Organize and track your purchases resources and online curriculum subscriptions or websites
Track standards taught during the school year
Parent communication log
Brain dump/to-do list
Student data tracking – examples: RTI, reading levels, benchmark assessments, behavior log
Read aloud catalog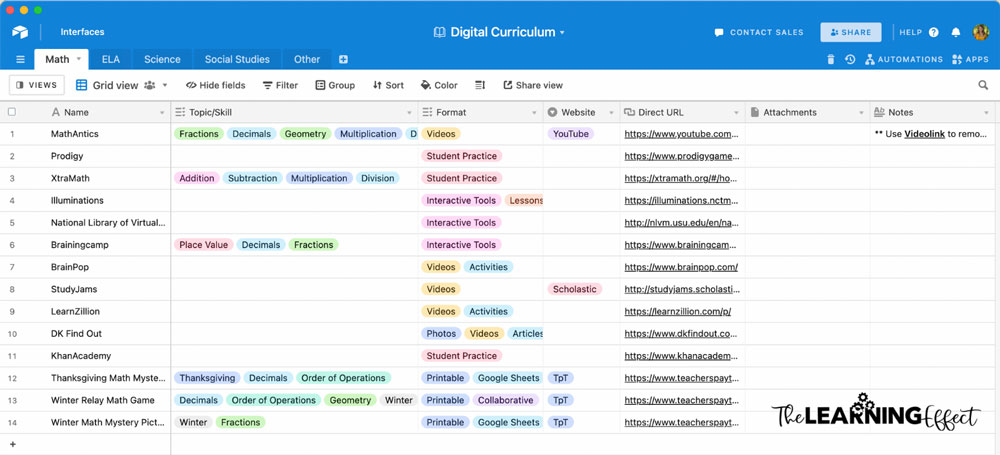 Getting Started with the Basics
Sign up for a free account and verify your email address.
Your Workspace is where all of your bases live. I use a different base for each major area that I'm organizing/tracking. You can create tables/tabs within each base, so you don't have to create a new base for every single section of a major area. (For example, if you want to create a base for Math, you don't need to make a base for every topic you want to track.) More on this later.
If you're someone who likes to read the manual, here is the Airtable Guide with everything you could possibly want to know about the app!
When creating a new base, you have 3 options – start with a template, import data, or start from scratch. If you select start with a template, you can see all of the free templates available. This might overwhelm you because most of the templates are for business. The category Everyday Life might be a good place to start if you want to look at something non-school related. 😉
In a base, you can create multiple tables (tabs) at the top. Each table has columns for you to label/customize the field of. There are lots of different field types to choose from. The ones I use most often are single line text, long text, attachment, checkbox, multiple select, single select, and URL.
Planning with Airtable Using a Digital Curriculum Resources Base
While in the classroom, I would love to have had a base for digital curriculum resources, such as resources I purchased from TpT, websites with quality articles/videos for teaching subject content, and subscription-based educational resources my district provided. How many times did I spend money on something that I already had a resource for or miss out on an opportunity to use a great video from BrainPop simply because it's all too much to remember? (Can you relate?)
Tagging your websites and resources by topics and skills is key here because that will be how you filter your records to find what you need. (Tip: Create tags with the multiple select field type.) This makes planning with Airtable a game-changer.
For example, if I'm ready to teach human body in science and want a video to kick off my unit, I can go to the Science tab, select Filter, select Topic/Skill for where to filter, and select human body. Now I'm only shown records with the tag human body. I can take it a step further and add another filter to only show records with the tag videos in the Format column.
Have you ever scrambled last minute looking for an activity on TpT to supplement a lesson? You add it to your cart and buy it only to find a similar activity in your purchases the following week that you purchased to use last year. No one likes to waste money. (🙋🏼‍♀️ Guilty!)
You can easily add your purchased resources to Airtable, too. I wouldn't add the actual files to the base because you're limited to 2 GB of space per base on a free plan. Instead, add the URL to the product page to your Direct URL column. You can click the link and download the file the next time you need it. Add anything you want to remember for next year to the Notes column. Did your students love an activity from a 100-page unit? Note the page number. Did a lesson contain material that you want to leave out next year? Write a reminder. Super helpful!
Now, keep in mind that getting a base all set up and ready to go will take time. But if you're ready to commit to saving time and money in the future, it's worth it! Once you're set up, simply open your base each time you plan and start filtering.
Want This Digital Curriculum Resources Base for Free?
I want to help get you started planning with Airtable, so I'm giving you a copy of my Digital Curriculum Resources base.
Some things to note about the base:
The link below will make a copy of the base to your Airtable account. Make sure you are signed up and signed in before you click the link.
Because you're just making a copy of the base, I'm not providing a PDF with instructions.
Most Topics/Skills are NOT prefilled because every grade level, state, country, etc. has a different curriculum, and you don't need all of the extra choices clogging up your workflow.
If you don't want some of the resources I've included, just right-click and select Delete Record.
Sign up below to get the Digital Curriculum Resources base sent to your email!
What do you think? Is Airtable something you'd continue to use in your classroom? I'd love to write more blog posts about the additional ideas I shared above, but I only want to spend the time writing them if it's something y'all are interested in! Leave a comment to let me know.
---