It's time to ditch the boring math review packets and add a little friendly competition to your class with Review Bowl math games. Using Review Bowls to review math skills before a unit test is something that I never skipped.
I scheduled one day before a test to play Review Bowl as a class, and my students always looked forward to this because they knew what to expect. Students (and I) love Review Bowls so much that I took the time to create the games with each grade level I moved to – 4th, 5th, and 6th grade.
What Are Review Bowl Math Games?
Review Bowls are PowerPoint game shows that play like Jeopardy® and cover a variety of math skills. They're a fun, collaborative way to review content before an end-of-unit test or for end-of-grade review before state testing.
You need a computer with PowerPoint software, a way to share your computer screen (i.e., on a classroom TV, with a projector, or on a SmartBoard), and each student needs a whiteboard and marker.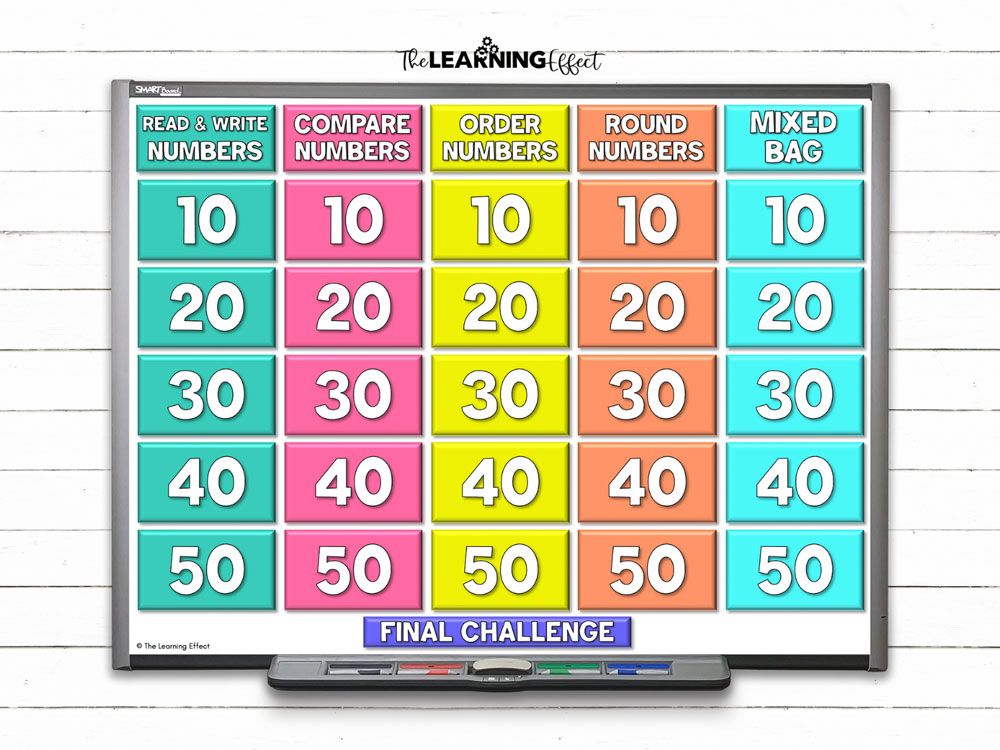 How to Use Review Bowls in Your Classroom
My favorite way to use Review Bowl math games is to play whole class with students broken up into teams. (Instructions for this are below.)
Teachers have also used them in small group rotations for a center activity.
To use Review Bowl games while distance learning or remote learning, you can screen share while in a video call with students.
Review Bowl games are created with PowerPoint and use some of PowerPoint's features to make the game board work correctly. Unfortunately, these features don't transfer over to Keynote or Google Slides.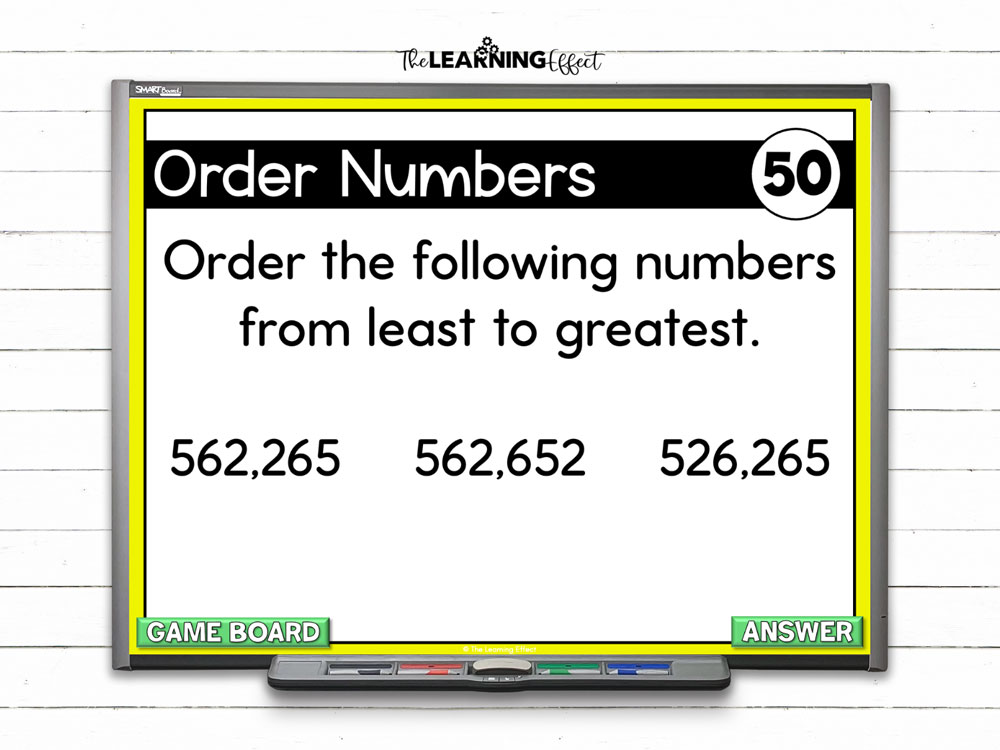 How to Play Review Bowl Math Games Whole Class
Students are split up into teams – if they're currently at tables, I use their tables as the teams. Each student has a whiteboard, dry erase marker, and eraser to use.
Chairs or stools are set up at the front of the room in front of the TV, SmartBoard, or projector so students in the "hot seat" can see the question. You need one hot seat for each team. (ex., 6 teams = 6 hot seats)
One student per team is in a hot seat for each question. After every question, the hot seat students change.
I draw a student's name stick to start the game, and they choose the first topic/point value. The next student in the hot seat whose team "won" the last round gets to choose the next round's topic/point value.
Every student must participate in every question, even if they're not in the hot seat. I have each student solve the problem on the whiteboard in front of them in case none of the students in the hot seats answer correctly.
Students in the hot seat get to answer for their team. They must raise their hand once they have their answer as their way to "buzz in" (and they must show their work to earn the points).
If the student answering in the hot seat is correct, they earn the points for their team. Each student in the hot seat can answer once.
If all hot seat students are incorrect, I take it to the table teams. Collectively, a team must agree on one answer. If they get the answer correct, they receive half the points the question was worth. (ex., If the question is worth 20 points, table teams can earn 10 points.) Every team may participate in this opportunity for points, and they do not have to be first to "buzz in." I do time this part, though, since students should have already solved during the round at their seats. (That's why it's so important that all students participate during each round!)
For the final challenge, all teams may play. They can wager up to 500 points – even if they don't have the points. As a team, students decide how much they want to wager, and I record it on the board.
A final challenge question and answer are included in the game. The teams work quietly together to solve the problem and give their answer to me privately. After everyone answers, I reveal the correct answer and calculate the final scores.
As an optional added benefit to being on the ball, the team that wins Review Bowl earns one bonus point on their math test.
What Other Teachers Think About Review Bowl Math Games
Try a Review Bowl Math Game for Free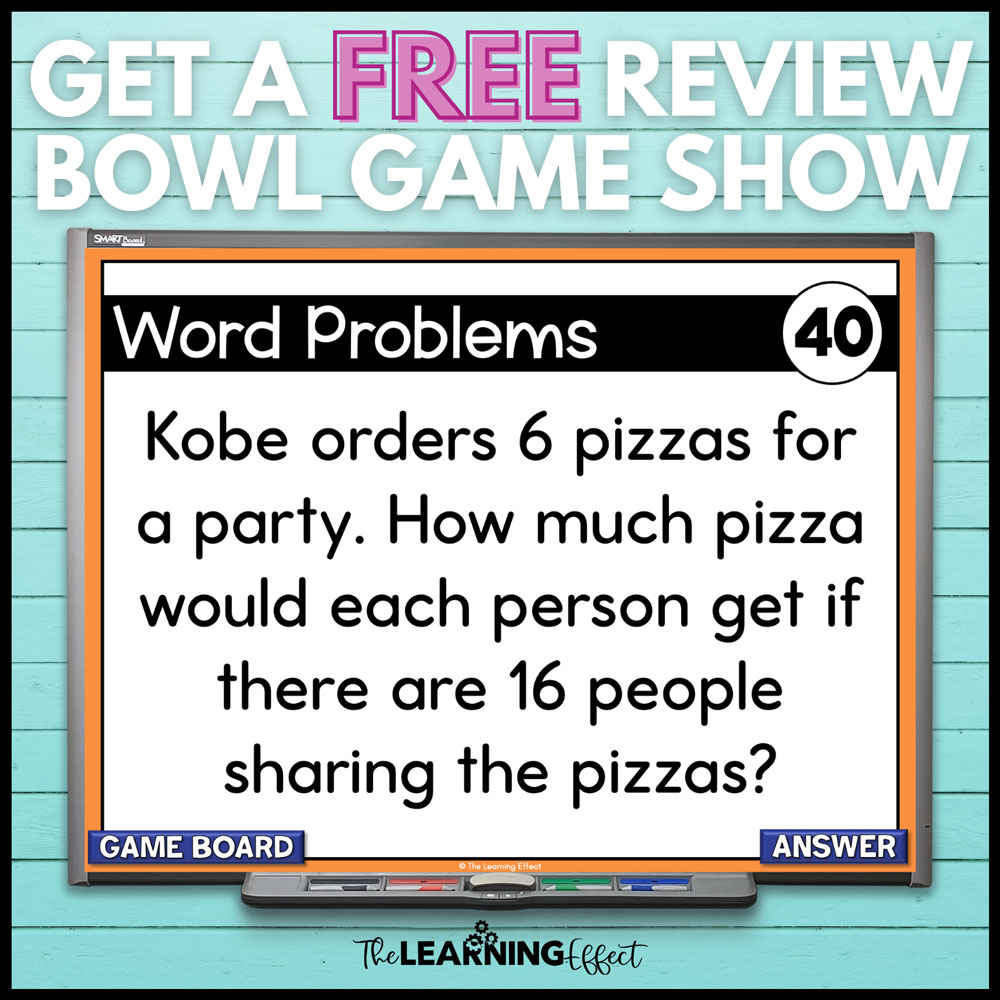 If you want to give the best math review a try with your students, I have three complete Review Bowl game shows available for free. These activities are only available for free on my website and are paid resources in my store! Click the button below, and you'll get access to the three activities listed here:
Patterns, Sequences, and Line Plots Game Show | 4th Grade
Fractions as Division Game Show | 5th Grade
Area Game Show | 6th Grade