The end of the school year is always so fun with celebrations of learning and student growth. Many teachers celebrate students with end of the year awards, which are fun and exciting – for the first few years of school…
Until you get to 4th or 5th grade and receive the reading award for the fourth year in a row. This was the biggest complaint I heard from students while I was in the classroom. They loved the idea of awards, but not so much that they would tend to get the same award repeatedly.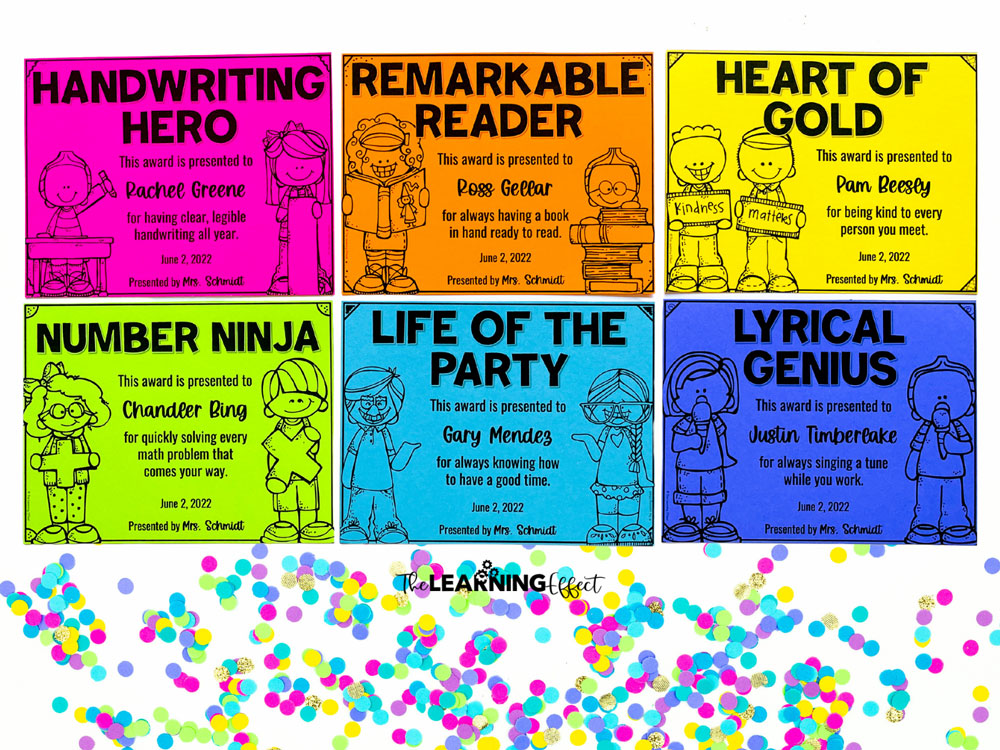 How to Change Up Awards for Upper Elementary
The first thing I did was make a huge list of possible awards for students, taking their input and surveying other classes as well. I wanted to make sure unique ideas were added to the list. We all know students at this age love being different and thinking outside the box!
I ended up with 192 ideas! Some ideas were for the same type of award but had a different title, which was okay. Having this huge list was a time saver for me each year. (This list of end of the year awards ideas is included with my templates.)
Each year, the way students were chosen to receive each award varied. Sometimes I had a class president and vice president, and they would choose. Sometimes I would choose, and sometimes I had the whole class privately vote. Students were always surprised and happy with what they got an award for.
Time Saving Editable Templates
To save time each year, I created editable templates that I could easily type right into with the award name, student name, and date. No more reinventing the wheel each year or printing and handwriting each award. The result was fun, professional-looking awards to hand out to students.
Grab 6 FREE Student Award Templates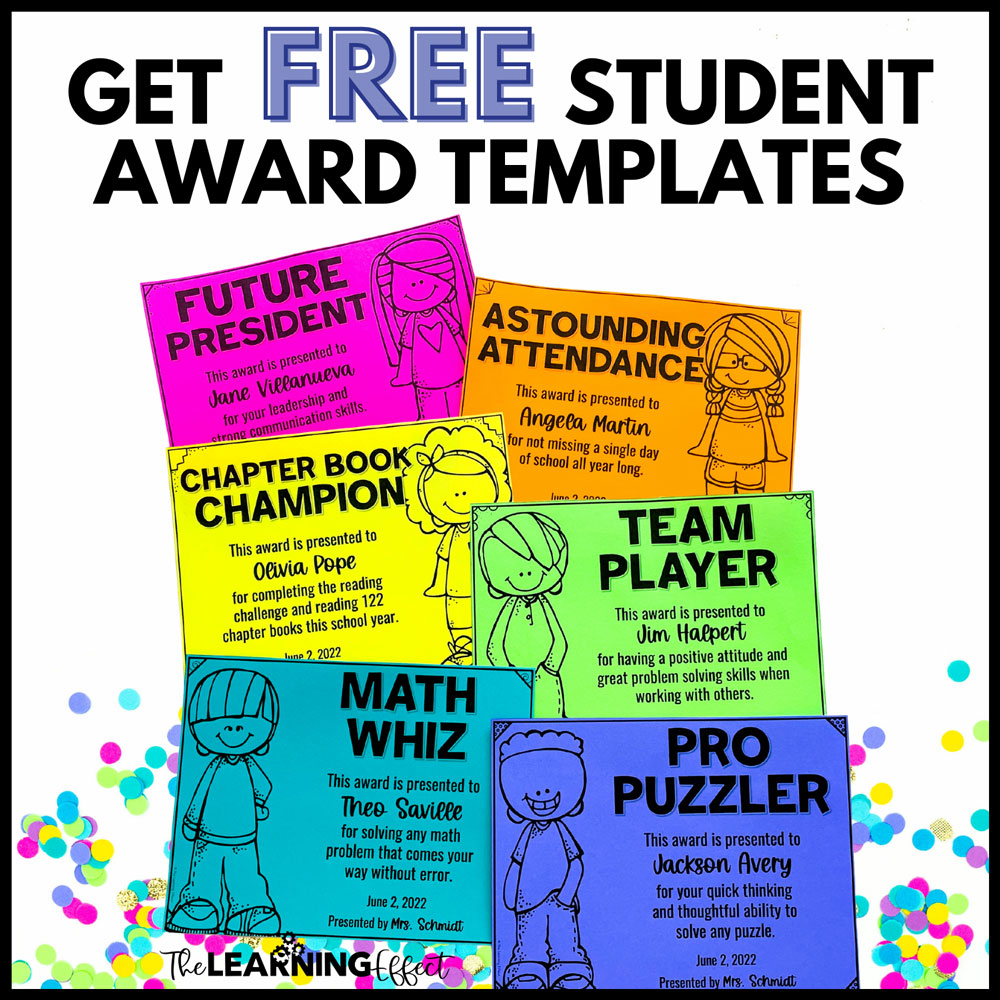 I have so much fun giving students awards, and I know you will, too. I created some FREE awards for you!
Grab six free editable student award templates that you can use for end of year awards or any time! The text is fully editable, so you can easily create your own awards for students.
Using Awards Throughout the Whole School Year
In my third year of teaching, we started a (7 Habits of Happy Kids) Habit of the Month ceremony for the elementary school. I was head of the committee and created awards we could use for the ceremonies. This turned into teachers and my administrators asking for birthday certificates, math fact timing awards, certificates for Spelling Bee and Science Fair participants, etc. Creating templates that could be used all year was an even better addition to my collection of editable end of the year awards!
Other Ideas for Student Awards
Take a picture of each student with their award (as long as you have photo release permission) in front of a fun backdrop. Print the pictures as a 4×6 keepsake for students/parents. This is what I did each year!
Some teachers like to give out candy bars or something small from the dollar store with their awards.
Have students sign the back of each other's awards so they have each other's "autographs."
Print your awards at half-size (two awards to a page) and recognize students for the incredible things they do throughout the school year.
---
SHOP THIS POST
Celebrate your students with achievement, academic, and fun student awards! Having customized awards at your fingertips has never been easier. Remote learning ready with instructions for how to give digital awards to your students and hold a virtual awards ceremony!
---