Does your school or district have access to Google Classroom or Google Docs for your students? If so, there's a whole world of possibilities of things you can do to get your students online and interacting with the curriculum! This easy-to-follow Google Classroom tutorial will get you started creating an account and setting up an assignment for your students.
This post focuses on Google Classroom and what you can do with the resources you buy on Teachers Pay Teachers that are compatible with Google Apps!
Did you know that there are over 770,000 Google Apps compatible resources on TpT? You can filter your search results on TpT by selecting "Google Apps" under "Resource Types" on the left side of the search results.
Using a TpT Resource with Google Classroom
First of all, you need to have Google Classroom setup for your class before following this tutorial. You also need to have a file that you want to assign to students uploaded to your Google Drive that your Google Classroom is linked to.
I am using my Heat Transfer Sort Activity for this tutorial, which includes a Google Slides version that allows students to move the pieces.
This tutorial can really be used with ANY file that you want to assign to students, including those that you've created yourself or purchased on TpT.
1. Open Your Google Classroom Class That You Want To Assign To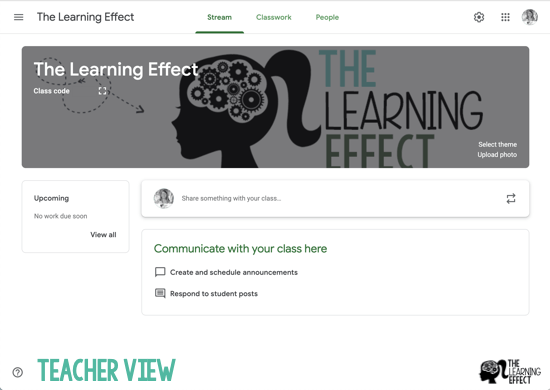 2. Click on Classwork at the Top of the Page
3. Click Create >> Assignment
4. Add the Details for the Assignment
The details include the title, instructions, points, due date, topic (optional), and any attachments (files, YouTube videos, website URLs). To add a file that is in your Google Drive, click on the logo (the second one that looks like a triangle).
5. Click on My Drive and Find the File You Want to Add to the Assignment
6. Change How You Want to Share the File and Assign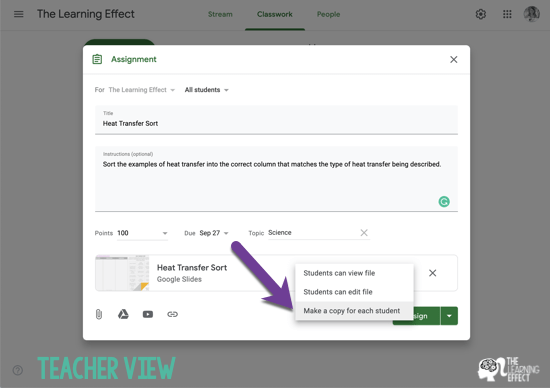 For a file that each student needs to edit, I make a copy for each student. This will give each student access to their own copy and automatically rename the file with their name and assignment name, making grading easy for you! If you're assigning a collaborative project to groups of students, you can create separate assignments for each group and then select students can edit file. That will give all assigned students access to the same file. If you just want students to view the file, such as a PDF, slideshow, etc. (that can't be changed by students), you can leave it on the default option of students can view file.
7. Your Assignment Will Now Show in the Classwork Feed of Your Classroom
8. Switching to the Student View – A Student's Classroom Feed Will Show New Assignments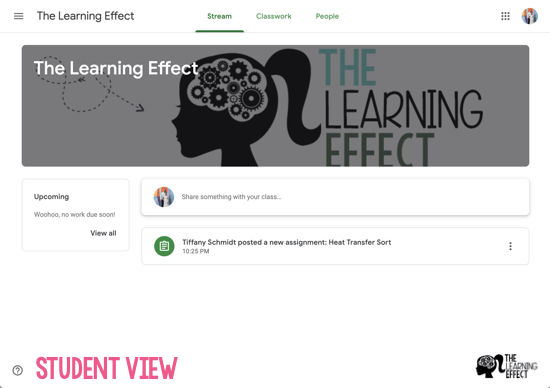 9. When a Student Clicks on an Assignment, They Will Be Able to See All of the Details
Notice how the copy created for this student has been renamed with her name and the assignment name.
10. When the Student Opens the File, They Can Begin Their Assignment
11. Once Completed, Students Need to TURN IN Their Work So It Is Sent Back to You to Be Graded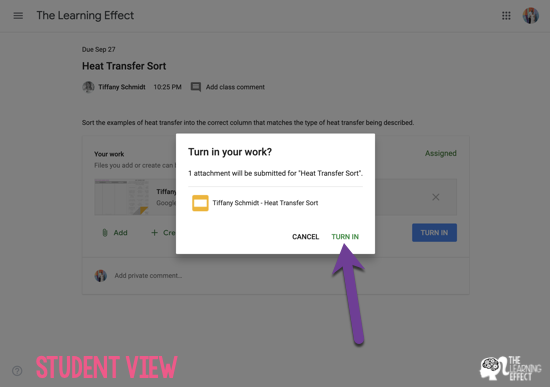 12. Students Are Able to See That Their Assignment Has Been Turned In
13. Back to the Teacher View – You Are Able to View How Many Students Have Turned In and How Many Are Still Assigned To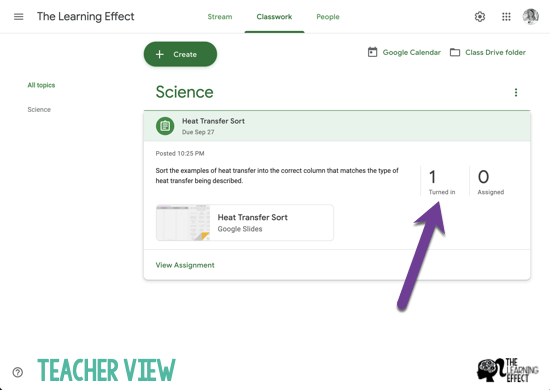 14. Click on Turned In and View Who Has Turned In Their Work and Begin Grading
15. This is the Teacher View of Grading an Assignment
You can type in the grade and add comments for students here.
16. Return Graded Assignment to Student So They Can View Their Grade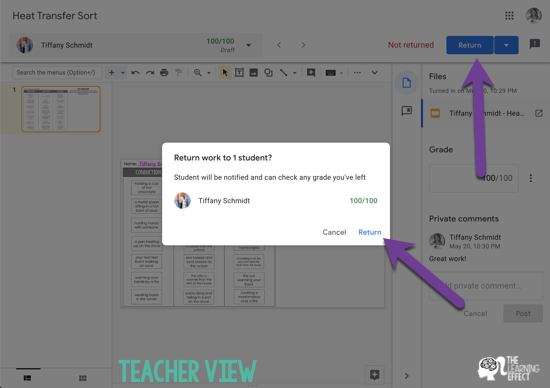 17. If You Use a Grading System That Takes CSV Values (Such as Those From Excel), You Can Download Your Grades Here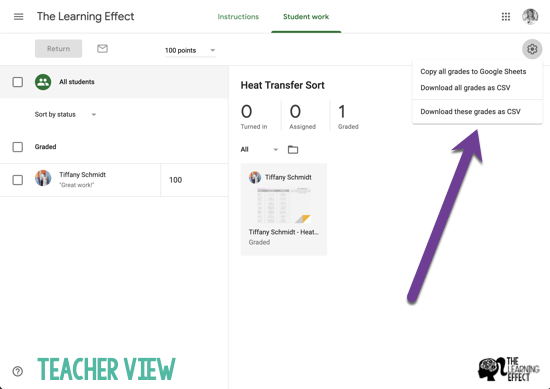 18. Back to Student View – Students Can See Their Grade and Any Comments You Left Them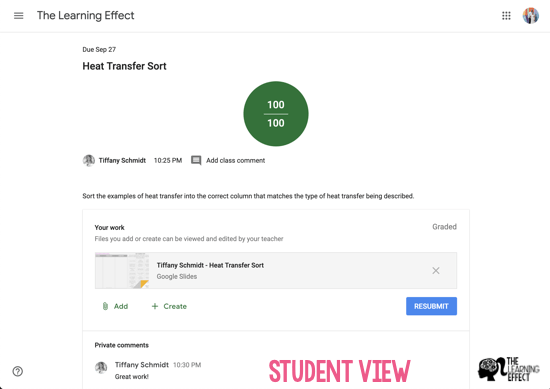 If they need to redo something, they can do so and resubmit for you to regrade.
Google Compatible Resources
Here are some great resources available on TpT that are compatible with Google Classroom.
I hope this Google Classroom tutorial was helpful! If you have any questions, please feel free to contact me!