Learning objectives play an important role in every classroom. They guide what we teach and what the students' learning outcome is. Most administrators require that we have current learning objectives displayed in our classrooms. For teachers, everything revolves around learning objectives.
What are learning objectives?
Learning objectives go by many different names: learning goals, learning targets, essential questions, lesson objectives, content objectives, I can statements, etc. It all depends on how they are being used or displayed in the classroom as to what you may call them. But overall, learning objectives inform us about the knowledge and skills that we want our students to acquire by the end of the lesson or unit.
Where can I find learning objectives?
Learning objectives come from curriculum standards and are different for every grade level in every state, so the best place to look first is on your state's Department of Education website. (Or, even easier, simply Google "curriculum standards [insert your state here]".) If your state uses Common Core State Standards for math and/or ELA, you can view the standards at CoreStandards.org.
Are there resources available to help me understand curriculum standards?
Yes! Here are some of my favorite resources that help break down standards:
Common Core Connect: The math and ELA standard bookmarks are amazing if your state uses CCSS.
MasteryConnect – 4 Steps of Unpacking Standards: I like that this blog post gives 4 easy steps to follow for breaking down standards, along with an example.
Google searching "unpacked standards [insert your state here]" may result in some already made documents for your state's standards. North Carolina has unpacked content documents for every grade level and subject, which is really helpful for teachers.
How can I display learning objectives in my classroom?
There are countless ways to display learning objectives, and I've tried many different methods. My favorite is to have the standards typed out and ready to go. I can reuse them each year and not have to worry about looking them up when it's time to change them.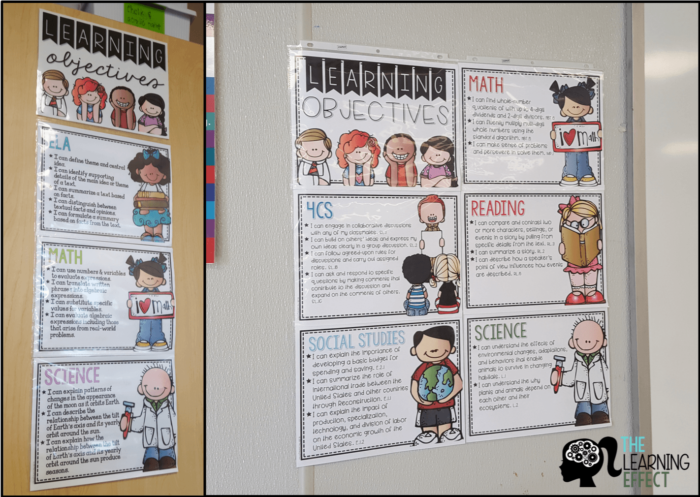 I've tried writing them out on a whiteboard, but they mysteriously get partially erased as the days pass. I also find this takes up too much room, in my opinion.
SHOP THIS POST
Create an easy to use (and keep up with) Learning Objectives Display with this resource. Having your learning objectives posted in your classroom can help keep you on-track while teaching. They allow students to get a glimpse of what they're expected to be able to do by the of the week, unit, or lesson.
How do you display learning objectives in your classroom?
---