When I moved to North Carolina and began teaching 5th grade, I was introduced to student led conferences. I quickly fell in love.
It can be hard when your school requires you to hold a conference for every student. The time it takes for one conference makes for long days, especially if your school doesn't provide time during the workday for conferences.
It can be difficult to have traditional parent-teacher conferences for students who are doing great. Parents come in, you tell them how wonderful their child is, and in 3 minutes, the conference is over. It can feel like you wasted their time.
It can be tough when you have a struggling student – academically, behaviorally, or both – and the entire conference just feels icky. You feel like it's just a lot of negativity coming out, overshadowing any positives you planned to throw in.
It can be unnerving when a parent comes in with nothing but negativity to unleash on you. They throw every little bit of blame regarding their child's grades or behavior on you. Their child isn't at the conference and cannot be held accountable and take ownership of their learning.
Do any of these scenarios sound familiar? Year after year, conferences just exhausted me. It was tough to sit through several hours of conferences after a day of teaching. I would go through these highs and lows in one-on-one parent teacher conferences. My students didn't get anything out of them, and I was exhausted explaining the same things repeatedly.
The student ownership and empowerment from running their own conference was incredible. They didn't have to sit on the sidelines and listen to me tell their parents about their grades. Parents really enjoyed student led conferences, too, because they got to see different views of their child's educational journey. Plus, parent participation and open communication both positively increased!
Student led conferences are easy to prepare for and will change how you hold conferences in your classroom.
Scheduling
Use an online scheduler so parents can choose the time that works best for them! No more back and forth with parents, trying to find a time that works for everyone.
I used SignUpGenius.com for my conference sign-ups. It's free and easy to use. They will even send an email reminder to parents a few days before. One less thing for you to do!
With student led conferences, I scheduled 4-5 at a time for a 20-30 minute block. Students lead their parents through the conference. I walked around the room, meeting with families about the questions they had.
Student led conferences can also be held with the traditional type of time blocks with one family at a time. The student still leads the conference, but you sit with them rather than walking the room.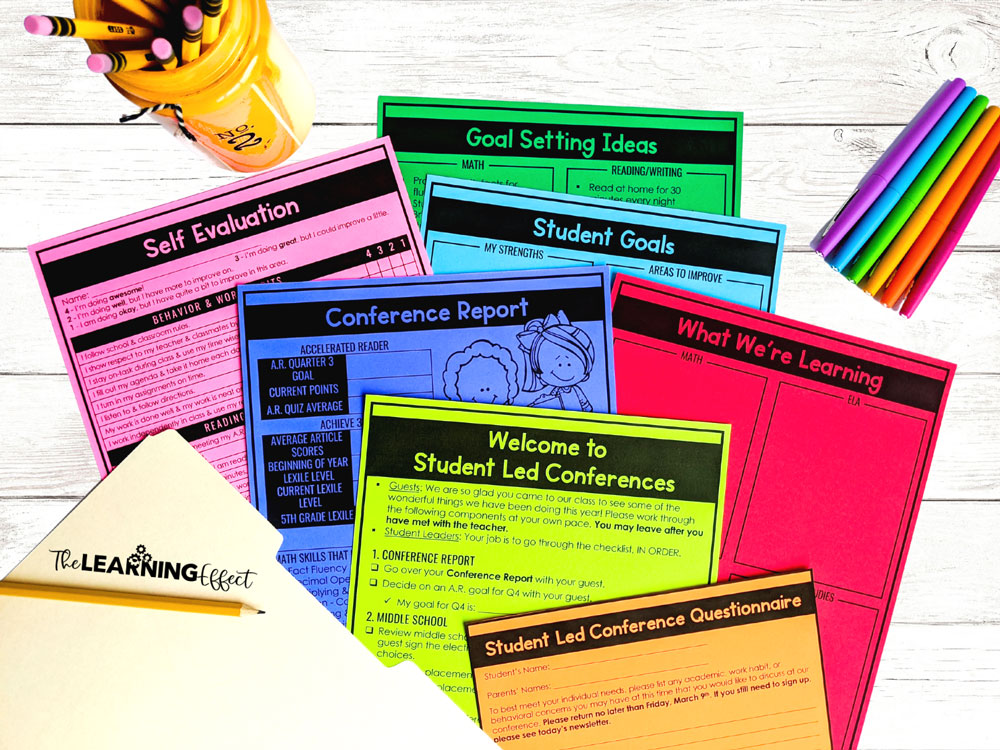 Before the Conferences
Send home a questionnaire asking parents what they'd like to discuss at their child's conference. This will help you prepare for each conference ahead of time and gather any additional information, data, and resources to answer parent questions during the conference. It's a great opportunity to gain insight into what parents are going to come to conferences expecting to learn or talk about.
Each student will need a folder for their conference materials. I used a simple manila file folder and had my students decorate it at the beginning of the year. We used these folders all year for conferences, and they took them home after the last conference of the year.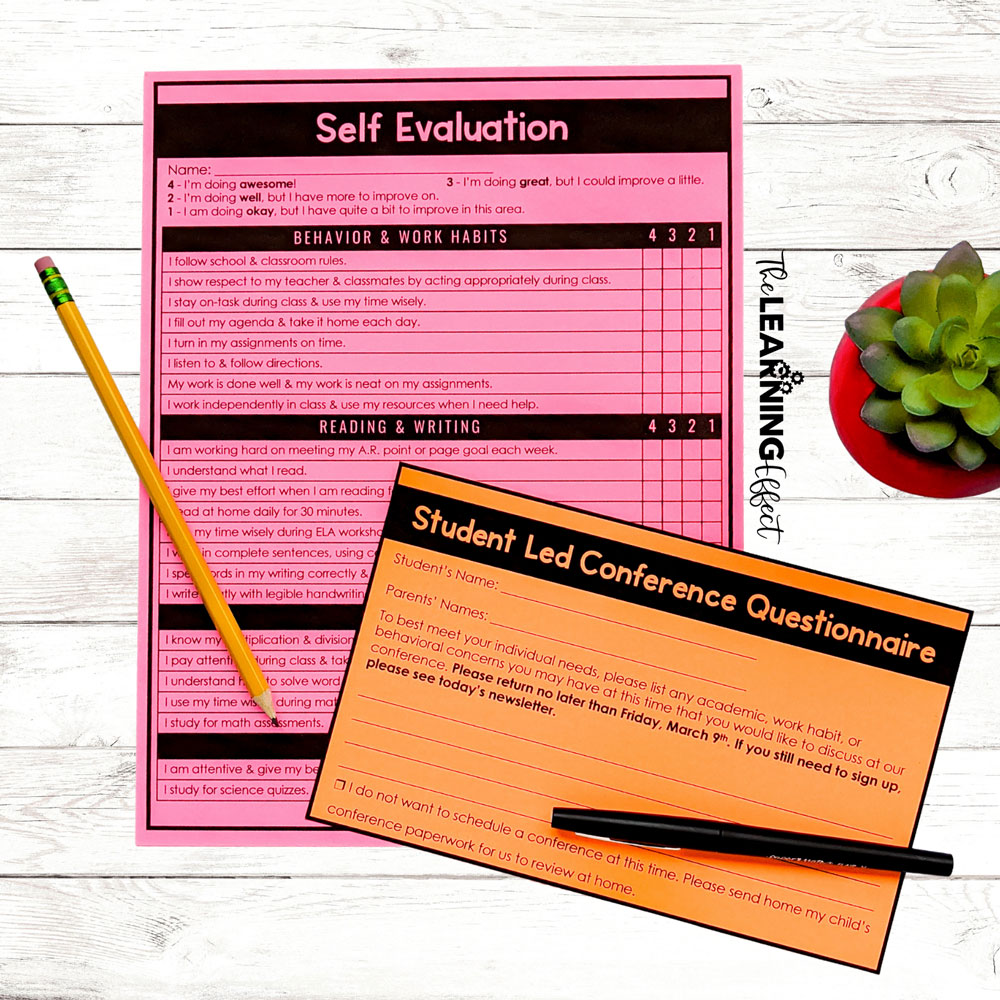 Student Led Conference Forms
You need to have a variety of forms prepared ahead of time. The most important form is the student script. If you only use one form, make sure this one is it. (More details below.)
The questionnaire (above) asks parents what they would like to discuss at the conference and is sent home and returned to you ahead of time.
The self-evaluation allows students to reflect on their behavior, work habits, reading, writing, math, and science progress. Students fill this out in class before the conference. This helps students identify their strengths and weaknesses.
The student script leads students through the order of events that they need to talk about. You choose what you want students to cover in the allotted time for the conference. Keep that in mind when creating the script, and try to stick to only necessary information to avoid conferences dragging on for too long!
I always start with the most important things first on the script. If a family runs out of time, they can finish up at home. I include at least one educational component that I want parents to be aware of and one student project to show their work. The educational component could be your class website, a science or math notebook, or where to find the end-of-grade testing review materials. It just depends on the time of year.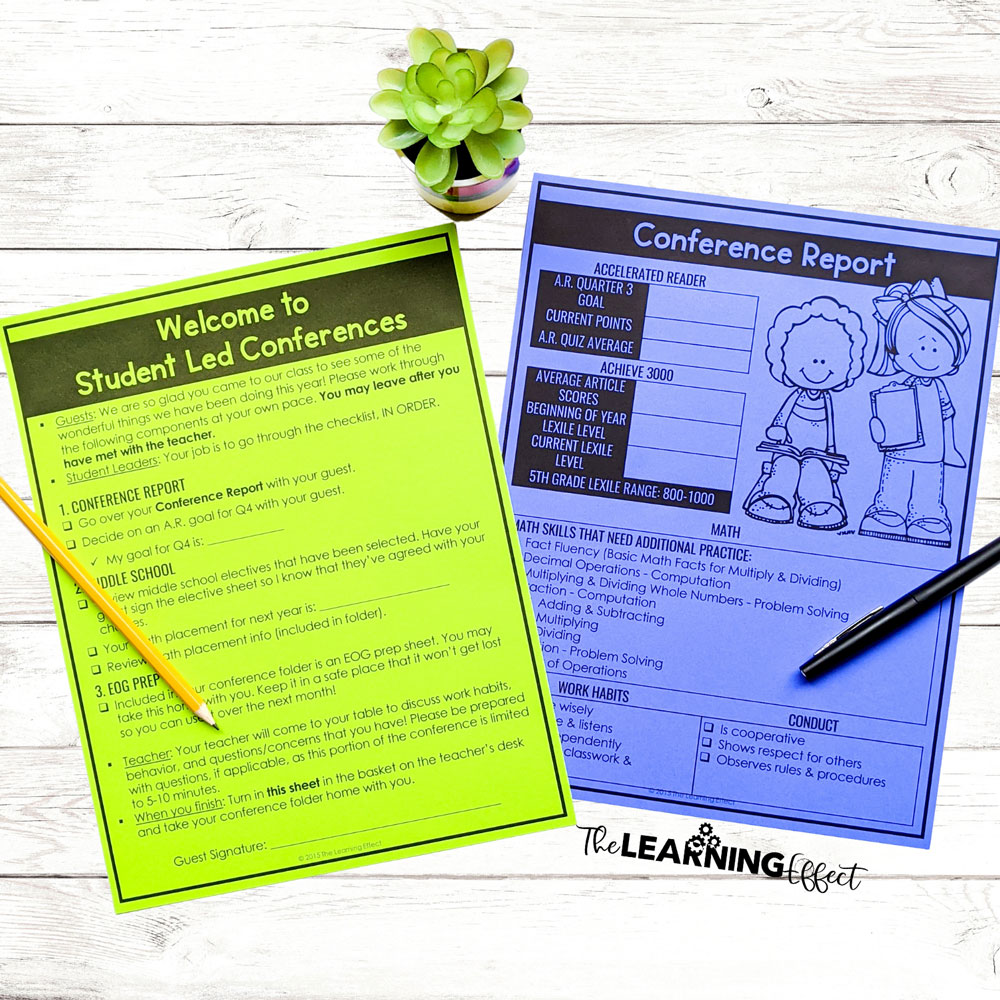 The conference report is something for the teacher to fill out for each student with data. It can include DIBELs scores, student progress through school programs (such as Accelerated Reader), subjects that need additional practice, behavior and work habits, etc.
My conference reports changed each year, depending on what time of year it was and what I felt was most important to focus on.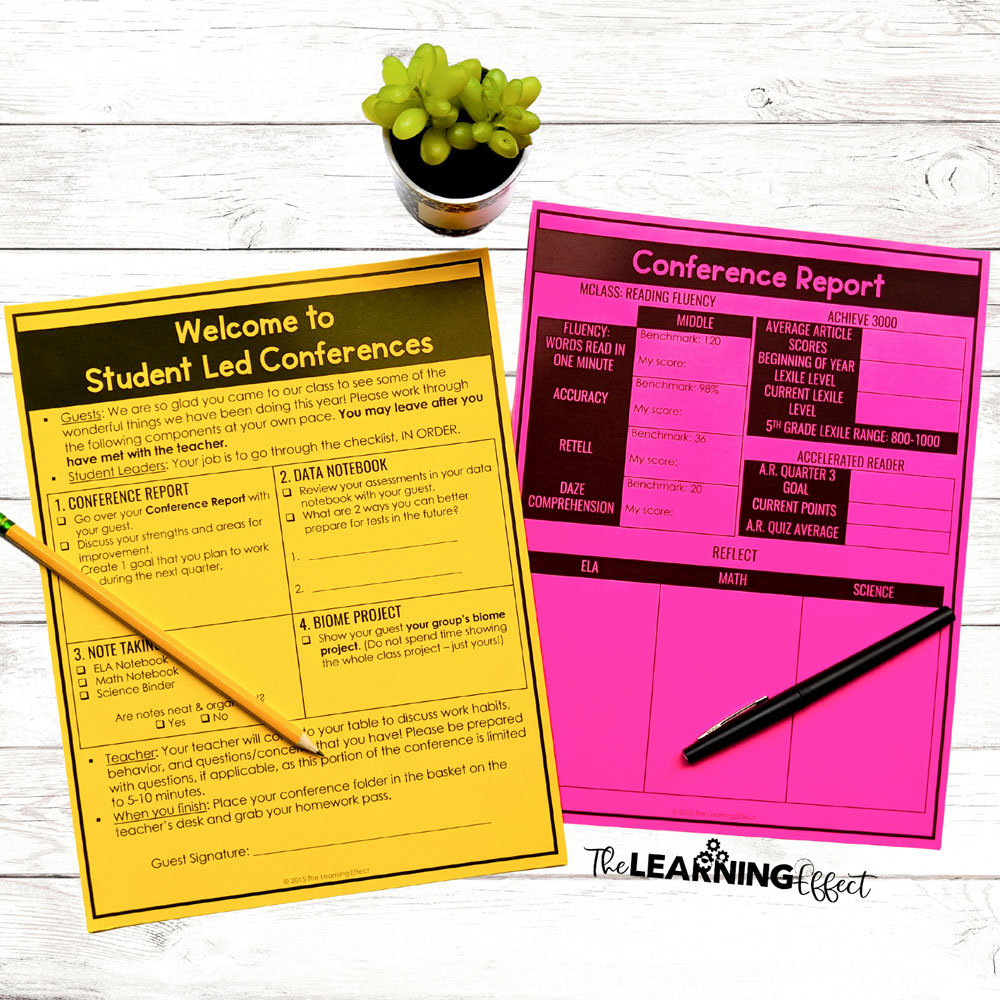 Students create goals with their conference guests based on areas they feel they need to improve on.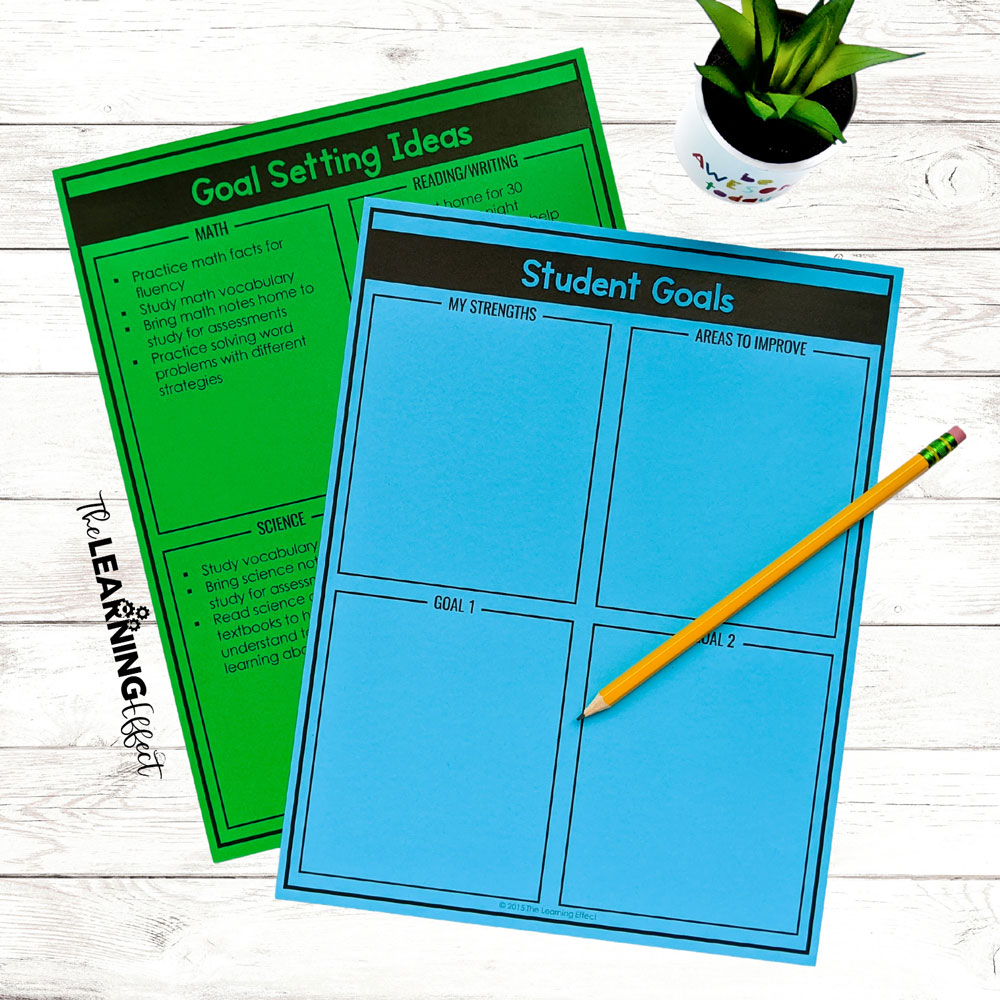 I gave my students goal setting ideas in their folder in case they needed some extra help deciding.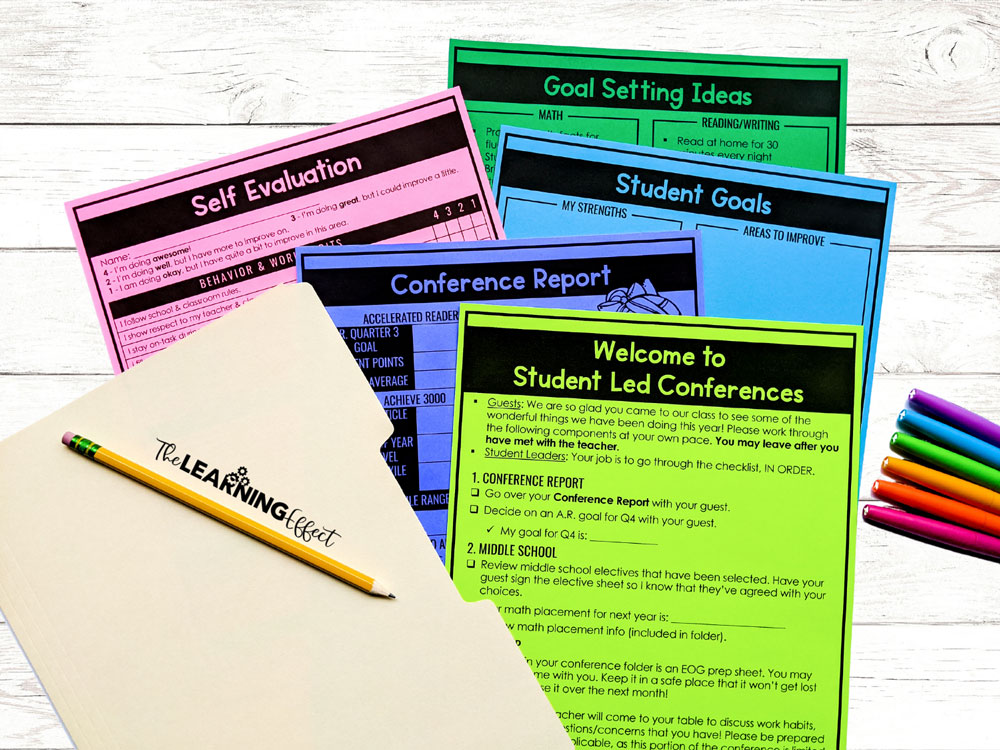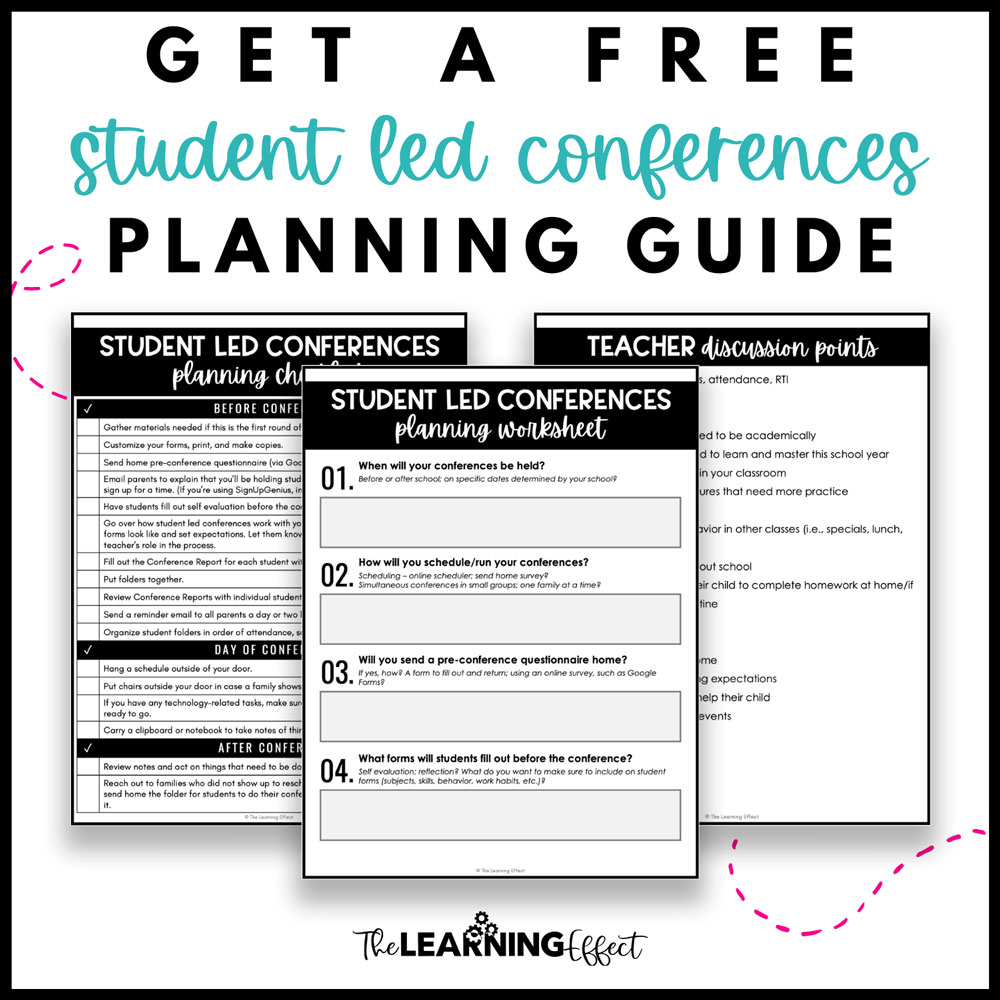 Other Things to Consider
Data Binders: My first year with student led conferences, I did

not

keep a data binder for each student. The second year, I did it at the suggestion of the other teachers I was working with. Personally, data binders were more of a pain for me to keep up with and make sure students were taking them home regularly. I like that they made it easy to collect work samples, but I don't necessarily see a benefit to having them exclusively for student led conferences.
Student Work Porfolio: Creating a portfolio of work can be an effective way to share the learning process with family members. This works well for both younger students and older students in any grade level. Students choose their best work to include and can showcase it during their conference with their guests.
Require Students To Attend: As part of my email to parents that had the Sign Up Genius link included, I let parents know that students were required to attend due to the nature of the conferences being student led. It's important that students have an active role in this type of conference. If parents couldn't attend with their child, I offered families the choice to go through their conference folder at home and return it to school.
Offer an Incentive for Students: This is helpful to get students to attend with parents or for them to bring back their folder with everything completed if they have an at-home conference. My team offered students a No Homework Pass for attending.
Display Student Goals: Keep student goals in view by having students write them on pennants to hang in your classroom.
Are You Ready to Kick Traditional Conferences to the Curb?
I have created customizable student-led conference form templates and a digital portfolio that uses Google Slides. This resource is perfect for 3rd grade, 4th grade, 5th grade, and middle school students. Turn your next conference day into a supportive environment that values student engagement and student involvement with student-led conferences.