Teachers have enough on their plates every day. Finding ways to make tasks easier and more efficient will help save time during the school day. In turn, it will help you get out the door at the end of contract hours a little bit faster.
The ultimate goal is to start to gain more of a work-life balance, even though it seems impossible at times. Small tweaks to your systems and routines in the classroom can save time during the school day.
Use Student Jobs
There are tasks that can be delegated to students as classroom jobs to save time. I only had classroom jobs for things that absolutely needed to be done. No fluff jobs for me.
Anything a student could do to make my life easier became a job. Changing the date, keeping the game closet organized, passing out papers, taking the lunch card to/from the cafeteria, sweeping the floor at the end of the day… Yes, some of my jobs were simple and may not be seen as "jobs" by most. The older I get, the more my mind goes, and I need help remembering. I could not for the life of me remember to take the lunch card to the cafeteria each day, so it became a job.
Some of My Favorite Jobs to Assign to Students
paper passer
supply manager (for passing out supplies, keeping them organized, tossing dead markers, etc.)
tech guru (turn on computers in the morning, shut them all down at the end of the day, plug in laptops/tablets at the end of the day, organize headphones, etc.)
clean up crew (sweep floors, place trash cans outside the door, clean whiteboard, etc.)
These were all small tasks that I was doing myself throughout the day. Assigning the tasks to students as jobs freed up much of my time at school.
So what if a student doesn't do their job? We talked about how if I didn't do my job, I'd have consequences. Students receive a warning (or two) and then are let go from the position, and someone else takes over.
While I taught at the entrepreneurial charter school, I had a classroom economy system and paid for doing their job. In my last position, I gave out raffle tickets to students who did their job well. I pulled tickets for a trip to the treasure box a few times a quarter. There was always a "reward" for doing their job well – just like how we get paid for doing our job.⁠
Batch Tasks When You Can
I had some specific tasks that I only completed once weekly, monthly, and quarterly.
For planning, I would pull all of my resources that needed to be copied one day and copy them all another day. This was much easier than pulling a few things, making copies… a few days later, pulling some more, making copies.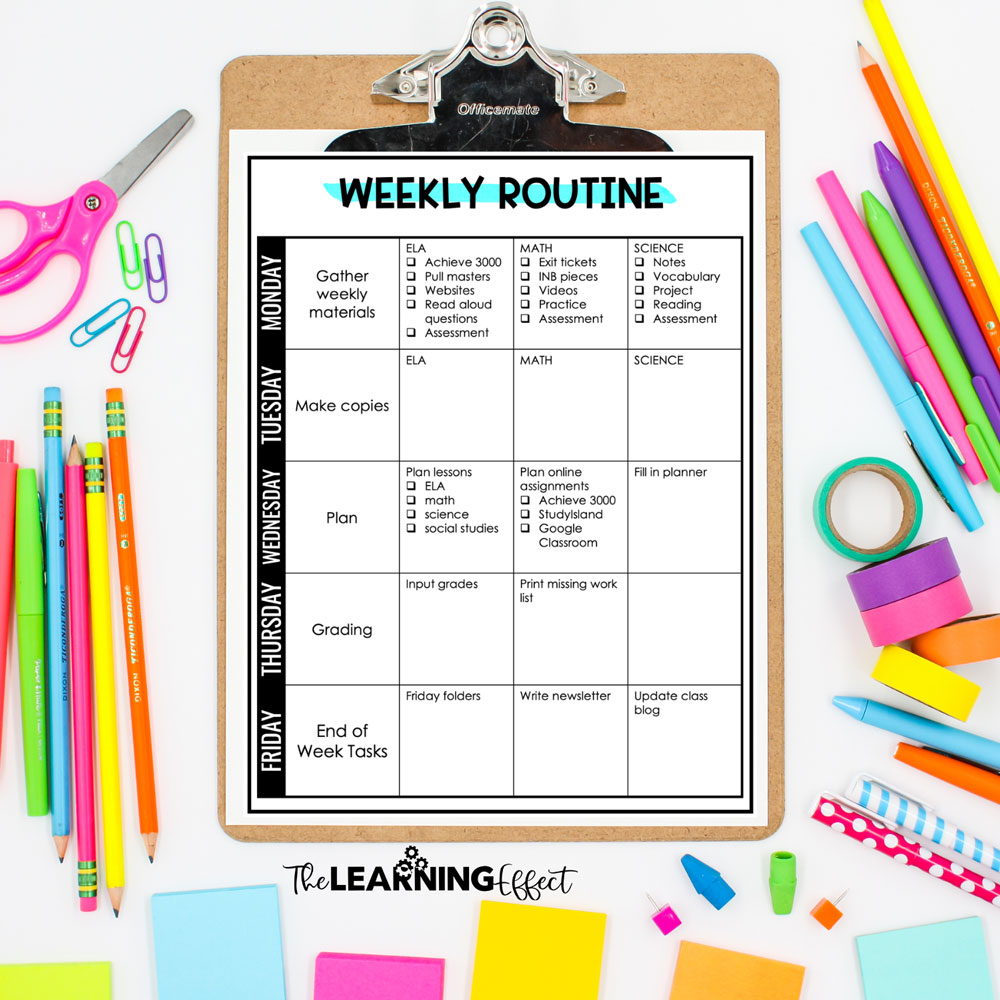 When I worked at a charter school, we had one copier for K-9. I only wanted to spend one day a week at the copier. No more waiting in line behind other teachers. I would come in early to get all of my copying for the week done.
Once per month, I would file master copies back into binders. Once per quarter, I would update the curriculum links and files on my class website.
Batching saves time because you're focused on the same tasks for a certain amount of time. You do it in one sitting rather than going back and forth with the same tasks several times weekly. It helps you save time at school AND home because you have less to take home to work on over the weekend or breaks.
Create a Focused To-Do List
Okay, before you write me off on this one because it's obvious, hear me out. To-do lists can be overwhelming, and writing down #AllTheThings you have to do can leave you not knowing where to begin.
Using a focused to-do list can help. A focused to-do list is broken down into sections, so you don't end up with a massive list of tasks and jump all around trying to cross things off. The list can be broken into days of the week or priority levels. This will make you more intentional with your time.