When the end of the year is on the horizon, it may be hard to start thinking about the next school year. It doesn't have to be! Make back to school easier for yourself by following these tips, and your future self will thank you!
That bulletin board border you bought 10 years ago? You'll never use it. Those freebies you downloaded last year that don't align with your curriculum? Delete them. The filing cabinet the teacher before you left behind full of worksheets from the same year you were in school? Recycle them.
If you're not maintaining these things with a regular clean up schedule, you're probably overwhelmed with stuff. At this point, it's more than just a filing cabinet full of master copies – you also have classroom decor, supplies, digital and paper resources, and more. Letting go of the excess will seriously feel so freeing.
I get it. Teachers are notorious for holding on to things "just in case" your grade level changes, a new teacher moves into the building and needs some supplies, or the district brings back the old reading program. But all of this stuff wastes your time each year when you're looking for what you need.
If it's overwhelming, start small. Set a timer for 20 minutes or pick one drawer to clean out and clean until the timer goes off or the area is finished. Don't get distracted by your phone or Googling something that you're reminded of that you came across.
Keep a notebook nearby to jot down notes and take inventory of what you have or need.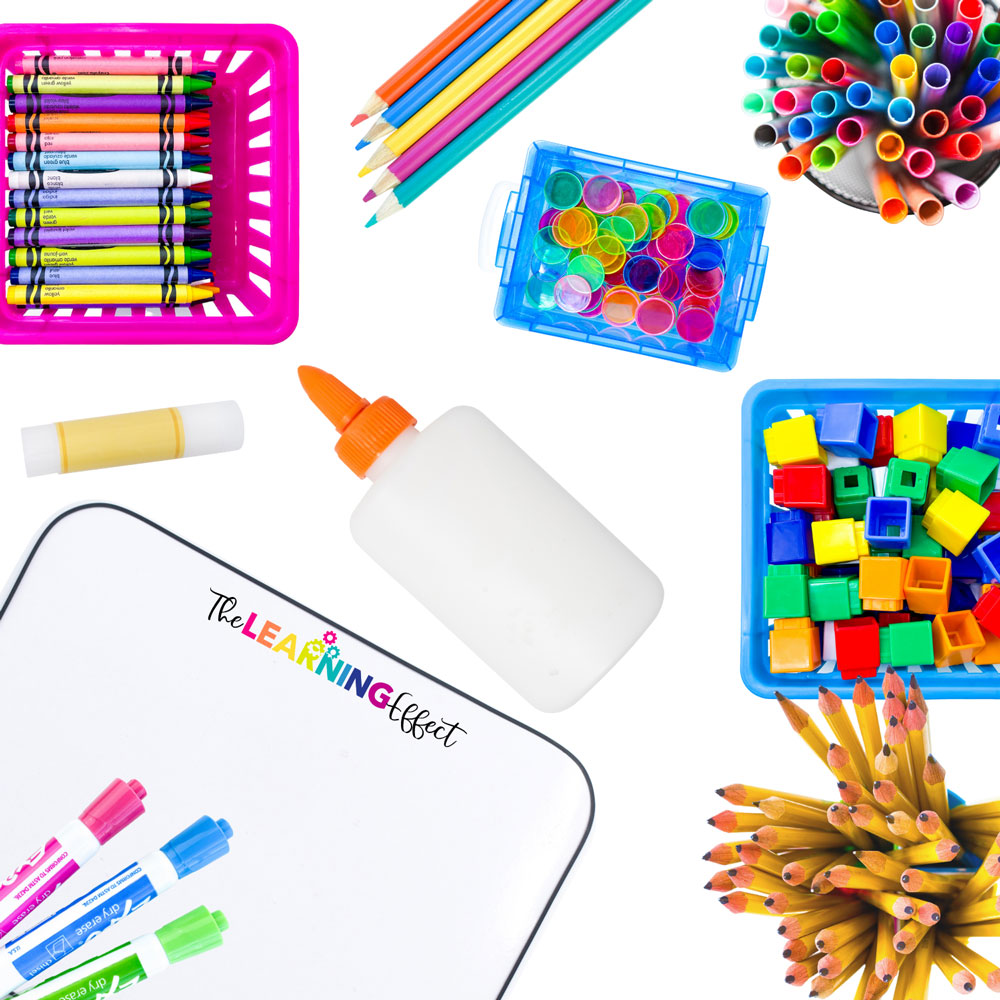 Can Your Students Possibly Help Out?
Here are some tasks you can have them do:
Test markers, pens, whiteboard markers, etc., and toss the old ones. Sharpen colored pencils and regular pencils for next year. Toss dried out glue sticks and consolidate liquid glue bottles.
Check board games and make sure all of the pieces are there and organized. Check recess equipment to make sure it's labeled with your name and in good shape.
Organize math manipulatives, novel study books, textbooks/workbooks, etc. – any classroom materials you have a class set of or use for small groups.
Clean and organize mini whiteboards and clipboards.
Check classroom library for school library books, books that need repair, other teachers' books, etc. Make sure all of your books have a label on them.
If there's something about your classroom setup this year that you want to replicate next year, take a picture. It will help you set up your classroom much faster and eliminate some of the mental energy trying to reinvent the wheel.
You can also take pictures of other teachers' classrooms if they agree. Do you love how another teacher has their library set up or their student desks arranged? Snap a picture before they pack it up!
Pack up one box that includes everything you'll need immediately when you come back from break. This will make it easier for you to jump into setting up your classroom.
Items to include in your box:
cleaning supplies
Post-Its
pens and pencils
scissors
Sharpies
a stapler and staples
copy paper and lined paper (or a notebook)
a laminator and laminating sheets
tissues and hand sanitizer
paper clips, tape, rubber bands, and push pins
whiteboard markers and whiteboard eraser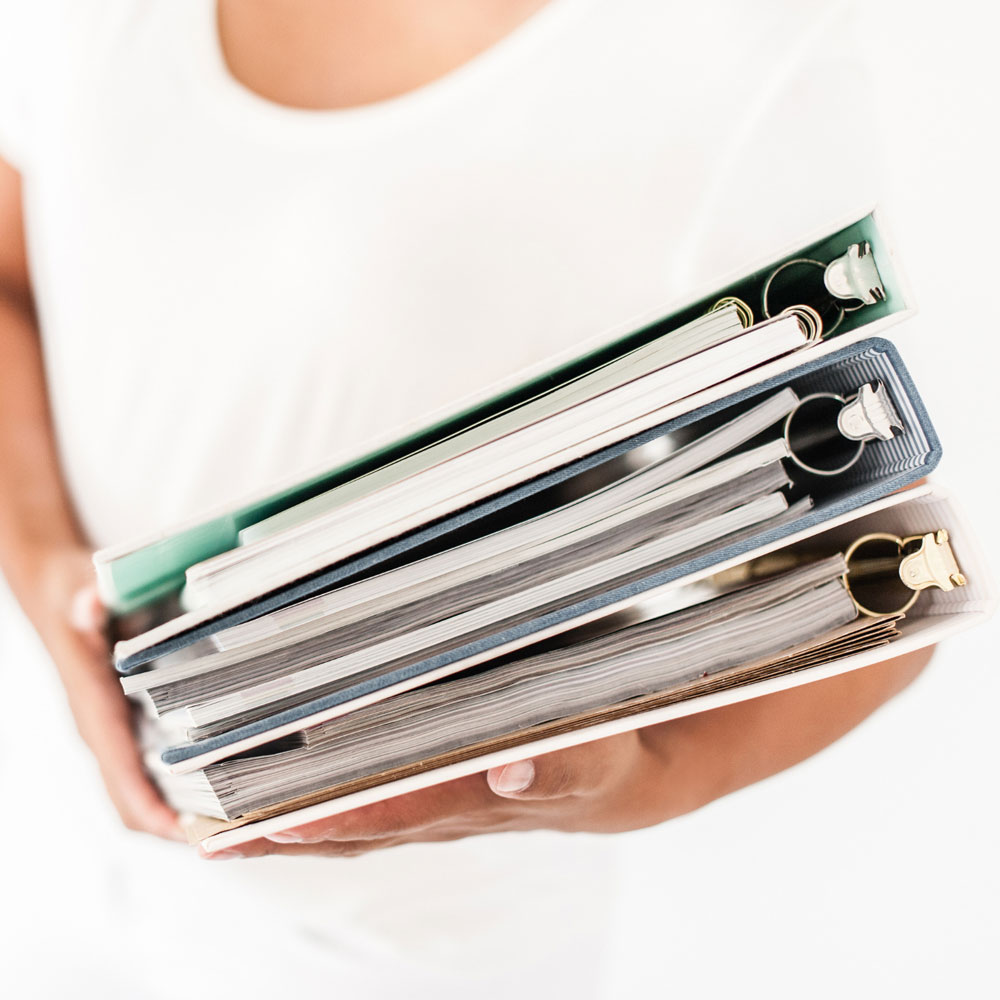 Bonus – pack a planning box, too! If you have teacher manuals, curriculum binders, or other items that you regularly use for planning, gather those materials and pack them up together so you can easily find everything after break.
Teachers don't get nearly enough time in their classroom before the school year begins. Set up, planning, making copies, prepping student materials, etc. — you have to choose where to spend your time wisely when you get to escape the professional development days you're required to attend at the beginning of the year.
For me, I wanted to avoid the copy machine as much as possible during the time I actually had available to be in my classroom. Everyone else was at the copy machine, too, so it was a lot of wasted time waiting for my turn. And if the machine happened to break or jam? UGH! No one has time for that!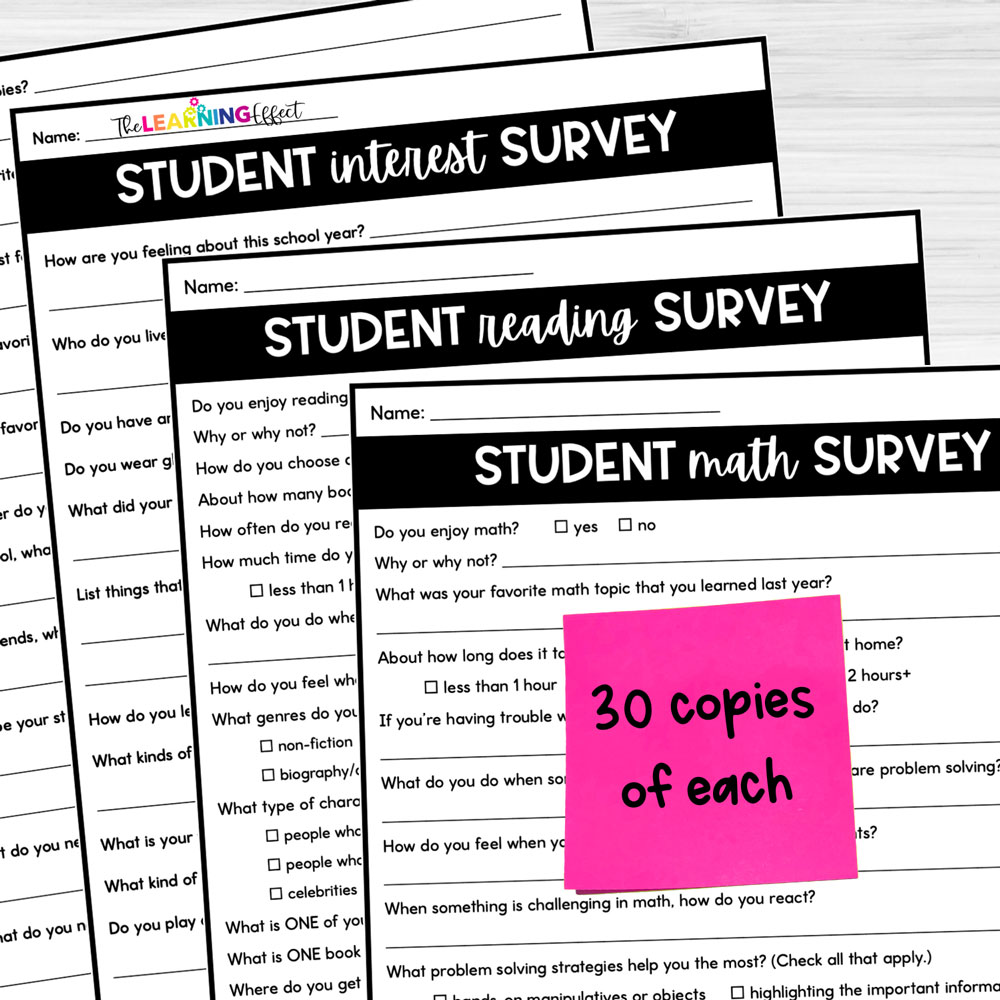 To avoid this total time suck, copy any forms or activities you use every year before you head out the door for break. I only did this with the things I knew I would absolutely be using, such as student information forms, student surveys, first week activities, and classroom forms I regularly used. Anything else I decided on over the summer or during my planning days before school started, I'd show up early one morning and get my copies done before the line began.
Back to School Forms, Checklists, and Templates
Looking for some quick print back to school forms to use this year? This set of forms and checklists offers over 160 ways to make your whole school year a breeze!
Easily provide students and parents with the information they need for the new school year with a meet the teacher letter, forms for parents to fill out to give you more information about their child, and forms for you to get to know your students!
Take 15-20 minutes and reflect on the school year. What were your favorite lessons, activities, or systems you had set up? Do you need to adjust your classroom schedule? Is there a topic that you need to learn more about for next year so you can teach it differently? How was your classroom management this year?
If you find this difficult to do at the end of the year when reflecting on curriculum, make it a goal to reflect after each unit you teach. It can be hard to remember what you taught months ago and the tweaks you wanted to make for next year if you didn't write them down!
You can even ask your students what they liked and didn't like about the school year. This is a vulnerable thing to do, but sometimes what you think is the best lesson for teaching fractions might be confusing and a disaster for students. Their insight can help you improve things for next year.
Start a list of the things you know you'll need to do when you come back to school. Make sure the list goes home with you over the summer so you can continue to add to and tweak the list.
Taking the time to do these five things before you turn in your keys for the summer will save you a ton of time when you return!