Some years you get an easy class – one that allows you to actually do your job effectively and reminds you of why you went into teaching. Other years, you may have a class that makes you wonder if you'll make it through the whole year without losing your mind. I've experienced both situations and have learned so much from the latter. These 10 classroom management tips have helped save my sanity during those tough years.

1. Hand Signals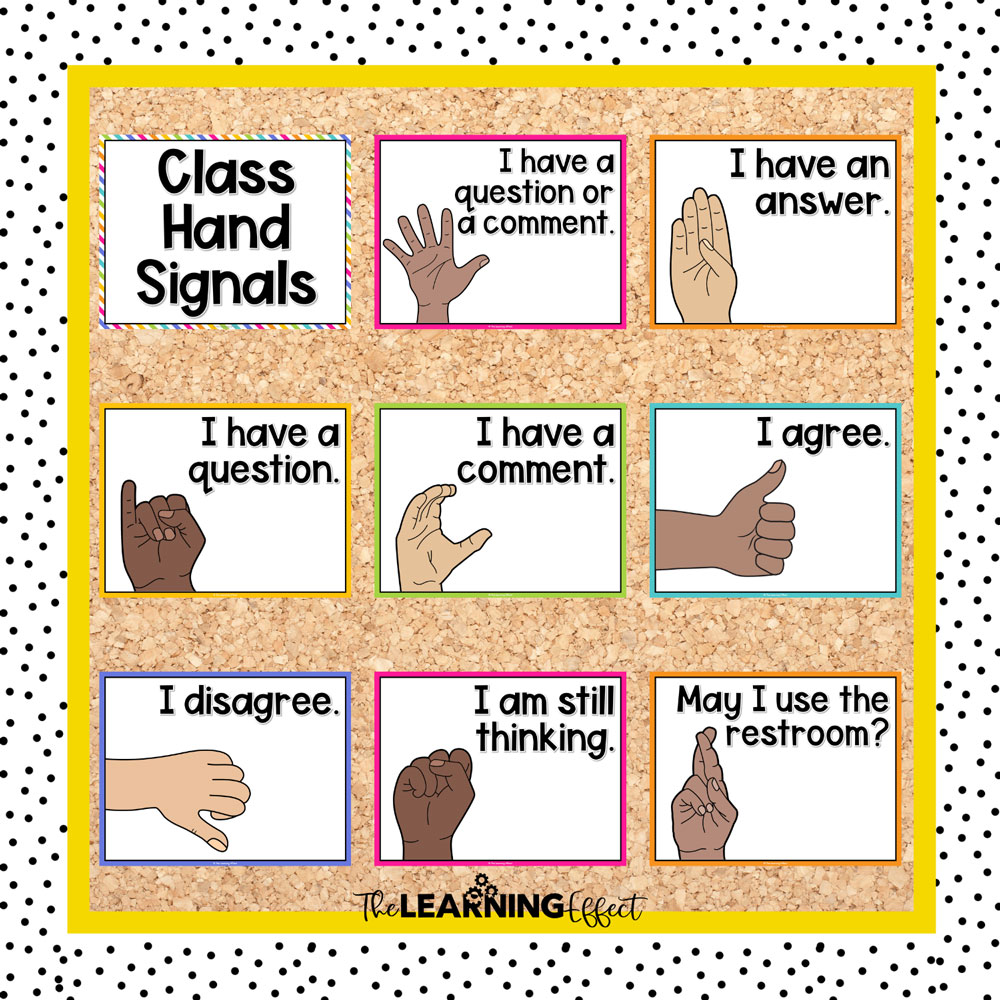 Hand signals have saved my sanity. With hand signals, students can silently let you know what they need. I love that I can easily distinguish between a question, answer, and comment – that way, I can save the comments for later if we're crunched for time. The picture above is from last year when I taught 6th grade. I didn't need the hand signals for getting a drink, sharpening a pencil, or using the bathroom since students were free to do that whenever I wasn't teaching. I sell these posters in my store, and they're editable, so you can change them to fit your classroom's needs.
Editable Hand Signal Posters for Classroom Management
Classroom Hand Signals are the perfect way to manage student needs during a lesson. With hand signals, students can silently let you know what they need. Teachers can easily distinguish between a question, answer, and comment – that way, you can save the comments for later!
2. Countdown
Using a countdown helps students know how long they have to finish something. No more excuses of, "I didn't know how much time we had left, so I didn't finish." Hold students accountable for monitoring their time.
My school was Kagan trained earlier this year, and our principal bought all of the 5th grade classrooms the Kagan Cooperative Learning MegaTimer. It's expensive, but I use it all of the time. The timer also works as a clock, thermometer, random number generator, student number picker, stopwatch, and more.
If you have technology available in your classroom, you can always use apps or websites, such as Online Stopwatch, to count down.
During transitions, I count down aloud from 10 to signal to students that I'm ready to begin. This helps students stop the chatter and get themselves situated for our lesson.
3. ClassDojo

I wrote a blog post about using ClassDojo in the upper grades. I suggest you read that post, as I included a lot of information on how I set up my positives and negatives, reward system, and more.
I've used ClassDojo now for years (in grades 4, 5, and 6) and still love it. I can reward students for the positive things they're doing and track things they need to work on. Over the summer, ClassDojo added the option to be able to have negatives be neutral. This year, I went that route, not wanting to "punish" kids who make mistakes but to track them for interventions and keep parents informed.
This brings us to the #1 reason I love ClassDojo so much – parent involvement. I don't have the time to send home notes, email, or call home every day. Life happens. With ClassDojo, parents can check in on their child whenever they want and see what awesome things they did during the day or what they need to work on.
The app also has a messenger feature, which is sometimes much easier than emailing. A quick reminder from a parent that their child is being picked up early is always appreciated, but I don't really have the time to check my email all day long. Having the app on my phone and iPad, I can award points all day and have the messenger alert me if I have a new message from a parent.
You can get this freebie from the Free Resource Library!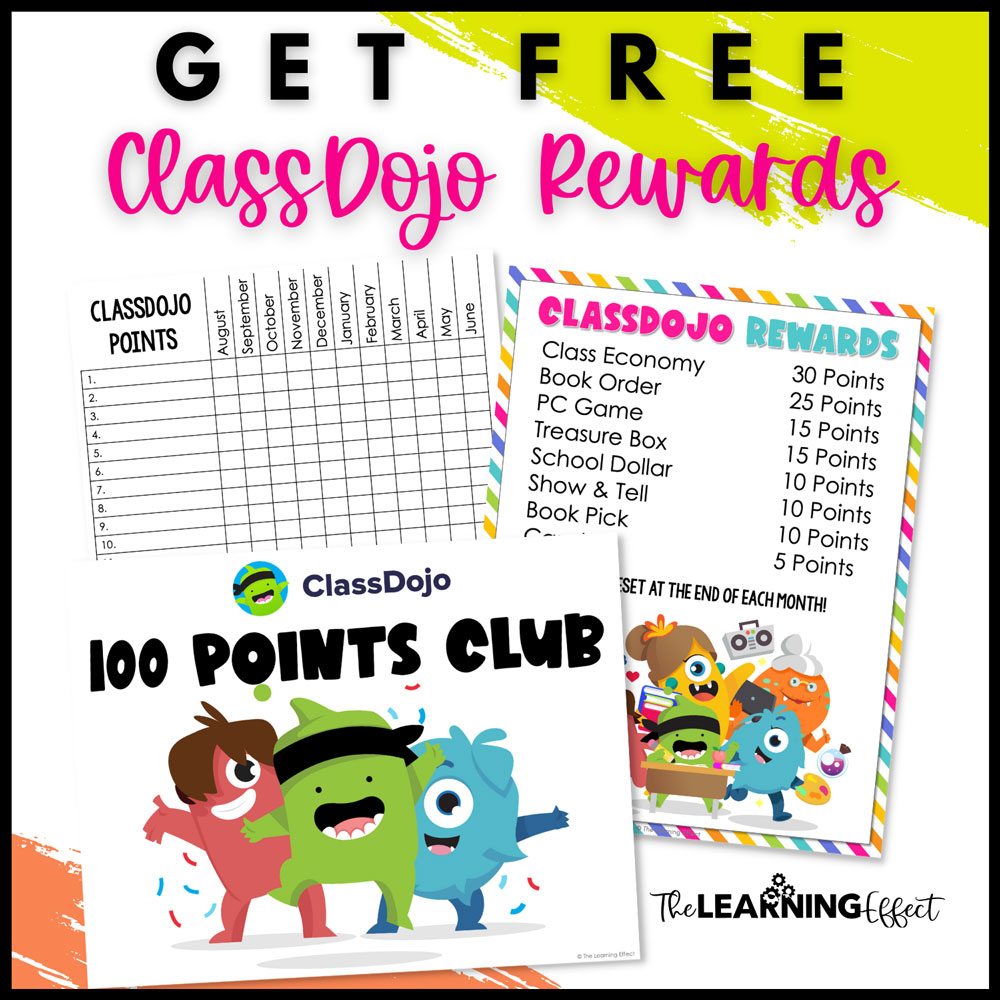 4. Positive Notes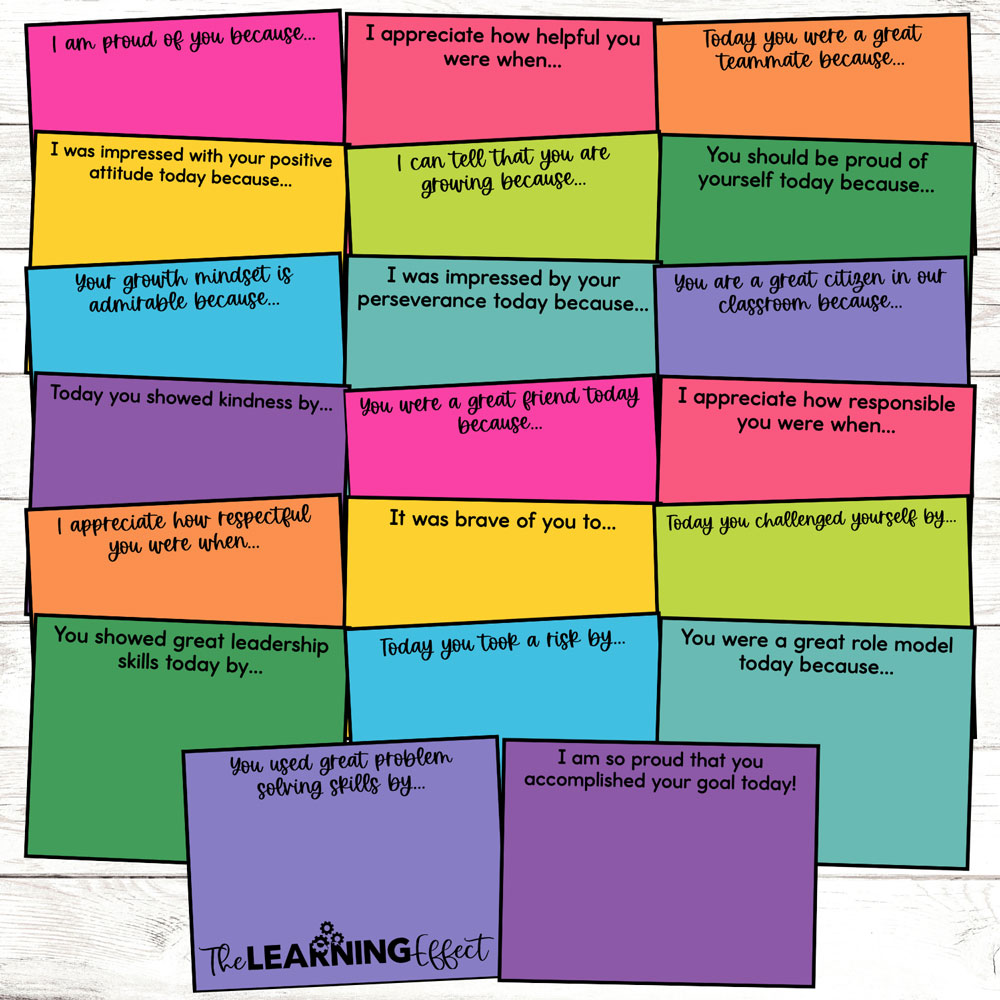 Students, no matter what their age, appreciate some encouragement from their teacher. I've caught students pulling out a past note from their desks to re-read when they're having a rough day. Totally worth the time to do this!
I made these notes to use in the classroom. I print them on colored paper (such as Astrobrights) and have them on hand to write out for students when I see something worth celebrating. I will stick the note into a student's desk along with a piece of candy, raffle ticket, or school buck for them to find later. I also take a picture of the note and send it to the student's parents on ClassDojo's messenger, along with a note thanking them for sharing their child with me.
Writing positive notes to students is so powerful. Even writing a quick note on a Post-It will do! Even my most challenging students treasure a positive note from me. It's a nice reminder that they are capable of great things.
5. Practice Procedures
This is one tip that I go back to over and over again all year long. Sometimes it's the whole class that needs to practice a procedure together – such as walking in a line, raising their hands to speak during a lesson, etc. I've had to practice walking through the halls appropriately with my class in the past. Taking 5 minutes during their recess to practice the procedure correctly did the trick, and they were on point for the rest of the year.
Other times, it may be one student who needs to practice walking appropriately. I use this "learning opportunity" to connect with the student. We have a 30-minute recess, and teachers watch their own classes outside. While yes, this is somewhat my "break" time, taking 5 minutes to walk 2 laps around the track with a student who is struggling to act appropriately. I can learn more about students with this one-on-one time and often learn why the student is acting out. Most of the time, they're just looking for attention. Giving them 5 minutes of one-on-one time usually does the trick!
6. Teamwork Bingo
Teamwork Bingo is an easy way to encourage students to work together and do the right thing. As a class, you can decide what is worthy of earning numbers and what prizes can be earned. When students earn numbers, draw from a can and mark off the number. I laminated my bingo board and used a wet-erase marker on the board to mark numbers.
You can get this freebie from the Free Resource Library!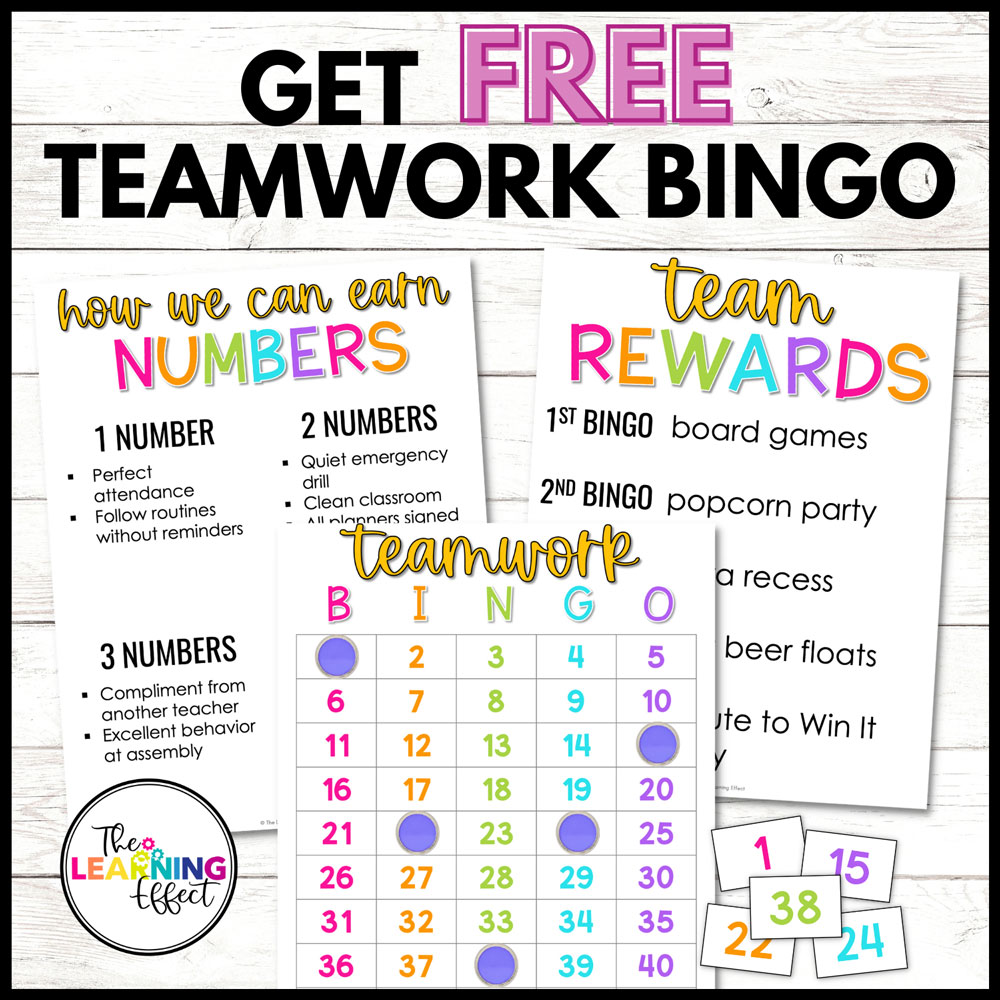 7. Echo Directions
I have my students echo directions back to me before letting them begin independently. I have them tell me where to turn something in, what to do when they finish if they only need to do the odds, etc. If they say it back to me, I know they've heard what I've said. Sure, some still won't remember, but then I have them ask 3 before me.
8. Attention-Getting Signal
Having an attention-getting signal has been so helpful for me – at all grade levels. I use "Give Me 5" with my students. This allows me to get my class' attention quickly and is both visual and auditory. Students are supposed to stop what they're doing, face me, and put their hands up in the air. Even if someone doesn't hear me, they know what to do if they see others putting their hand up.
9. Monitor Noise Levels
I'm the type of teacher who appreciates a mostly quiet classroom while students work. Of course, students don't realize the noise level when working in groups, so they need a way to monitor the expected noise level.
A fun app that's available for both Android and iOS is Too Noisy. It uses the microphone on the tablet or phone to monitor the noise level. (You can change the sensitivity depending on the noise level that's appropriate for the activity.) The class earns stars if they don't "break" the screen (set off the alarm). There's both a free and paid version of the app.
Another way to manage noise is to have voice level posters for students to see visually in the classroom. You can move an arrow or clip along the posters to indicate the expected voice level for the activity. I make it a class job to move the arrow because I always forget to.
10. Brain Breaks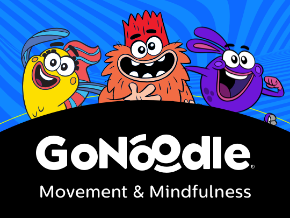 Who doesn't need a brain break every once in a while? Even I do when I'm working at home. Basically, anything to get kids out of their seats is a great brain break. But even better? Getting their wiggles out with GoNoodle.
GoNoodle is completely free for teachers. Grades 4, 5, and 6 love it – and my 6th graders were the biggest fans of all. It's evolved over the years and is definitely at its best now. You can search by energy level, category, duration, and even mark favorites to quickly visit when you log in. Doing a calming meditation before a test helps kids get their minds right. Stretching before recess gets students pumped up to play. Starting the day off with a guided dance gets students' blood pumping, and brains turned on.
As an Amazon Associate, I earn from qualifying purchases through affiliate links.
Links last updated 1/7/2020