If you get sick often or have children that you need to stay home and care for from time to time, you know it's always important to have a plan in place in case you need a substitute. You can easily prep ahead of time for a sick day or emergency, so at a moment's notice, your substitute is ready to go. It will give you peace of mind, trust me! My favorite way to do this is with a sub binder.
Why a Substitute Binder is Essential
A sub binder contains all the important information that a substitute or guest teacher needs that you can prep beforehand. This includes school info, a student list, info on students' special needs, classroom rules, emergency procedures, how to use technology devices in the classroom, and more. When you need to get a substitute for a sick day, all you have left to do is provide lesson plans. (Or add emergency sub plans in to skip this part when you're feeling at your worst.)
As someone previously in a substitute role, I know what a huge difference it makes when a teacher is prepped rather than just handing over minimal plans and no class list. The teachers with a sub binder or sub tub for me to review before students arrived gave me the confidence I needed in a new classroom with students I had never met before.
You can also use a substitute binder to prep for a maternity leave. All of your classroom information will be ready to go for your long-term sub, and you'll just need to add your substitute lesson plans!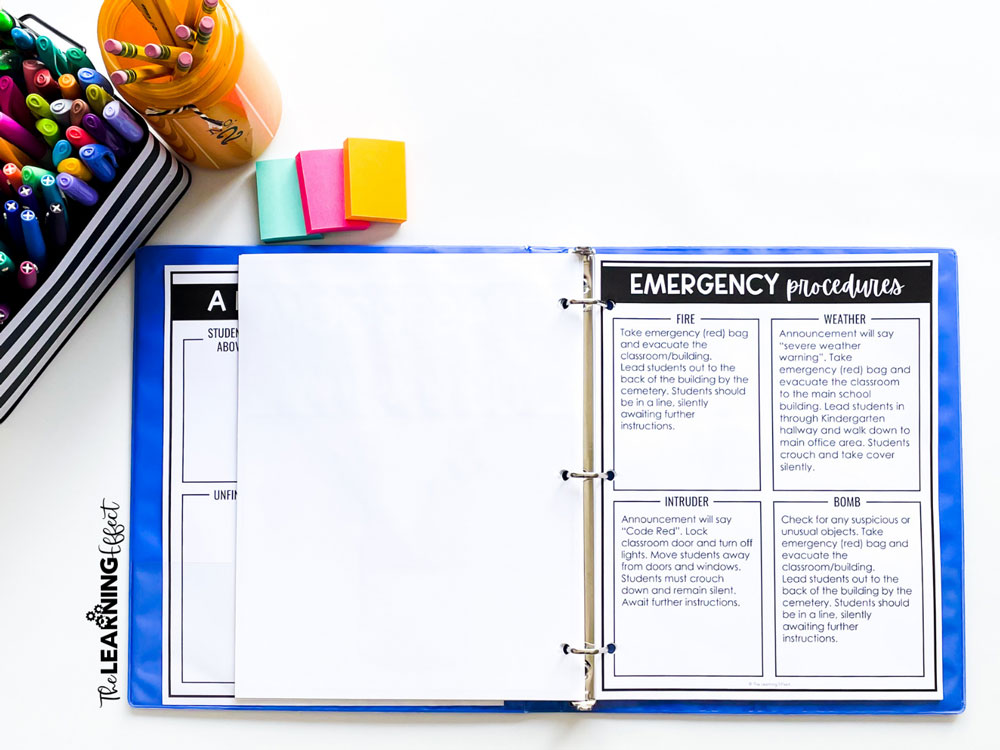 When I was in the classroom, substitutes would thank me for the thorough information I had provided so that they felt prepared for the day and knew what to expect. You can grab my free download of sample pages from my Substitute Binder below to help you start your own binder!
Prep Ahead of Time
Prepping the binder ahead of time can be time-consuming the first time you do it. But don't let that scare you off – you'll be thanking yourself for this substitute binder the next time you or your child is sick and you need to take a day off. Here are some tips to help you make the binder prep a little bit easier.
I used a half-inch binder and page protectors for the section dividers so that they'd stick out a little more than the info pages. (You could also create a substitute folder instead if a binder isn't for you!)
Prep over the summer so you're ready at the beginning of the year. Type up all of the info that you're able to. The benefit is that you can save the file and easily switch out info to update throughout the year or in subsequent years.
Don't be overly specific on info if you don't need to be, especially if the info will change throughout the year. For example, I worked at a year-round school, and we were in different classrooms every 12 weeks. It didn't make sense for me to provide the room numbers of specific teachers because they changed so often. Instead, I just provided the room numbers of teachers in my grade level so that the substitute could call another teacher if needed.
Laminate or use page protectors for pages you don't want to be ruined.
After your first week of school, revisit your binder to check that everything is accurate if you prepped it before school started.
Must-Have Components
So, what should you include in your substitute binder? These are things I included in mine.
School Information – school map, main office contact info, other teachers in your grade level, emergency procedures for fire drills and more
Student Information – class list, student transportation, seating chart, student medical
Classroom Information – location of materials, taking attendance, time fillers
Class Schedules – daily schedule, specials, interventions, special education pull-outs
Classroom Procedures – classroom management, rules and expectations, bathroom and water fountain procedures, recess, end of the day dismissal
Technology Information – login info, how to use devices, BYOD rules and procedures
If you'd like editable Substitute Binder templates to fill in with your own information, look no further! I have over 40 template pages ready for you to customize and print for your sub!