It's far too easy to get stuck in a funk mindset where the smallest things can irritate you. By mid-year, I'd start to feel that little nag in the back of my mind that would start focusing on the ridiculous things my students were doing. It made me miserable. Adding positive notes for students to my weekly routine helped quiet that nag and made me a better teacher.
Taking the time to watch for the positive things that my students were doing and letting them know that I noticed changed my classroom management and culture immediately. Who knew this small gratitude act would significantly impact my students and me as a teacher?
How I Got Started with Positive Notes for Students
I started this practice by focusing on a few students a week and watching for awesome things they were doing. I kept a checklist to ensure I was taking the time to notice every student each month. Some weeks were more challenging than others, but I could always find something for the students I was focusing on. It could be that they were kind, had a good attitude, or participated in a group as a great teammate. Anything big or small.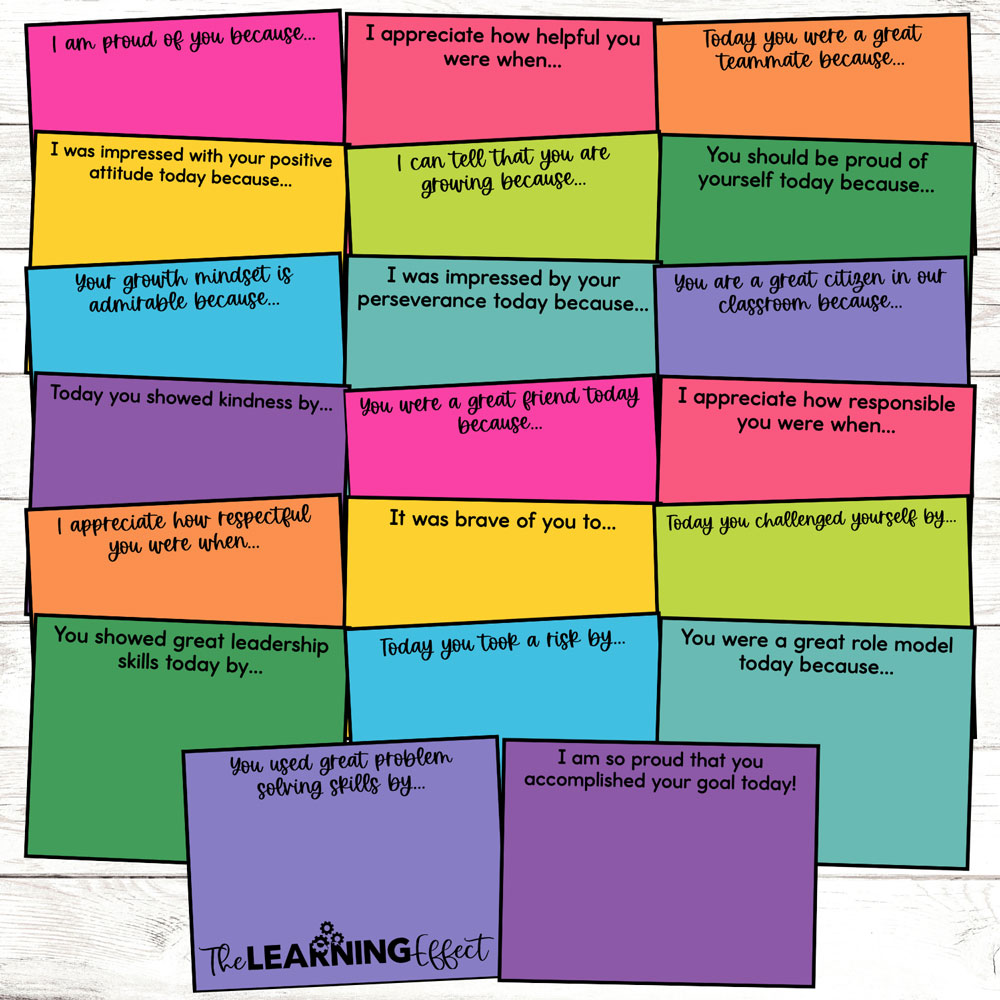 I wrote a quick note and stuck it inside the student's desks along with a piece of candy, raffle ticket, or school buck for them to find later. I also took a picture of the note and sent it to the student's parents through ClassDojo's messenger. If I had a few extra minutes to spare, I'd include a message thanking them for sharing their incredible child with me.
Choosing Your Focus Students
There are students who seemingly always do the right thing. But when you can specifically pinpoint one positive thing they've done and write about it on a note that they can take home, it means so much more. Celebrating hard work on a math problem, that they asked a friend to play at recess, or that they participated in a discussion means a lot to them – and their parents.
Using encouraging notes had the most significant impact on my students with challenging behaviors. They were the ones who I'd see pulling out a note I wrote them months ago and reading it on a hard day.
3 Benefits of Using Positive Notes for Students
Build a positive relationship with your students by letting them know that you notice them and their hard work.
Create a positive connection with parents by taking the time to recognize the amazing things their child is doing.
Help you notice great things your challenging students are doing and let them know how much you appreciate their efforts.
Ready to Try It In Your Classroom?
You can easily just use a sticky note or piece of paper to write notes to students. If you'd like pre-made positive notes with sentence starters that you can print and write on, I have 20 notes ready to go!
What Some Teachers Have Said About Positive Notes Home
These are a fun way to communicate with parents in a positive way. My students love getting to take home a bright colored slip with a positive note from me.

– Kelsey H., 4th grade teacher
I copied this resource on a bunch of different colors and sent home positive notes to students who did exceptional work or showed exceptional behavior or were leaders in the classroom. In turn, this helped me significantly improve classroom behavior management!

– Jessica L., 4th grade teacher
These are really great positive notes to send home! I enjoy the multiple fonts and how it's easy to print on color paper! There is definitely enough space to write a personal note home to the kid/parent. Beautiful resource.

– Esther R.
It's worth it to take the time to do this! Especially if you have a challenging class – it will help you see the good in each student. Writing positive notes for my students helped me through some really rough years. I know it can help you, too!