Switching from three years in 4th grade to 6th grade has inspired me to change my classroom decor for the year. Check out my classroom reveal featuring rainbow and chalkboard. I've linked to where you can find everything I have in my classroom, too!
Woo! It's been a long two weeks for me, but my classroom is finally about done. My bulletin boards don't have any content, but that's the least of my worries. It's good enough for me at this point.
I got over my fear of my Silhouette Cameo and started cutting out vinyl for my classroom this year. Before school started last year, I bought it but was clueless on how even to begin, so in the box it sat. This year, one of my 6th grade teammates taught me how to use the Cameo, and now I'm good to go.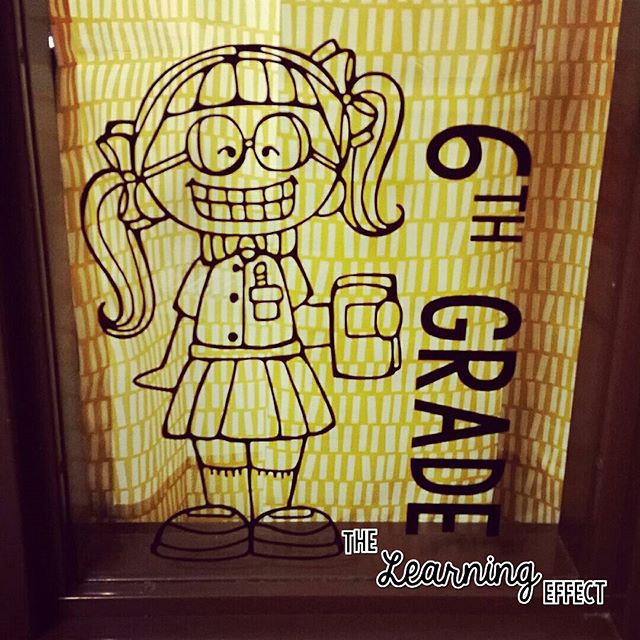 Directly above my door is my Green Bay wall.
Curtain, Rod, & Clips: Target // Green Bay Swag: NFL Shop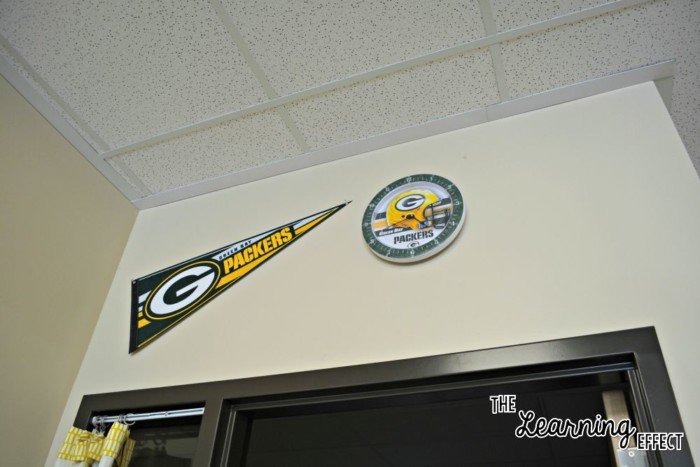 I am not a monthly calendar (where you have to change the numbers/month title each month) type person. I am also not a birthday chart person. Instead, I buy a monthly desk calendar from Target and hang it on my wall by the door. The calendar contains tests, events, birthdays, etc. on this calendar and then the kids and parents can check it whenever they want. Much easier.
My charter school is "entrepreneurial focused," so I have my entrepreneur signs by the door. My class mission statement (which is required at my school) will also go by the door once my class writes it together. Every Friday, students nominate a classmate for Role Model of the Week. They love it!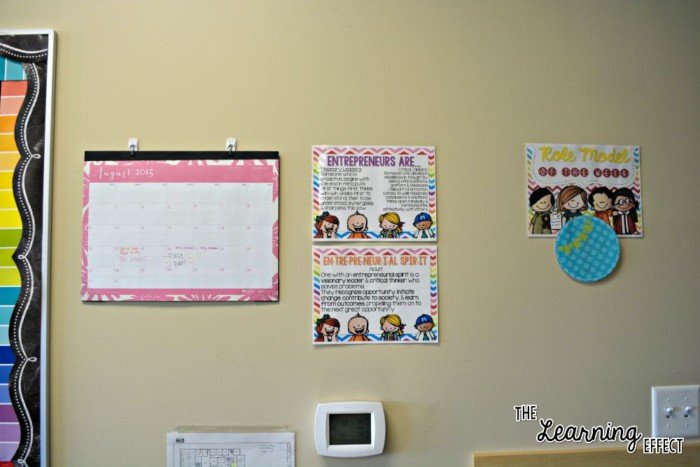 My whole "theme" this year is rainbow and chalkboard. New classroom + new grade = new theme. I am in love.
This new classroom could be the death of me, though, as far as setting up desks. They may just stay this way the whole year. I tried…and tried…and tried. 27 is not a good number for desks or groups. I had desk setup down to a science in my last room – probably because I had been in there for three years.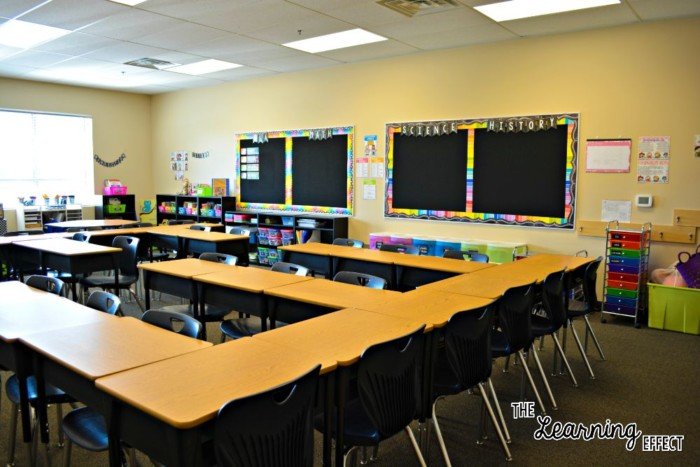 I use black felt on my bulletin boards. I've had the same felt for the last three years. I love that it doesn't fade, and you can't see the holes from hanging things up. Plus, it's much easier to hang than butcher paper, and you don't have to overlap it.
Borders: Creative Teaching Press – Chalk It Up! Dotted Swirl Border & Painted Palette Rainbow Paint Chip Border // Subject Banners: Amy Groesbeck // Mini Clothespins, Twine, & Command Hooks: Amazon // Black Felt: JoAnn Fabric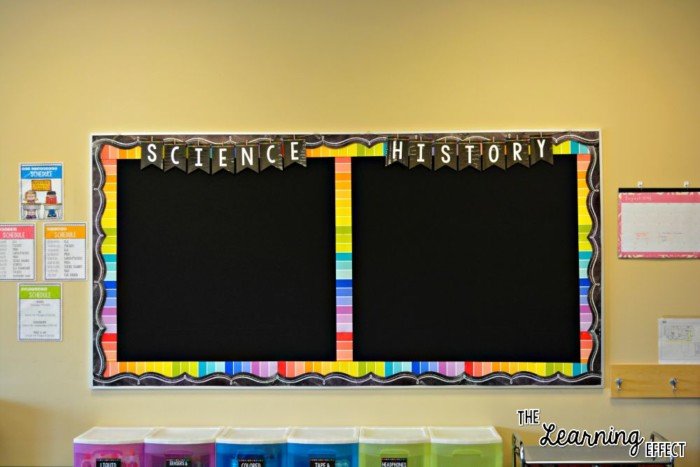 Classroom Supply Labels: Maria Manore // Colored Drawers: Amazon (similar, originals no longer available)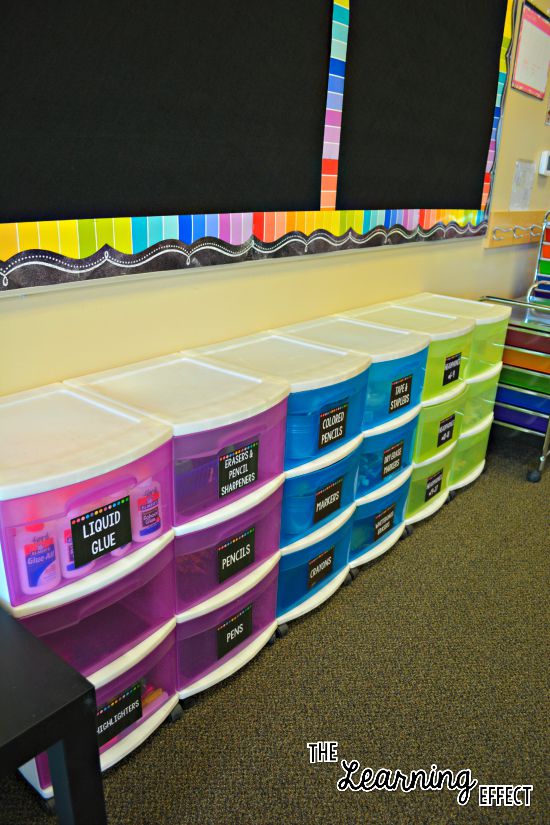 This year I am not hanging up a schedule that changes every day. I am so over that. It just doesn't work for me. Instead, I created signs to hang in the room.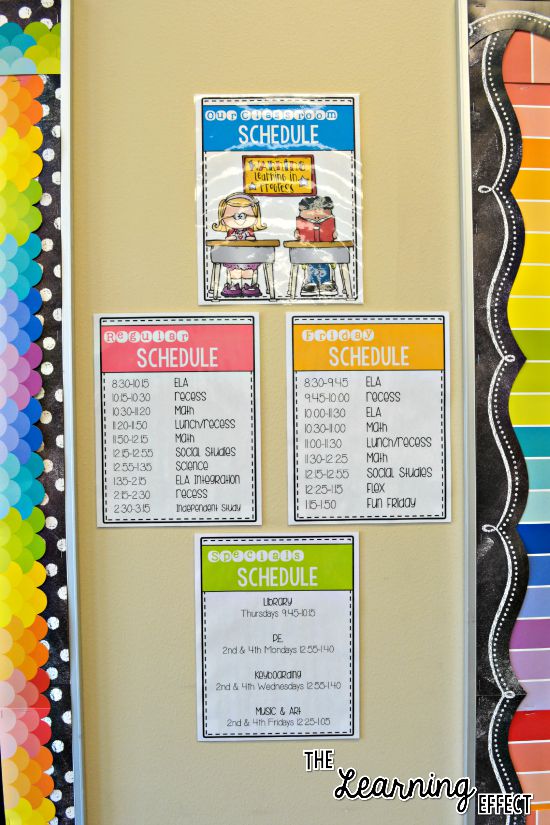 Borders: Creative Teaching Press – Chalk It Up! Dots on Chalkboard! White Border & Painted Palette Ombre Rainbow Scallops Border // Subject Banners: Amy Groesbeck // Mini Clothespins, Twine, & Command Hooks: Amazon // READ Strategy: Amy Groesbeck // Short Bookshelves: Walmart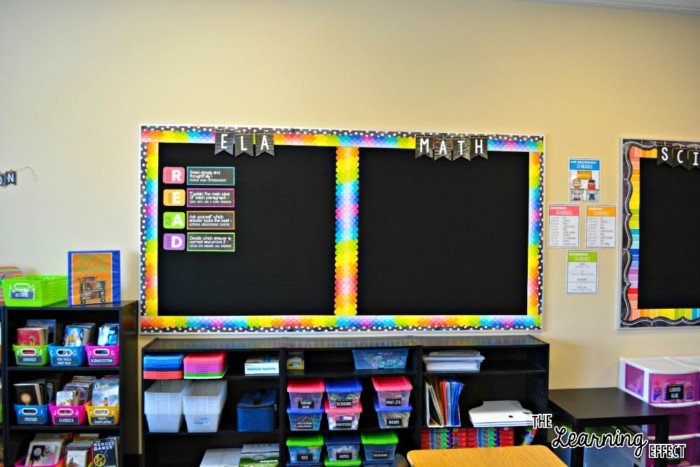 My library has shrunk quite a bit. I had to store two big totes of books that are too low for sixth grade. And since I'm obsessed with books, I'm sure I'll fill it all right back up.
Library Baskets: Really Good Stuff // Library Basket Label Holders: Really Good Stuff // Basket Labels: I made them, but I do not sell these black labels. // READ Letters: Tutorial on My Blog // Subject Banners: Amy Groesbeck // Mini Clothespins, Twine, & Command Hooks: Amazon // Tall Bookshelves: Target // Writing Center: Really Good Stuff (no longer available) // Stools: IKEA // Small Black Tables: IKEA // Plastic Shoe Boxes: Target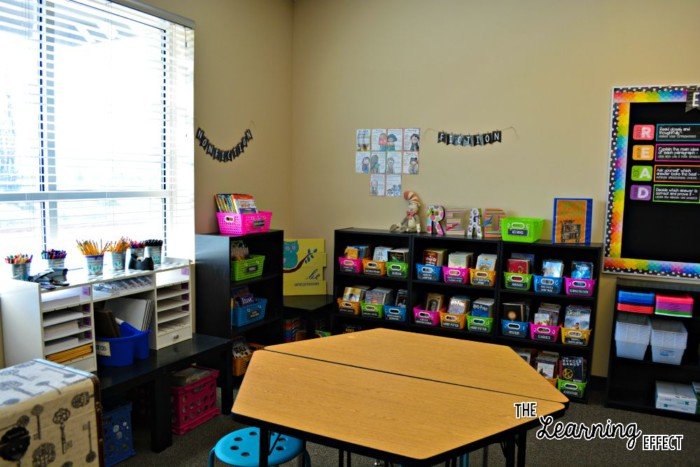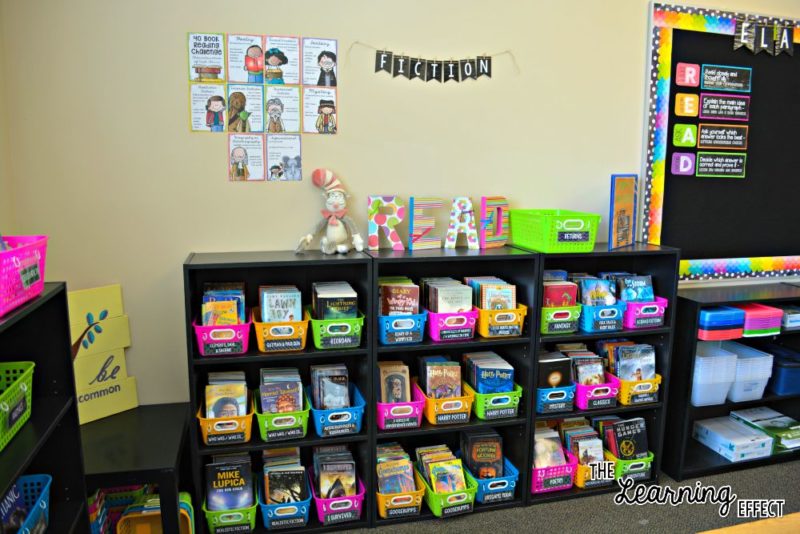 I have a librarian student job position in my classroom, and two years ago, one of my students came up with the idea of having library hours and an open/closed sign. Since my library was always beside my whiteboard, it was just a sign that hung with a magnet. Now that my library is on the opposite side of the room from the whiteboard, I needed a new way to display the open/closed sign.
One of the sweet students that I have in my class this year (and had two years ago…and her mom is the assistant principal at my school) came in to help me with my classroom this week and had this brilliant idea of just sticking the signs in the outside sleeves of a binder. That way, it stands up and is easy to display. #genius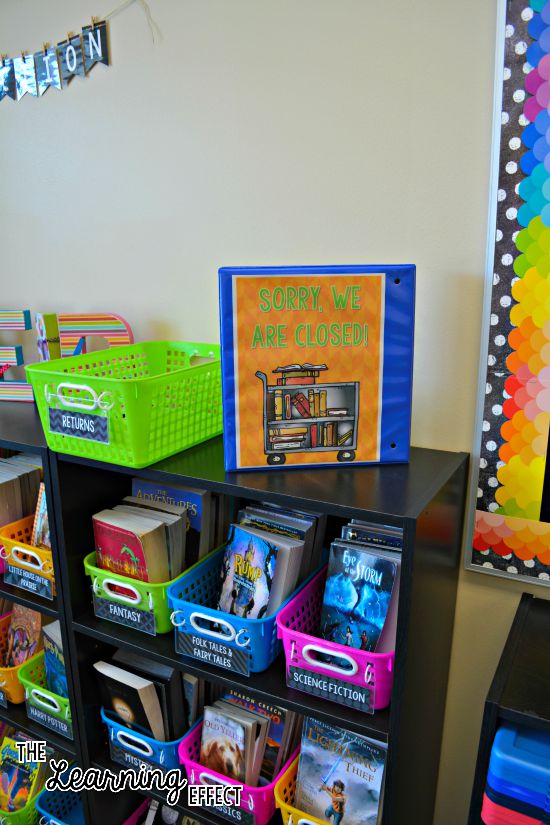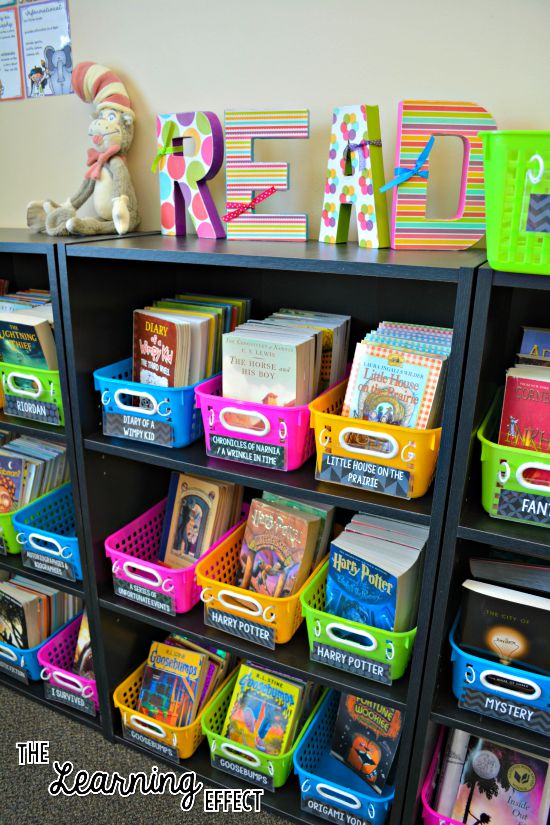 Last year, I had my students complete the 40 Book Challenge. This year, we're going to go at it again. I made signs for the genres they have to read from so they can easily identify books. I also put genre stickers inside the cover of every book. (That took a lifetime last year to accomplish, but I'm so glad I did!)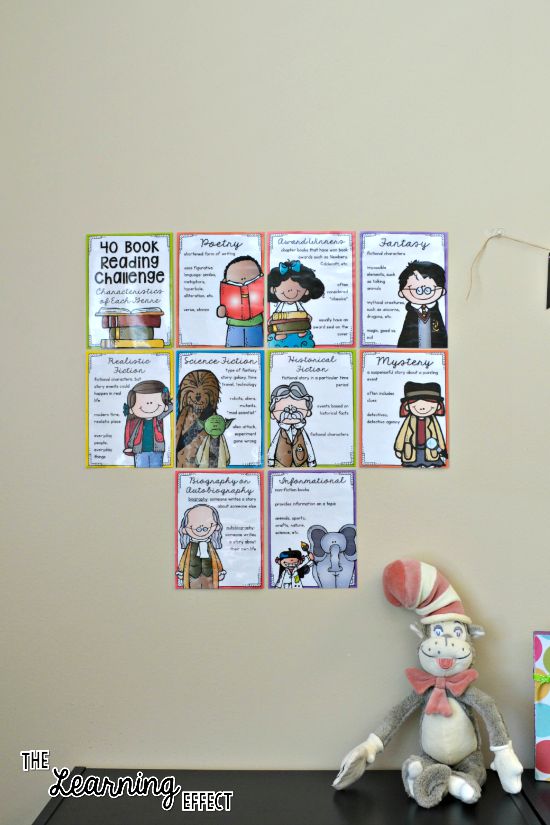 I absolutely LOVE this sign. Two years ago, a student who I had in my class painted it for me as an end-of-year gift. I have her again this year!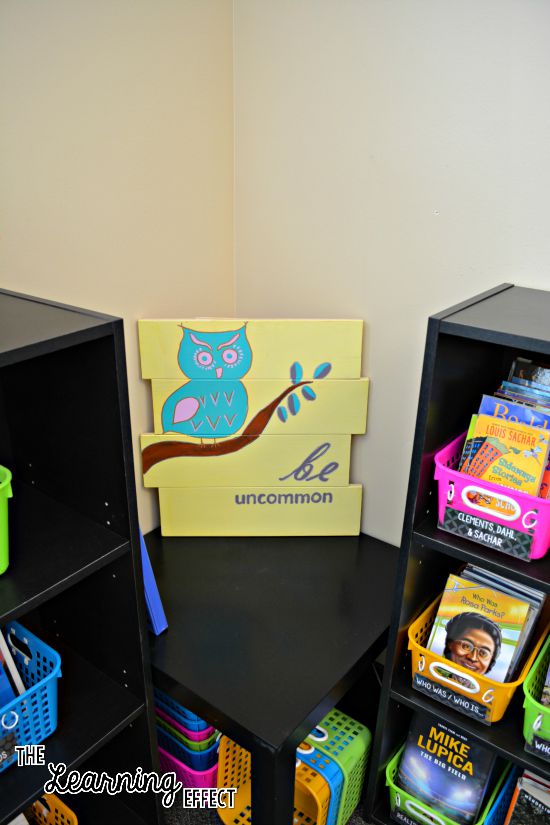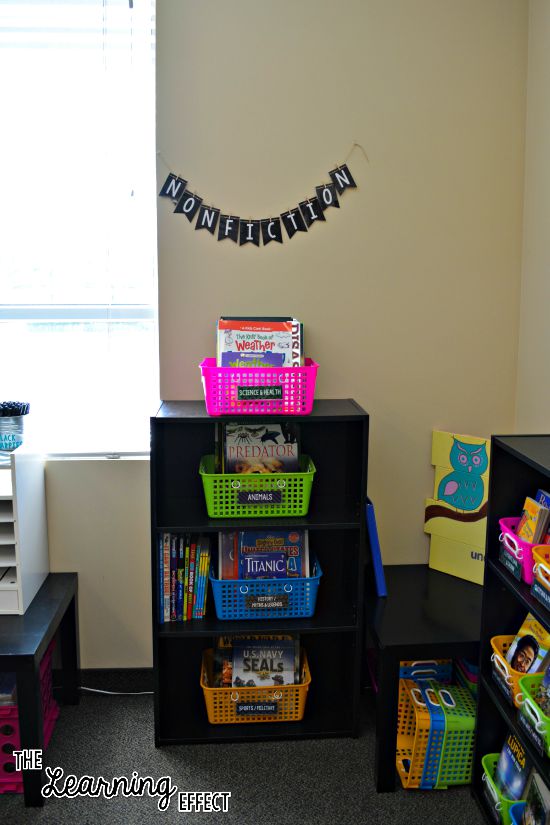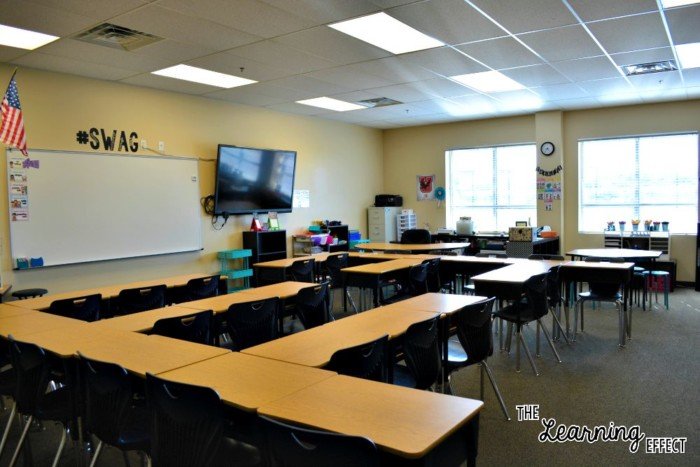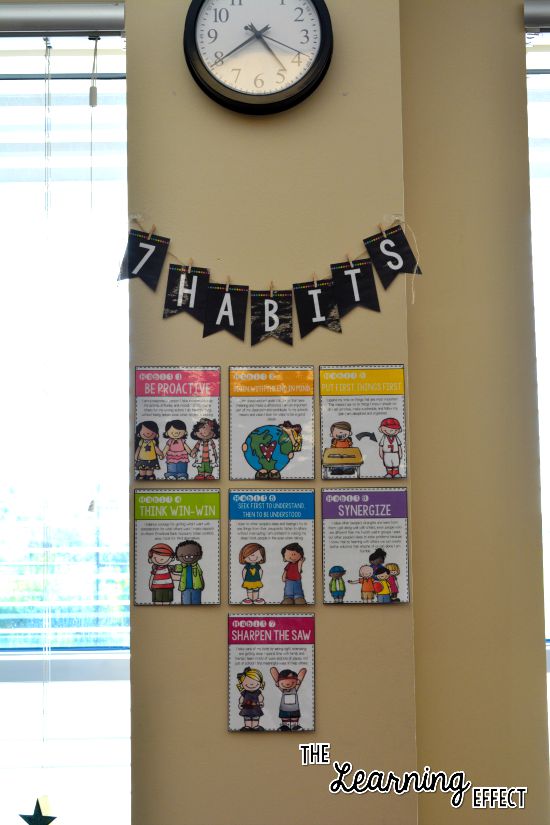 Shelving Unit: IKEA // Rainbow Drawers // Wall Clock: Target // 7 Habits Posters (I created them but do not sell them.) // Treasure Box: donated by a parent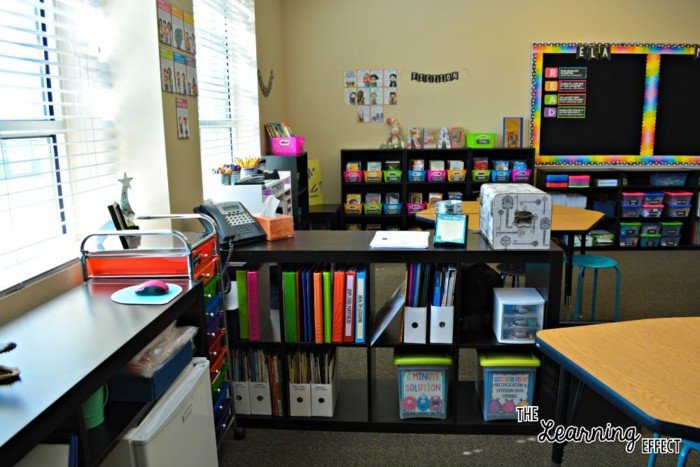 3-Drawer Storage // 3-Drawer Labels: Ladybug's Teacher Files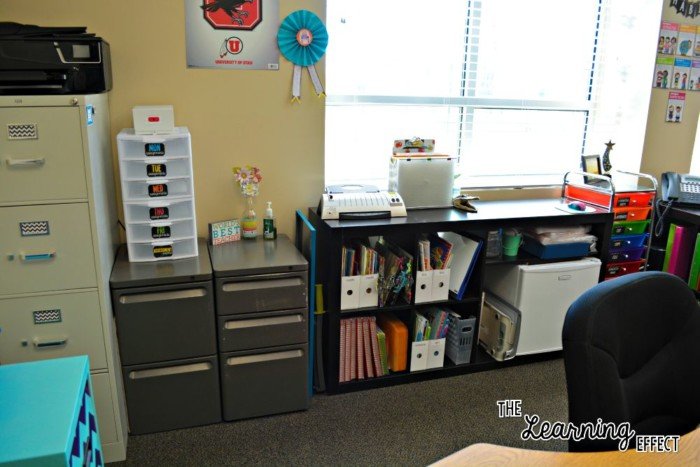 White Cart: IKEA // Turquoise Cart: IKEA // Tall Bookshelves: Target // Mini Whiteboard Easels: Scholastic Reading Club (you had to use your bonus points to get them) // Mini Filing Cabinet: thrift store and then spray painted it myself // Paper Collection Baskets: Target Dollar Spot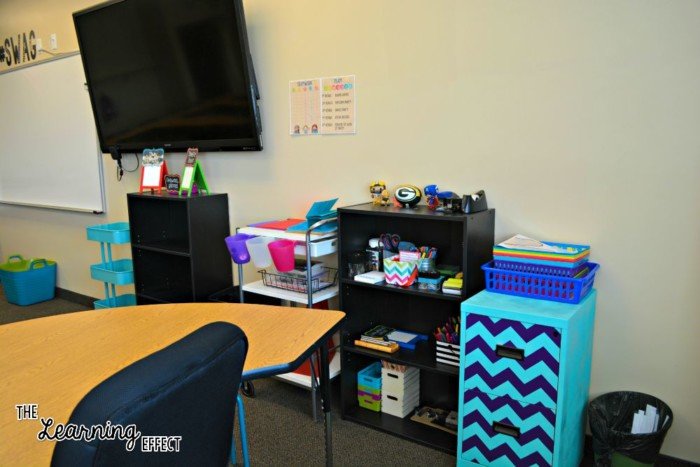 I made this with my Silhouette Cameo, too! All three 6th grade classes have this above the whiteboards. It's our grade level motto this year. I absolutely love it!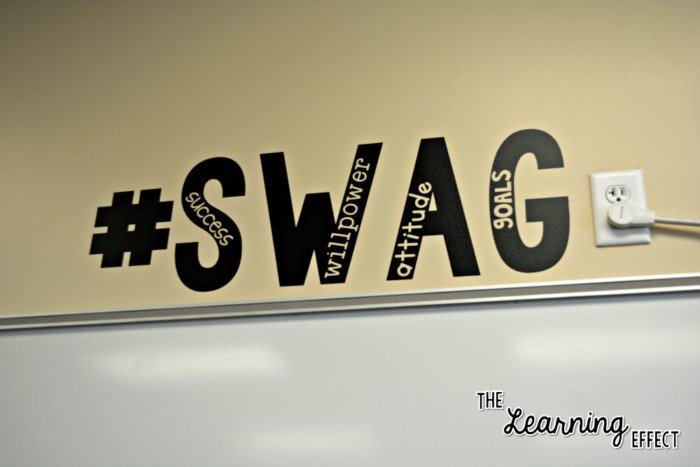 Class Hand Signals: My Shop // Student Mailboxes: Really Good Stuff // White Storage Boxes: Target // Clear Document Boxes: Really Good Stuff // Dry Erase Dots: green // Subject Banners: Amy Groesbeck // Mini Clothespins, Twine, & Command Hooks: Amazon // Small Black Table: IKEA // Arrow: IKEA // Blue Pocket Chart // Decor on Top of Student Mailboxes: Target Dollar Spot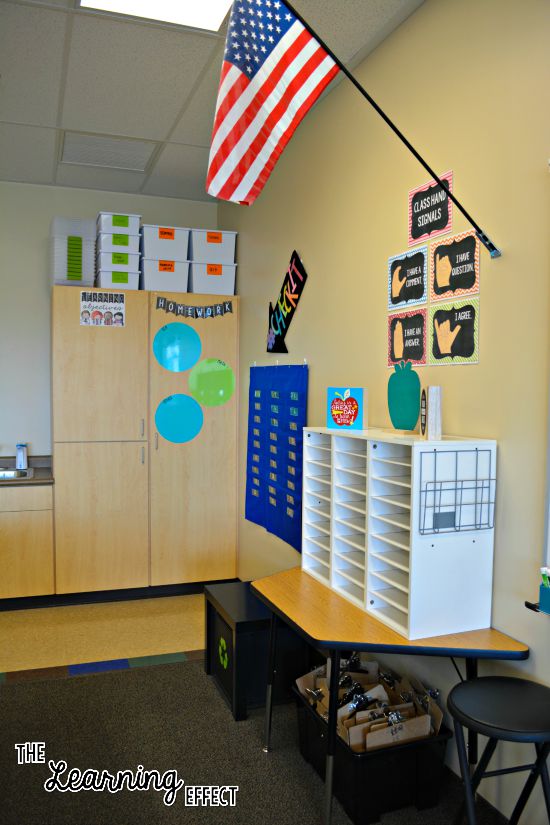 Voice Level Posters: My Shop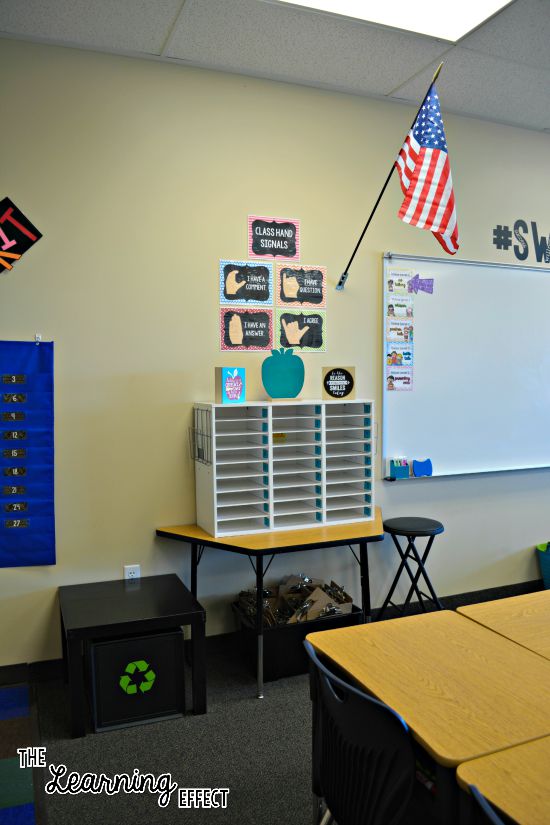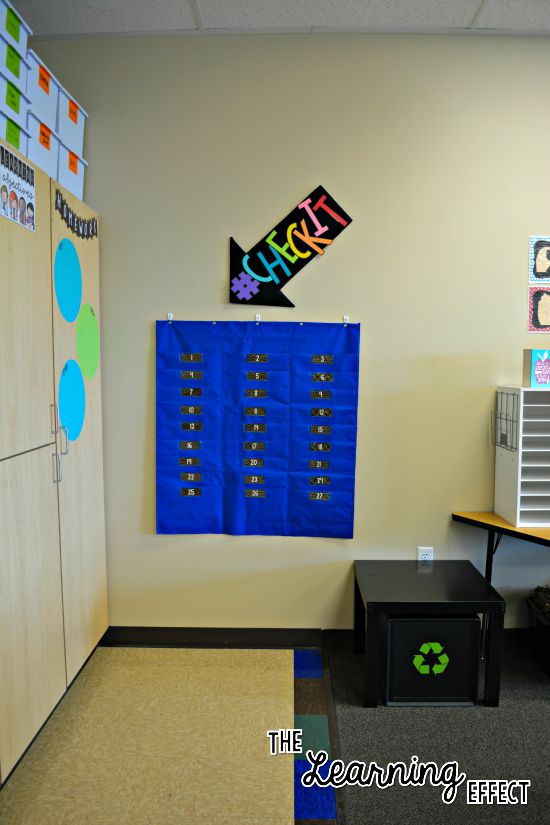 This wall seriously needs something.
And those hooks. I can't even. Not going to work for 27 sixth graders – especially since there aren't 27 hooks. There are 26. Sure, they added some over by the door, but they are not useful because I have tables and computers and such there. My sanity will be tested.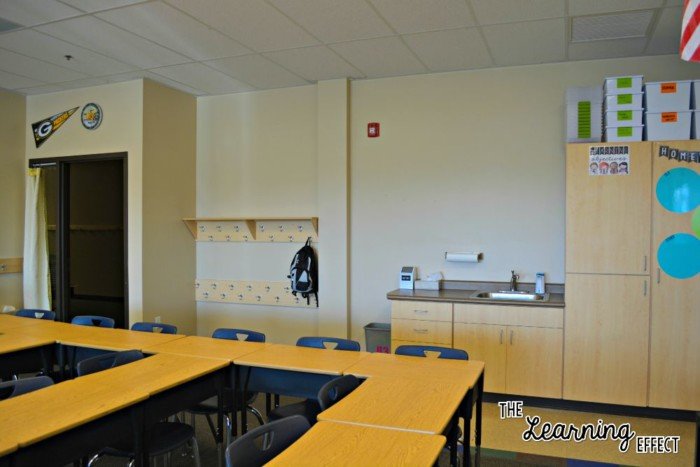 I still have more to hang up, but I'll get there. My classroom looks pretty darn good if I do say so myself.
What is your classroom theme this year?
* As an Amazon Associate, I earn from qualifying purchases through affiliate links.
---
Links last updated 1/2/2020